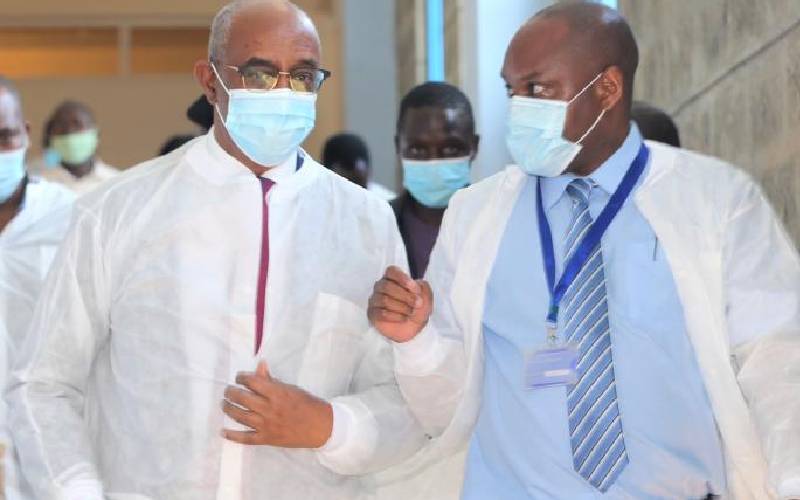 Revelation by a doctor that Covid-19 cases were increasing at Moi Teaching and Referral Hospital (MTRH) has put Eldoret in sharp focus.
The doctor said the second largest referral facility in the country, which is also a coronavirus testing centre, was overwhelmed by cases in the last two weeks.
There have been reports of persons developing breathing difficulties at home, only to test positive for Covid-19.
"The number of Covid-19 cases in MTRH is shocking! It is really sad witnessing patients in respiratory distress. This is so unfortunate," said a doctor.
"It's no joke here. Never before have we witnessed this! I am really warning those who take lightly the catastrophic effects of Covid-19. Many of my colleagues are down with this bug. Isolation ward is full. Most patients are requiring high volumes of oxygen and ICU is no better zone. Take care guys," said the doctor who requested anonymity because he is not authorised to issue Covid-19 reports.
Collapsing and dying
In June, Turbo emerged as a Covid-19 epicentre as truck drivers enroute to Uganda, DR Congo and South Sudan spend their nights in the town.
But recent reports by Uasin Gishu County Government and MTRH indicate that the disease is now spreading in estates. "The surge is real. The disease has spread and we have seen people that we know collapsing and dying, only to test positive for Covid-19 posthumously," Governor Jackson Mandago said.
He said some prominent businessmen and farmers have succumbed to Covid-19 complications, sparking fears of more unreported deaths in estates and villages.
Mandago regretted that most residents have disregarded protocols aimed at curbing spread of the disease.
On October 10, Huruma MCA Peter Chomba developed difficulty in breathing at home and later died at a hospital in Eldoret. He tested positive for Covid-19 posthumously.
The governor, who was chairing the MCA's burial arrangements on Saturday, was shocked by the turn of events.
"We have lowered our guard. If you walk around town, you will see people without masks. I have been to a few supermarkets and I no longer see people washing hands. I don't see them (supermarket managements) asking people to adhere to social distance," Mandago said.
He urged the Ministry of Health to support the county to carry out mass Covid-19 testing to establish the extent of community spread in the populous town.
"Covid-19 tests are done on persons who have presented symptoms. But we want to appeal to the Ministry of Health and MTRH to support us so that we test beyond those exhibiting symptoms," he said.
He pointed an accusing finger at bar operators, saying they were not operating within the stipulated time and were not ensuring social distancing.
MTRH Chief Executive Officer Wilson Aruasa yesterday confirmed that there was a surge in Covid-19 numbers and warned of an ingrained community spread.
"Today alone, we have 36 patients in isolation wards and we have placed 70 under homecare. The person next to you could be positive. The numbers, just like nationally, have surged over the past two weeks," Aruasa said.
Despite eateries having mounted handwashing facilities and procured thermo guns, customers are not adhering to handwashing and social distancing.
Efforts by the county to decongest the Eldoret central business district by relocating bus stations out of the town in March has been defied by matatu operators.
Public Service Vehicles have also started operating at full capacity.
Eldoret-based Oxyplus International, which supplies oxygen to at least 140 health facilities including the MTRH, Mediheal Group of hospitals and Nairobi Women's Hospital among others reported that orders for medical oxygen has increased in recent weeks.
Permit revoked
Oxyplus International Director Panna Aggarwal said the firm was working round the clock to meet the demand.
And speaking during Mashujaa celebrations at 64 Stadium yesterday, County Commissioner Stephen Kihara urged residents to observe Ministry of Health protocols, saying cases of coronavirus have steadily risen in the region in the past week.
"The containment measures must be strictly adhered to and security and public health officers will rein in those flouting the rules. We must not relent in the fight against this war," said the administrator.
He warned bar operators against operating past the stipulated time.
"Any business still in operation past the curfew hours risks their permit being revoked," he said.
Related Topics