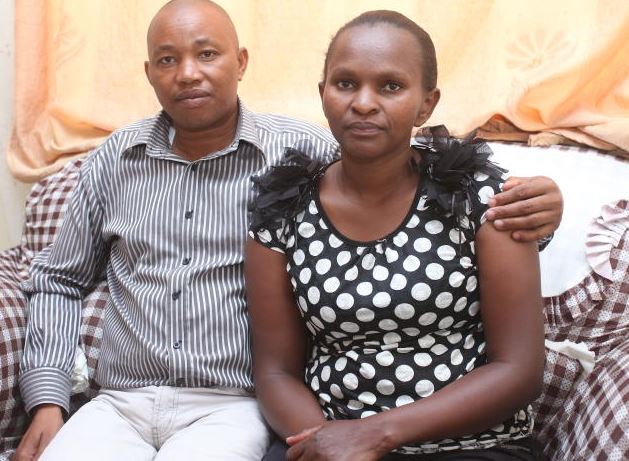 Like all love stories, the relationship between Rebeccah Wanjiku (pictured- right) and Charles Kimani started on a high note with the promise of living happily forever.
Indeed, for the first few years, Wanjiku and Kimani's life together could not have been any more idyllic.
Just as they had planned, the union evolved from courtship to marriage and parenthood, as the family's fortunes blossomed with Kimani advancing from a greengrocer to a taxi driver.
"We welcomed our son Timothy in May 2006. We were very happy as a family," Kimani said from the family's home in Kitengela.
But suddenly things changed.
In 2009, Wanjiku's second pregnancy set in motion an unfortunate series of misfortunes that threw the couple's marriage into disarray, blurring their dreams and curtailing the big plans the young family had.
The exciting news that the couple was expecting twins soon turned bittersweet when Kimani noticed Wanjiku's failing health as the pregnancy advanced.
"I was ecstatic when the doctor at St Mary's Hospital told me that Wanjiku was expecting twins. But it came with challenges," Kimani narrates.
He also noticed that Wanjiku was becoming increasingly frail and her weight was alarmingly low for an expectant woman. The doctors the couple consulted in Nairobi assured them all was fine.
During the interview, a weary Wanjiku looks on as Kimani narrates their moving story. She is unable to talk due to a stroke she suffered recently.
One day, upon returning from work, Kimani found their firstborn wailing beside Wanjiku, who was motionless on the floor.
Kimani rushed the then six-month-pregnant Wanjiku to St Mary's Hospital, where she underwent an emergency delivery, giving birth to two girls, but one died immediately after.
The miracle daughter, whom the couple named Hope, was born with one arm and weighed 800 grammes.
The tiny girl beat the odds, from weeks in the incubator struggling with a constantly fluctuating weight, severe rickets to becoming a healthy young girl now aged 10.
Bubbly girl
Along the painful search for answers, Kimani took his wife for advanced tests (echocardiogram and electrocardiogram) at two hospitals and it was concluded that Wanjiku was suffering from rheumatic heart disease. That was in 2010.
Since then, Wanjiku has been surviving on medication. For those years, Kimani describes a difficult decade that has strained all aspects of their life, from the marriage to finances and mental health. Despite the adversities the Kimanis have faced, they keep hope alive.
To treat the heart problem, Kimani has been told Wanjiku needs a double valve replacement, a type of open-heart surgery. This may offer a permanent solution to Wanjiku.
According to the doctors, the medication alone cannot support the normal functioning of her heart thus the need for the Sh2million surgery. But the family cannot raise the amount.
"This is to certify that Rebeccah Wanjiku Kimemia is under our medical care and has been diagnosed to have rheumatic heart disease and requires double valve replacement surgery. This will be done at the Karen Hospital at an approximated cost of Sh2 million. Any assistance give to her in this regard is highly appreciated," says a letter from Karen Hospital.
You can help through Paybill number 8014593 and account name Rebeccah Wanjiku.