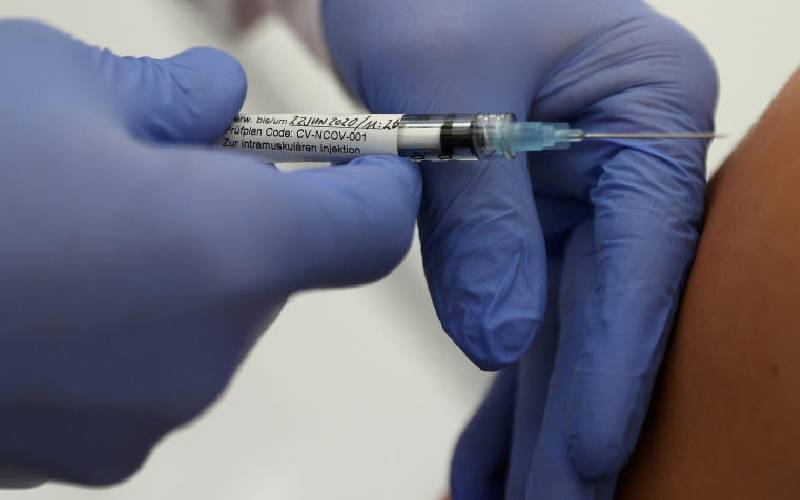 Kenya is one of the countries listed among 92 vulnerable nations that will benefit immediately a vaccine for Covid-19 is discovered.
The move is spearheaded by Gavi (Global Vaccine Alliance), a Geneva-based conglomerate of private and public sectors, making coronavirus vaccinne negotiations with different manufacturers on behalf of vulnerable and poor countries.
According to Gavi, a Covid-19 vaccine will cost not more that Sh300 per dose.
The list of the 92 eligible countries includes all economies with Gross National Income (GNI) per capita under US $4,000, plus other World Bank International Development Association (IDA)-eligible economies.
Kenya was listed alongside countries like Cameroon, Nigeria, Zambia, Ghana, India, Egypt, Lesotho, Ethiopia, South Sudan among others.
"We now have the framework in place to ensure that every economy, particularly the poorest nations, are not left behind in the race for a Covid-19 vaccine," said Dr Seth Berkley, CEO of Gavi, in a statement on their website.
For Gavi, the goal is by the end of 2021 to deliver two billion doses of safe, effective vaccines to all participating countries, including the 92 listed eligible economies.
Once a vaccine has been approved by regulatory agencies and pre-qualified by the World Health Organization, the Covax Facility (a global procurement for Covid-19 Vaccines) will then purchase these vaccines and distribute them.
Erroneous assumption
Further doses will be made available based on financing, country need, vulnerability and potential threat and a buffer of doses will also be maintained for emergency and humanitarian use.
"Gavi will work with governments, international organisations, manufacturers and civil society organisations to ensure doses get to those who need them," said Berkley.
Yesterday, Kenya recorded 271 new Covid-19 cases from a sample of 4,091 tests conducted in the last 24 hours, raising the total caseload to 30,636.
While making the announcement during the daily briefing at Kenya Medical Training College, Karen Campus, Health Cabinet Assistant Secretary Rashid Aman said another 208 patients had recovered, bringing the country' total recoveries to 17,368.
"From the recoveries, 166 are from the home-based care program, while 42 have been discharged from various hospitals," said Aman.
In the same period, five more patients succumbed to the disease, raising the total Covid-19 deaths to 487. Aman also explained the recent trend, where the number of Covid-19 cases appears to have have been declining, leading to some observations that the curve was going down.
"It is still too early to make any determination on the curve," warned Aman.
He said messaging on Covid-19 should now focus on the youth, who have become careless, with the erroneous assumption that only the elderly and those with underlying conditions are at high risk.