Home
/
Health & Science
KEMRI Scientist appointed as Oxford professor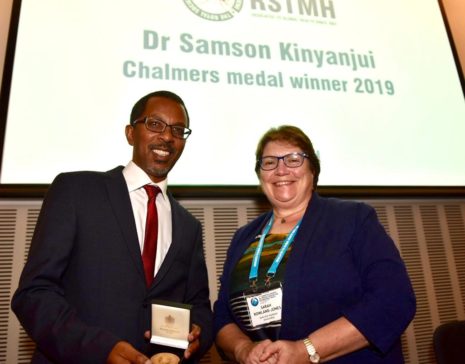 In a report dubbed the state of research funding in Kenyan Universities, it states that, Kenya spends less amount of its national GDP on research programs at about 0.8 per cenf compared to Israel which spends about 4.3 per cent of its GDP and other developed countries as per UNESCO database.
United Nations Development programs (UNDP) defines the research function of academia as the prime source of knowledge and innovation at national, regional and international levels.
However in the recent years, almost 50 per cent of Kenyan universities are receiving negligible funding to undertake their research which also translates to other research organs in the country.
Dr. Sam Kinyanjui, he head of training and capacity building at Kemri-Welcome Trust Programme and the Director for the Initiative to Develop African Research Leaders (IDeAL) agrees that we have a long way to go as a country in regards to research capacity.
According to a report from Institute for Security Studies, Africa has the highest prevalence of communicable diseases in the world. In 2015, more than three times as many people died from Aids in sub-Saharan Africa, and more than ten times as many people died from malaria as in the rest of the world combined.
Dr. Kinyanjui says that in as much as Africa carries the heavy burden of infectious diseases still lies behind by having the lowest output in terms of resources for research.
"Some of the biggest challenges of research in Kenya is that we have low research capacity which means that we are dependent on other developed countries. Yet countries in Europe will be on the look out to develop vaccines that they are need of but not for diseases that are in Africa unless the diseases will directly or indirectly affect them," says Dr Kinjanjui.
He further argues that developed countries have about 4000 researchers per million which translates to 4 researchers in a thousand of the population but Kenya, has an estimated 250 researchers per a million of the population.
"When we talk of developing the health capacity we should be able to look at all factors that contribute to the health system. That means the culture, education, resources among others," he says.
"IDeAL program focuses on multidisciplinary issues among them health systems research. A good example is the UHC model where we are able to come up with the entire plan of how it should look like and work."
He further adds that, "On paper the entire plan of UHC is a really good thing because the mission behind it is to see that no one is being disadvantaged from seeking medical services but the implementation becomes a challenge because for a model to work, everyone involved in the process must be having a similar goal and not put in their interests."
For a country to have a strong research capacity, Dr Kinyanjui believes that it is important to have a focussed program that is very deliberate on training who also have leadership skills, control research funds so that the research body defines the agenda instead of a donor defining a country's problem and retaining the people you train.
"Through the IDeAL program, the three key goals are to attract young people who can fall in the category of school leavers or through the internship programs, training through the various programs and retention so that we prevent brain drain," he adds.
Despite research capacity being low in Africa generally, Dr. Kinyanjui puts Kenya a bar high in research capacity within the Sub-Saharan region.
Dr. Kinyanjui has been appointed as an Associate Professor at Oxford University. According to him this is a big milestone and it shows that continued collaboration between KEMRI and Oxford University.
"My appointment as an associate professor at the oxford university is more of a promotion. KEMRI has been having a long-term partnership with Oxford University and the Welcome trust of UK. Some of my colleagues have also been appointed and this shows growth in the partnership," he states.
In his words, Research is not like politics. You cannot invest today and expect returns today, it is a long term investment.
"I hope that Covid-19 is a wakeup call to the government and the country at large. Just like an army, you prepare it overtime, you fund it even when there is no war. You set them ready and remind them every now and then of the possibility of the worst. The same logic should apply to research, you do not know when a pandemic like such could occur," says Dr. Kinyanjui.
He further adds that, "It would be nice to appreciate the researchers in the country and applaud the efforts they are putting in. when you ask what are you doing to develop a vaccine the question that should ring at the back of your mind should be have you put enough investment in research?"
Related Topics