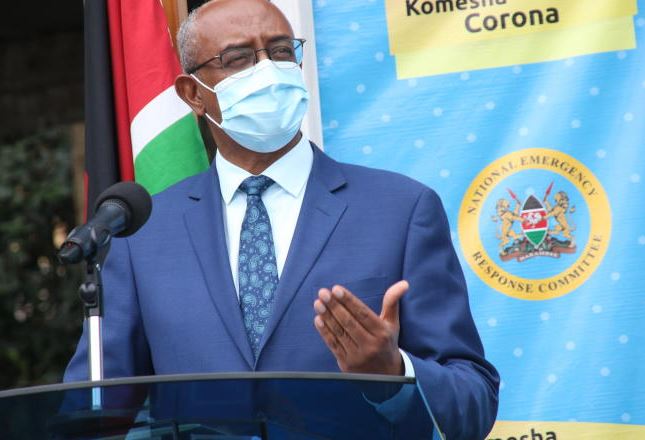 The Health Ministry has warned of counterfeit Covid-19 testing kits that have penetrated the market and advised Kenyans to only use the real-time PCR tests approved by the World Health Organization (WHO).
This, is as another 184 people test positive for the coronavirus today, raising the national tally to 4,044 as Health CAS Dr Rashid Aman (pictured) warned infections were entering the exponential (rapid expansion) phase.
During the daily Covid-19 national brief, Dr Aman (pictured) said that the ministry had tested 2,518 samples in the past 24 hours.
The total number of samples tested so far is 124, 474.
He said 129 of the new cases were male and 55 female. All new confirmed cases are Kenyans except one.
The Ministry has also discharged an additional 27 patients, which brings recoveries to 1,353. Two more people have also succumbed to the disease raising the death toll to 107.
Nairobi County continues to lead in the number of confirmed positive cases with 111 of those on Wednesday.
Mombasa and Kajiado counties follow with 19 and 14 new cases respectively.
Vihiga County has now joined the list of counties with confirmed Covid-19 cases, reporting only one case.
40 out of 47 counties in Kenya now have confirmed cases of the coronavirus.
Dr Aman was quick to note that the numbers were steadily rising and that we should all be concerned, pleading with Kenyans to strictly follow the guidelines if we are to flatten the curve.
"We are entering into the exponential phase of our curve and are likely to see more positive cases of our numbers every day. Such figures have the potential to cripple our health facilities," he said.
Dr Aman said that these numbers only go to prove that community transmission has taken shape in the country.