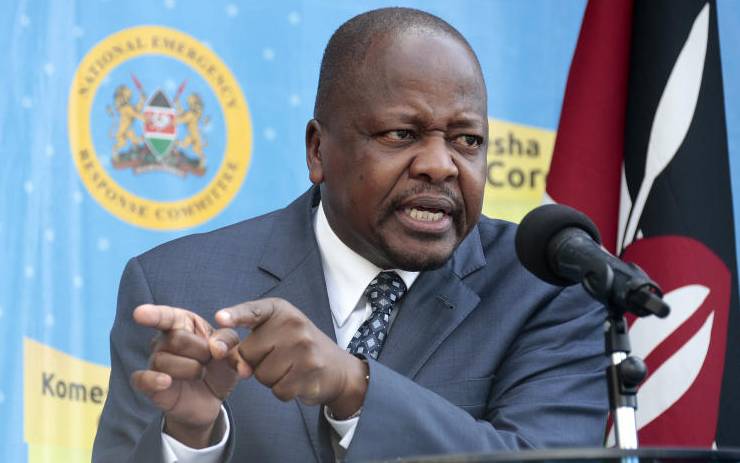 The country now has 1,618 Covid-19 cases after 147 people tested positive for the disease in the last 24 hours.
The cases are from a sample of 2,831. This is a new high compared to 123 reported on Wednesday.
While this is the highest number of positive cases in 24 hours, the sample size is lower than 3,077 tested on Wednesday. As a result, the infection rate vis a vis sample tested has equally gone up to 5.1 per cent compared to 3.9 the previous day.
While issuing Covid-19 update in Kiambu County yesterday, Health Cabinet Secretary Mutahi Kagwe (above) noted that Nairobi was leading so far with 835 cases. It is followed by Mombasa with 490, Kajiado 65 and Kiambu 39.
"This is a worrying trend, and we must collectively stop it by observing the containment measures that we continue to advocate for," he said.
More worrying, however, is how a single area in Nairobi has played a big role in the spike of coronavirus cases. In just a week since May 21, Kibra and Langata estates have recorded 130 cases.
Kibra alone has 99 cases while Langata has 31. Out of the 90 new cases reported in Nairobi, Kibra accounted for 35 while Langata 15.
More complicated
On Wednesday, Kibra recorded 14 cases and Langata had one while on Tuesday, the number of positive cases were six and two respectively in the areas.
On Monday, Kibra recorded the second-highest number of cases in 24 hours, at 21, while Langata had four.
The CS linked the rise in cases in the two areas to lack of social distancing and heavy usage of public transport.
Kagwe warned that the danger of the spread of the disease now lurks in the informal settlements including Kibra. "This means there is a raging number of infections in these areas," he said.
On Wednesday, cases of coronavirus were reported in Eastlands with Mathare recording the highest number in Nairobi at 33.
Eastleigh, which is adjacent to Mathare, is currently under lockdown after emerging as a Covid-19 hotspot.
"If the numbers in Eastlands are rising, it means the same is occurring elsewhere and therefore, my appeal to all is that when, for instance, we conduct tests in an estate near you, kindly volunteer," said Kagwe.
The CS, who was accompanied by Kiambu Governor James Nyoro, said the mapping on how the disease is spreading has revealed the need to strengthen primary healthcare services by investing in community health centres and dispensaries.
"This is so that health is brought nearer to the people and to free the higher-level health facilities such as referral hospitals to deal with more complicated cases," he said.
Kagwe had visited Kiambu Covid-19 isolation centre in Tigoni Sub-county as part of the ongoing assessment of counties preparedness for the pandemic.
Governor Nyoro said while most cases in Kiambu are referred to Kenyatta University Teaching and Referral Hospital, the county was capable of handling the patients.
"We decided to have one designated facility to handle Covid-19 cases, and that is Tigoni," he said.
The governor noted that all hotspots in the county have been mapped, including Gewa, Kiambu and Githurai and the necessary precautions taken.
"One of our hotspots is Soko Mjinga because traders as far as Mombasa and others from out of the county do interact there. We have closed down some of the markets, among them Soko Mjinga for fumigation, and we will decide when they will be reopened," he said.
A total of 32 counties have reported cases of Covid-19, so far leaving 15 counties that have been spared. Nyeri is the latest with two cases reported yesterday.
While 58 people have died from the disease with three new deaths reported yesterday, 421 have recovered.
One person died in Thika, Kiambu County while the other two died in Mombasa. "The two from Mombasa had underlying health conditions," said Kagwe.
The country now has 692 active cases with three patients in critical condition.
Related Topics