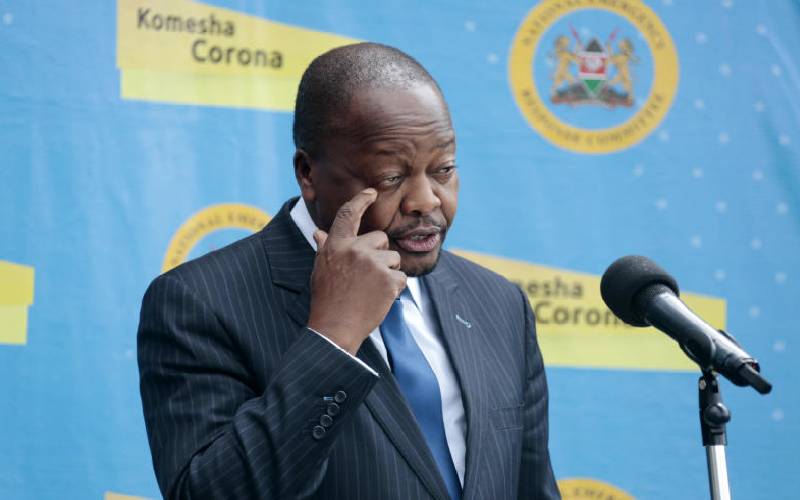 Pressure is piling on Health Cabinet Secretary Mutahi Kagwe (
pictured
) to appoint new board members for the Kenya Medical Laboratory Technologists and Technicians (KMLTT) to replace those whose term expired two years ago. The KMLTT board has a crucial task of licensing laboratories to test Kenyans for the Covid-19 disease. More than 500 members of KMLTT have signed an online petition to compel Mr Kagwe to reconstitute the board. In the petition they expressed concern that the delayed appointment of the board had allowed former officials to continue discharging duties yet they were in office illegally. The petitioners now want the old board sent packing because their continued stay and exercise of functions "is illegal, improper and unlawful". The petition also wants the CS to reconstitute the board for proper operations.
SEE ALSO: Covid-19: President Uhuru in delicate balancing act
Critics have questioned the running of the board affairs. The board has been accused of approving companies to import test kits, including those for Covid- 19 tests, without due process. The board members whose term has expired are Abel Onyango, Patrick Kisabeyi and Abdilatif Ali. Others are Wildon Njeru Kaaria, Josephat Yunndu, John Oluoch Nyamuni and Raphael Gikera.
Compromise quality
"The situation is so delicate to the extent that there are suspicions that this diluted process of licensing may compromise the quality of the tests results due to wrong testing kits authorised by an illegal board," said a KMLTT member who declined to be named. Licences approved during the pandemic period include Machakos Level 5 laboratories to perform SARS-COVID-2 tests and pathologists Lancet Kenya Limited to perform SARS-COVID-2.