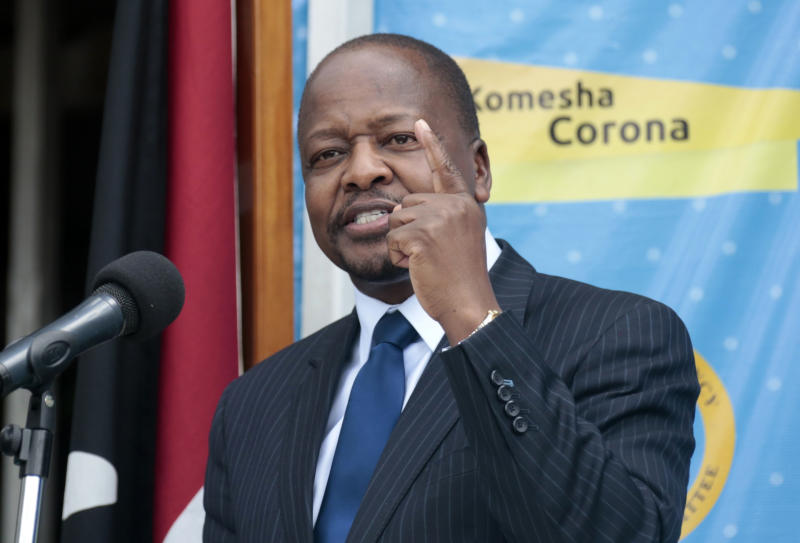 The Government has snapped cessation of movement order into and out of two urban sections as Coronavirus cases in the country rise to 582 after 47 new cases were confirmed in the past 24 hours. The order takes effect today from 7pm for the next 15 days. Public transportation in and out of the two neighbourhoods cum-commercial centres has also been prohibited. The two sections, Nairobi's bustling Eastleigh and Mombasa's Old Town, have been mapped out as high-risk areas in the country.
pictured
) said the containment order was made in conjunction with the Interior Ministry and followed the increase in the number of cases in the two areas. "It will be difficult but again we must protect Kenyans. If we adhere to the containment measures we will defeat the virus," he said. The CS also ordered for the closure of markets and eateries in the two areas for the next 15 days even with testing being scaled up. Kagwe urged Kenyans to turn out and test in large numbers since they will no longer bear the costs of testing in government facilities. "The cost of targeted testing for Covid-19 and government quarantine facilities shall be met by the government effective today. Kenyans should not be afraid to get tested," he said.
Coronavirus cases worldwide
The number of Covid-19 cases worldwide has exceeded 3.67 million, with the global death toll rising to 256,928, according to the Worldometer tally. In the United States of America, there are over 1.2 million confirmed cases so far and more than 72,000 Covid-19 related deaths. The country currently has the highest infection and fatality cases in the world. The UK, on the other hand, has the world's second-highest death toll of 29,427 overtaking Italy's to become the highest in Europe.