Home
/
Health & Science
Cholera, measles continue to ravage Kenyans in 2020 as control efforts fail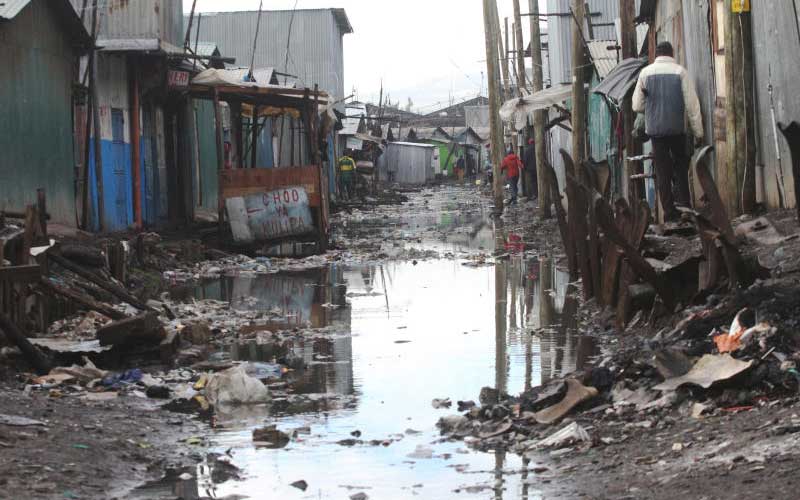 Kenya recorded 5,052 cases of cholera in 2019, the third highest outbreak in Africa and which is still going on in four counties.
Data published by the World Health Organisation (WHO) this week shows efforts to control cholera in Kenya have largely failed, and cases have jumped from 3,967 in 2017 to over 5,000 last year.
Kenya is ranked third after DR Congo and Somalia. It is among seven countries in Africa which reported cases of cholera in 2019.
The report says the outbreak is still active in Kenya, with 91 new cases reported in Garissa, Mandera, Turkana and Kirinyaga in the last weeks of December. In 2019, cholera caused 39 deaths in the country.
During the Christmas week, three people were hospitalised in Kirinyaga County and 358 residents given preventive treatment.
This has prompted the neighbouring Nyeri Country to issue a cholera alert while banning hawking of cooked foods.
The WHO data also shows hundreds of Kenyans including children continued to suffer from highly preventable diseases including measles and kala-azar.
New outbreak
Since March, 510 cases of measles and one death were reported mainly from Pokot, Garrissa, Kajiado and Dadaab refugee camp.
"A new outbreak of measles has been reported from Pokot North Sub-county, Alale Location where 75 cases with seven confirmed dead have been recorded," says the WHO report.
In the previous year, 2018, some 746 cases of measles were reported in Kenya, an outbreak that had been blamed on declining child immunisation coverage due to frequent health workers' strikes and low prioritisation by county governments. The WHO report also shows in 2019, some 2,879 cases of kala-azar were recorded in Kenya, with 34 deaths recorded in the last few weeks.
"Since the beginning of the outbreak, suspected and confirmed cases of kala-azar have been reported from Mandera, Marsabit, Wajir and Garissa counties."
Kala-azar also called leishmaniasis is spread through sand fly bites. But it is the cholera epidemic in Kenya which peaked between December 2014 and September 2016, with 16,840 cases and 226 deaths that is a cause for concern.
To address the persistent problem, the Ministry of Health in 2013 launched a Sh1.2 billion five-year Cholera Prevention and Control Plan. But by 2017, things had worsened with the disease, breaching the poverty line to affect guests at a high society wedding, a high-end hotel and at a large conference, all in Nairobi.
This had raised instant public outcry on social media and alarmed the government into establishing yet another task force to coordinate response activities.
"We are immediately reactivating the Multi-Sectoral Outbreak Management Technical Working Group and Rapid Response Teams both at the national level and in the affected counties to respond to the disease," the then Director of Medical Services Dr Jackson Kioko had told Kenyans.
Dr Kioko had further assured Kenyans that both levels of government would coordinate their response and quickly bring the outbreak to an end.
But data show this did not happen, with cholera cases in 2017 hitting 3,967, about 6,000 in 2018 and 5,052 in 2019 and already several cases recorded in 2020.
Cholera-prone
An earlier study involving Dr Kioko in the most cholera-prone counties found Kenya ill-prepared to stop the disease.
The survey also involving the US Centres for Disease Control and Prevention (CDC) reported high awareness of cholera among Kenyans but inadequate access to safe water and appropriate sanitation facilities.
In addition, the report said healthcare workers had inadequate knowledge of critical signs of severe dehydration and appropriate use of antibiotics for cholera, while health facilities often lacked adequate life-saving supplies, particularly intravenous fluids.
In the short term, WHO is advising the Ministry of Health to ensure quick, proper and timely case management at all cholera treatment centres.
But as a lasting solution, it calls on Kenya to improve on water access, effective sanitation, proper waste management, and enhanced hygiene and food safety practices.
The Vision 2030 and other government policies promise 100 per cent access to water and improved sanitation services by the end of the decade.
But a recent United Nations report says Kenya is not on track to meet these targets with, for instance, only 10.6 per cent of households with access to sewerage services.
The report says the government needs Sh1.76 trillion to provide universal access to water and improved sanitation services by 2030 but has only about Sh560 million for the task.
Diarrhoeal disease, while easily preventable is the third main reason why Kenyans visit health facilities countrywide.
The Kenya Economic Survey 2019 shows on average, three million diarrhoeal-related hospital visits were made in each of the past five years.
This was after respiratory problems, malaria and skin conditions but way ahead of pneumonia, HIV and even cancer.
Related Topics