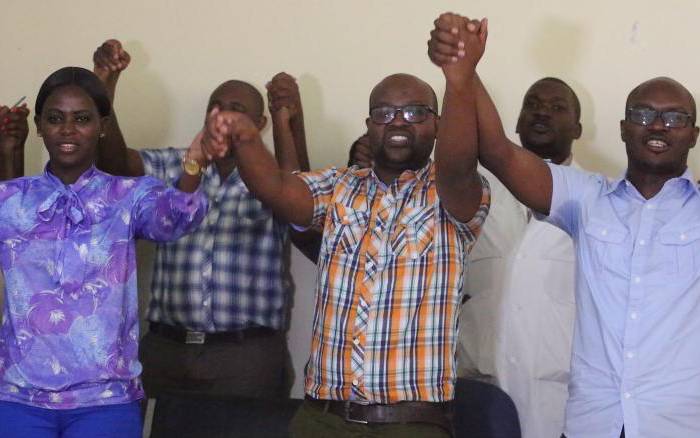 Health & Science
Doctors have called off their strike to give room for negotiations with Kisumu county government.
Doctors have called off their strike to give room for negotiations with the Kisumu County government. Nyanza union branch chairman Kevin Osuri yesterday said they would resume duty today, bringing to an end the three-week strike that caused untold suffering among patients. On Monday, representatives of the doctors' union stormed out of a five-hour meeting accusing the county administration of not engaging in good faith. "Nothing fruitful has come out of the meeting because the county government is not serious," claimed Dr Osuri.
SEE ALSO: 76-year-old man in court for bulldozing wall worth Sh2.9 million
Having endured a painful Christmas following the collapse of the public health system, residents hope the doctors grievances will be addressed before the New Year. "The county government should implement the agreements it signed with the doctors union to get the doctors back to work immediately," Osuri stated.
Playing politics
The county government has however blamed the doctors' union for playing politics, accusing them of putting their interest ahead of suffering residents. "We have addressed the issue of promotion which was the cause of the doctors strike, so there is no need for them to continue absconding duty," said the county's Health executive Judith Atyang'," adding that the county government has started declaring redundant the positions of doctors who are on strike. Following the strike, patients have been forced to seek services in private health facilities or travel long distances to neighbouring counties of Kakamega, Kericho, Nandi and Siaya.
SEE ALSO: Government deploys 189 county doctors to quarantine and isolation centres
A spot check by Sunday Standard revealed that the public health facilities were still deserted with little activity going on. The wards at the Kisumu County hospital were empty, with few patients coming in to check if services had resumed. In what could further cripple the public health sector, nurses and clinical officers have threatened to go on strike if do not get promotions by December 31.