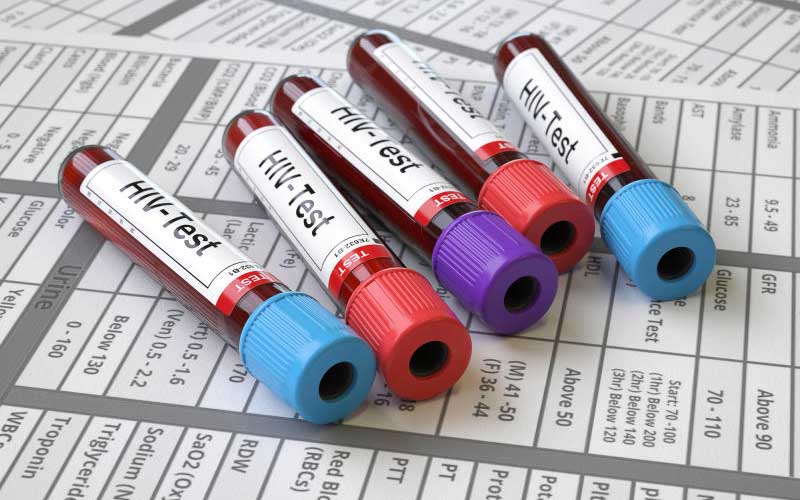 As the World Aids Day was marked last week, Kenya HIV estimates for 2018 found that women are more likely to test for HIV than men.
This even as Kenya feels the pinch of cut in funding for HIV/Aids programmes by the US President's Emergency Plan For Aids Relief (Pepfar) which could see gains made over the years eroded.
Even as new HIV infection rates drop, experts argue that, there is still a yet-to-be-reached. This has called for new approaches including self-testing for HIV.
The National Aids and STIs Control Programme (Nascop) notes that Kenya has 1.5 million people living with HIV out of which about 500,000 are yet to start treatment. This is one of the factors pushing new infections even as figures show that new infections are surging in nine counties.
While UNAids targets 90-90-90, Kenya seems to be lagging behind in each target. Nascop notes that adults in care stands at only 70 per cent meaning one in three people with HIV is yet to be tested while 23 per cent of those tested are yet to be put on treatment. Also, nearly half of those on treatment are yet to have their viral load suppressed.
Prevalence
This reality has called for new modes of operation to meet the targets which appear a long shot as the targeted period reaches homestretch. Funding cuts towards testing is premised on the reality that testing 15 million people to look for this 340,000 is not efficient use of funds.
In Kisumu, where HIV prevalence remains high, a project to have more men test is being undertaken in Manyatta and Kondele, by Population Services Kenya in partnership with a local organisation. The project targeting men aged 18-35, started last month and has reached 900 men with self-test kits. Dinozzof Odhiambo, who coordinates the project says it targets men aged between 18 and 35.
"Most men do not go to health facilities because of negligence unlike women who get tested during pregnancy or other visits to health facilities," says Odhiambo.
Ms Eunice Kinyua, the Kisumu County Aids and STIs Control Officer, attributes the high prevalence among men to poor health-seeking behaviour. She says that with HIV testing integrated to key service areas, most women are tested as opposed to men who take a bit of time before seeking medical services.
"But we have a strategy called assisted partner notification which we are using to reach out to men through their spouses who seeks services and test positive whereby we get the details of all the sexual partners and contact them telling them that they could be at risk," says Kinyua.
Health experts argue that to solve this issue, more targeted testing is necessary. Dr Charlotte Pahe, the HIV private sector adviser points out that while figures show that testing between 2012 and 2016 more than doubled, the number of people who turned positive dropped by almost 84 per cent. Pahe says this can be attributed to the fact that more people living with HIV have been discovered and the population being looked for has grown small over the years.
"The new strategy being employed which involves connecting a network involves confidentially tracking all the sexual partners of a person who tests positive for HIV as a way towards getting everyone positive put on treatment," says Pahe.
Nairobi has the lowest testing gap in Kenya while Mandera has the highest number of people who have HIV but are yet to be tested. Other counties with high testing gaps are Wajir, Marsabit, Kwale, Turkana, Lamu, Taita Taveta, Tana River, Samburu, Garissa and Kiambu.
Critical of the group
During a routine HIV sensitisation by a local youth group in Awendo, Migori County last year, youth advocates came across a man in his late 20s who dismissed their message.
He taunted the advocacy group that was sensitising people on HIV testing.
The boda boda rider identified as Walter was critical of the group a factor that prompted his colleagues to take the test. He tested positive for HIV.
Norman Odhiambo, the health activist who was leading the youth group says the results changed everything for the young man. He was counseled and referred to a facility to start medication. Walter is one of the best advocates for HIV testing in his home.
Related Topics