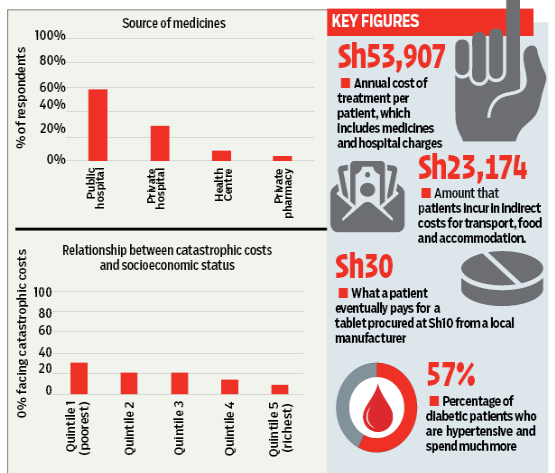 The cost and quality of care in public hospitals is impoverishing many diabetic patients, a new study by the Kenya Medical Research Institute has shown. Almost half of the studied patients reported poor services at the nearest hospital and had to incur higher transport costs to far-away facilities. "48.9 per cent of study patients reported lack of medicines and diagnostic facilities as a reason for not visiting nearest facilities," says the study published last Thursday.
SEE ALSO: Kenya to inquire on Russia's virus jab
Scientists from Kemri and Moi University, Eldoret assessed the costs of treating diabetes patients at five public health facilities in Kilifi and Bungoma Counties. The study appearing in
The International Journal of Health Planning and Management
involved 163 adult patients in the two counties. "Kilifi and Bungoma counties were purposely selected to reflect a diverse set of demographic, socioeconomic and geographical settings," says the study. The annual cost of treating diabetes in these facilities, the report says, was Sh53,907 for direct costs, which include medicines and hospital charges. But that was not all, as the researchers also found patients incur about Sh23,174 more in indirect costs for transport, food and accommodation. "Medicines accounted for 87.3 per cent of the total out-of-pocket costs while transport and food accounted for 10.4 per cent and 2.3 per cent respectively," says the report.
SEE ALSO: How the State lost billions after being outwitted in medical kits leasing project
Additionally, more than half, 57.7 per cent, of diabetic patients were hypertensive, and were required to spend much more on treatment. Overall, about two thirds - 68.1 per cent - of the patients were not enrolled in any type of health insurance scheme. The researchers say such medical expenses in a country with very high poverty levels are debilitating most of the affected families.
High cost
In this study 123 or 75.5 per cent of the patients had been pushed into poverty by the high direct and indirect cost of diabetes care, says the study.
SEE ALSO: Why Kenya's youth feel left out today
"About 23 per cent of the patients had to borrow from friends or family, 30 per cent sold an asset and 36.8 per cent used their savings to pay for the costs of diabetes care." Much of the high cost was attributed to lack of care at the nearest facility, long waiting times and high cost of medicine. A survey published last year by the German Development Agency, GIZ, showed the high cost of medicines in Kenya is mainly caused by shadowy middlemen and conniving civil servants. For example, a tablet procured at Sh10 from a local manufacturer reaches a patient in a public hospital at almost Sh30.