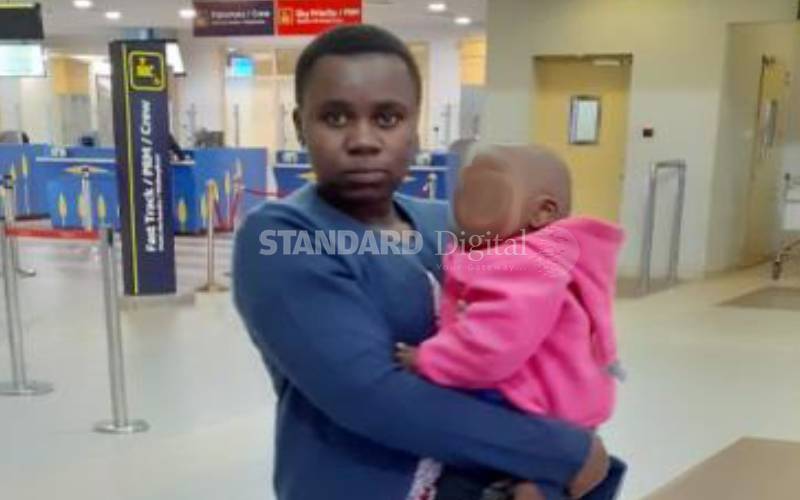 A mother and her 19-month-old child are stuck in a hospital in India after failing to settle their medical bill.
Lydia Onyango and her son, Randy Onyango, left Kenya on July 27, for MIOT Hospital in Chennai, India, where the boy underwent a successful heart surgery on August 2.
Randy was discharged on August 18, but the family could not immediately raise the hospital bill of $6,182 (Sh618,200).
Mother and son have been detained at the hospital since then, and the bill has been rapidly increasing at Sh5,000 per day.
The bill stood at Sh750,000 as at yesterday.
"The amount continues accruing every day," said Randy's father, Pacific Onyango.
According to Randy's mother, the hospital has confiscated her passport and her son's, just to ensure they don't leave the facility.
More challenges abound as both mother and son's medical visas expire tomorrow and will require at least two weeks to renew, and an additional Sh25,000.
In India, Randy and his mother have been surviving through the help of well-wishers. A woman from Seychelles offered them her room as she waited for her flight after being discharged. Some patients gave them pampers, sugar, salt and bottled water.
Randy's journey to India began at the family's home in Kadero village in Homa Bay County, when he started experiencing difficulties in breathing.
His parents took him to Rakwaro Mission Hospital, Migori, from where he was referred to Kisii Referral Hospital.
From then on, it was one referral after another.
"At Mater Hospital, after he had been on treatment for two months, we were referred to MIOT Hospital in Chennai, India, for a delicate heart surgery that involved reconstruction of new blood vessels," said Onyango.
Lydia teaches at a private secondary school in Migori while Onyango, a social worker, is jobless.
The family organised a fundraiser and only managed to raise Sh120,000. The air ticket for the mother and son cost Sh107,000.
Successful operation
The surgery was successful, but the family ran out of cash. On August 26, the hospital wrote to the father, informing him that the baby was fit for discharge and asked him to clear the bill.
Thereafter, Onyango learnt that his wife and child were spending nights on the cold floor.
He wrote to the hospital to keep the two in the ward as he looked for money.
"Whenever the wards are empty, my family is given a place to sleep, but when the wards are full, they spend the night on the floor," he said.
He claimed that the hospital has declined to allow his family stay in a hotel room next to the facility.
"After inquiring, l was told a hotel outside the hospital charges Sh2,000 per day. But the hospital has declined to release my family. Now, they are charging us Sh5,000 every day," he said.
Related Topics