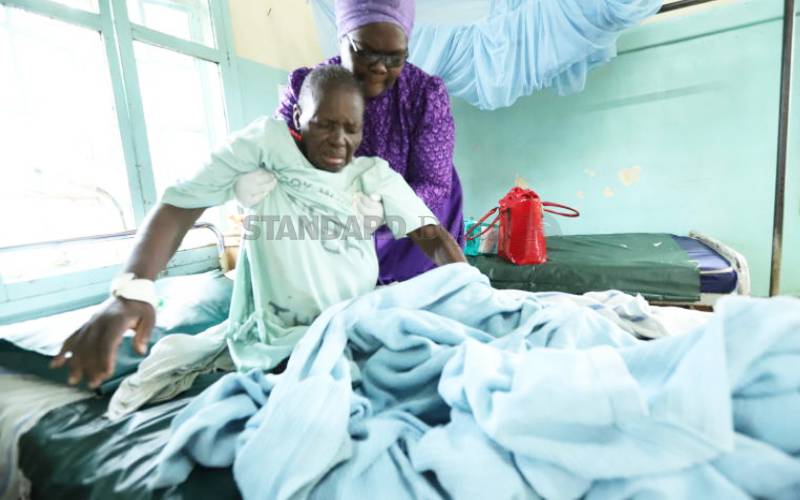 A week-long strike by medics in the County has paralysed operations in 132 public health facilities. Patients were stranded on hospital beds, as the county and the medics kept trading blame over who was responsible for the strike. The medics said they had not been paid for the last three months. Through their unions - the Kenya Medical Practitioners Union (KMPDU), Kenya National Union of Nurses (Knun), Kenya Union of Clinical Officers (Kuco) and Kenya National Union of Medical Laboratory Officers (Kumlo) - the medics said the County Government was silent on their salary demands.
SEE ALSO: Medics' union gets donation of 67,000 surgical masks
KMPDU Kisumu branch liaison officer Robert Sadia claimed the union had reached out to Governor Anyang' Nyong'o many times, but was always ignored. "They have gone silent, ignoring our willingness to engage with them even as the patients suffer," said Dr Sadia.
Meet demands
He noted that the health workers he represented would only return to work after the county meets all their demands. The workers are demanding salaries for July, August and September and also want promotions that have stalled since January to be fast-tracked. County Director of Communication Aloise Ager said the medics had refused to return to work and negotiate with the administration.
SEE ALSO: Nowhere to run as Sh13m safe houses project stalls
"Their claims are dishonest. We asked them to resume work so that we could continue with talks, but they are insisting on the strike," said Mr Ager. He said the county assembly had approved the 2018/19 budget, and that the medics would be paid this week. Maurice Opetu, the Kisumu branch Knun Secretary General, said the union resorted to striking after exhausting all dispute resolution mechanisms. "We want our members to remain at home because our employer will not listen to us," said Mr Opetu. Vincent Owaa, the Kuco Kisumu branch chairman, said the last time union members received a salary was in June.
SEE ALSO: Patients on their own as medics go on strike
He said the lack of pay had exposed medics to untold suffering. "We shall demonstrate until our demands are met," said Mr Owaa.
Encounter quacks
The union officials warned residents against seeking treatment at any public hospital saying they were likely to encounter quacks. He said all professionals were on strike. "If you find somebody claiming to be a doctor, they are lying to you. Doctors are on strike," said Owaa. A spot check at Jaramogi Oginga Odinga Teaching and Referral Hospital showed that a few nurses and interns were taking care of frail patients. Many wards, including a gynecological one, were closed. The pharmacy and laboratory were also closed. Only 16 frail patients were lying in beds in the few wards that were opened. Sources said no admissions were taking place even for the very ill patients at the county's top referral hospital. Nurses from local Non-Governmental Organisations have been taking care of HIV/Aids patients in a few sub-county hospitals.