Home
/
Health & Science
Hope alive for cancer patients as region gets new technology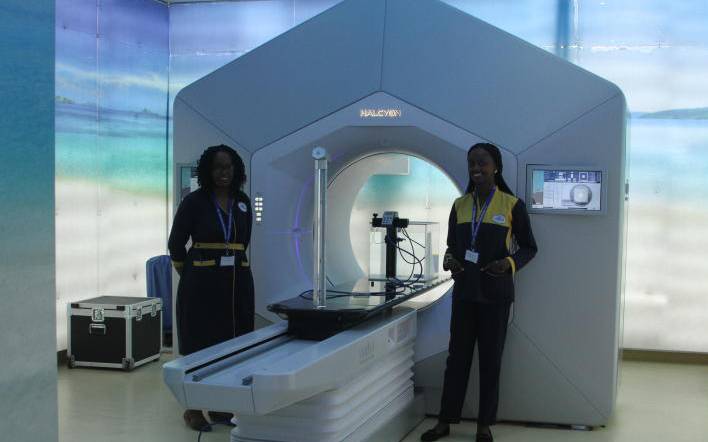 Cancer patients will benefit from a new radiation technique that not only increases efficiency but also reduces side effects from powerful rays.
The new linear accelerator or linac named Halcyon is latest radiation technology which has found its way in the region through Nairobi West Hospital.
Other countries that have adopted the equipment are the US, Belgium, Morocco, South Africa and India.
Unlike the usual radiation therapy equipment, this latest model developed in 2017, offers precision by directing the rays to the actual tumor. "This way we treat the cancer with high doses of radiation but sparing other structures of the body. We basically hit the tumor hard, while minimising side effects," said Dr Solomon Mutua, a clinical oncologist specialised in treating cancer with targeted agents in chemo and radio therapies.
Dr Mutua said the machine offers radiation in a record two minutes compared to the old model that a patient has to spend almost 40 minutes under it.
With this advancement, there is less anxiety experienced by patients. "This also means you can handle a bigger volume of patients depending on the staff compliment of the hospital. Basically between 50 to 70 patients," he said.
Most patients depend on Kenyatta National Hospital for radiotherapy sessions which has led to long queues and some patients get booked months after diagnosis.
One such patient is 47-year-old George Lemiyian, who in May 2016 after a surgery to remove a tumour growth in his leg was recommended for 36 radiotherapy sessions and referred to KNH from Nakuru.
"I was shocked when I was told at KNH that I have to wait for four months as all the dates were fully booked," said Lemayian. Though still the most preferred destination for cancer treatment, KNH has had challenges with adopting new technologies.
How it works
The new linac technique also employs VMAT (Volumetric Modulated Arc Therapy) and IGRT (Image Guided Radiotherapy) which cannot allow a radiologist to do any radiation before an image is taken to determine the patient's progress. "In such cases errors are minimised as much as possible," said Dr Mutua.
Nairobi West Hospital will officially unveil the equipment on March 4. The hospital becomes the second private facility to purchase state of the art cancer equipment. On February 4, the Aga Khan Hospital also unveiled its Positron Emission Tomography (PET) scan equipment, the only one of its kind in the region. However, while the linac is a treatment equipment, that of Aga Khan is for diagnosis.
While it appears that private facilities are fast tracking President Uhuru Kenyatta's Big Four agenda on Universal Health Coverage (UHC), the Ministry of Health is yet to deliver on its promise of 10 cancer centres in former provincial hospitals. The Head of Curative treatment in the Ministry Dr Isaac Odongo said a good time frame would be five years for the government to deliver the centres. This is while the Ministry revealed that cancer claims up to 33,000 lives annually, with 48,000 new cases in same period.
Related Topics