Home
/
Health & Science
Nurses strike kicks off as patients suffer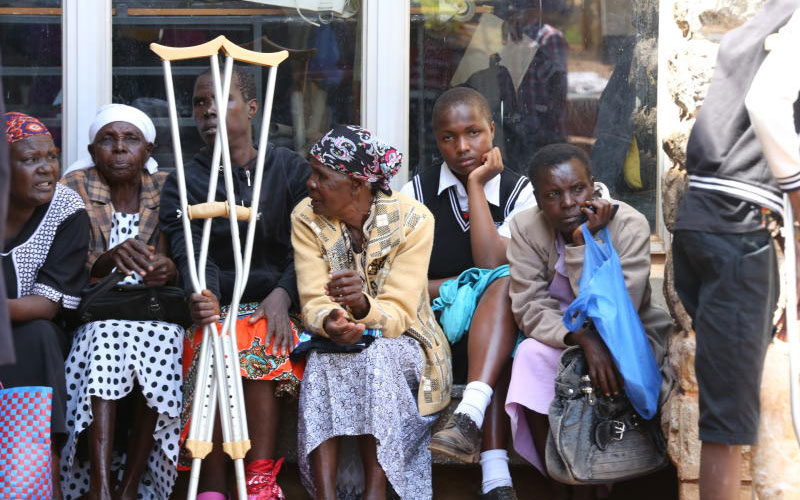 After 12 sessions of radiotherapy, it was time for Gladys Mumo to start chemotherapy treatment. She was, however, told her hemoglobin level was low. She needed a blood transfusion, urgently.
But yesterday, when she arrived at Mbagathi Hospital for the transfusion, Mumo was told that could not happen, as there were no nurses to attend to him.
"The only option may be St Mary's, which is a private facility," she said, as her husband whisked her away to board a matatu on Mbagathi Way.
Despite getting to the hospital before noon, by 2pm, the two were still stranded at the gate, pondering their next move.
The same frustration was shared by Emma Maina, who had visited the hospital for antenatal care.
She said she was advised that since she was set for a caesarian section, she needed to have an imaging done for the doctors to see the position of the baby.
She did the scan and was supposed to see the doctor yesterday. However, in order to see the doctor, as a procedure, she needed to go through the nurse on duty, who would weigh the case and direct her to the right specialist.
"I have been told to come back on February 13. But maybe I should go to KNH," she said.
Mbagathi Hospital is among the health facilities in Nairobi County where nurses joined others in at least 11 counties in a strike that started yesterday.
Yesterday, officials of the Kenya National Union of Nurses (Knun), led by Treasurer Agnes Munderu, were holed up in a meeting with conciliation committee appointed by Labour Cabinet Secretary Ukur Yatani.
Bad faith
Mr Yatani said the unionists were acting in bad faith by presenting themselves for talks while at the same time still inciting their members to proceed with the strike.
Knun Secretary General Seth Panyako on Sunday made it clear he would not be taking part in any talks in Nairobi.
He said he had delegated his powers to union leaders at the county level. This has seen some counties experiencing the strike while others did not.
Only three counties kept the November 2, 2017 return-to-work formula that awarded nurses an increase of Sh15,000 in uniform allowances and Sh10,000 in nursing service allowance.
All the allowances were spread to be implemented in three phases from 2018/2019 financial year to 2020/2021.
Conciliation committee
Mr Panyako questioned Yatani's decision to appoint a conciliation committee just two days to the strike.
The 2017 deal was to be implemented by the counties and national government for the nurses working at Mathari Teaching and Referral Hospital and national spine injury facility.
Some 20 days after November 2, 2017, the nurses were supposed to have their Collective Bargaining Agreement (CBA) signed. To date, the allowance have not been paid, and the CBA signing not done.
Only Mombasa, Machakos and Migori counties have implemented the deal on allowances.
Speaking in Eldoret yesterday, Panyako said the strike that started yesterday in 11 counties would continue until a 2017 return-to-work formula signed between the nurses' union and the Council of Governors is implemented.
In Elgeyo Marakwet County, the strike disrupted ongoing vaccination campaign against Hepatitis B, a viral disease that killed six people, including a health worker, between December last year and the month that followed.
Governor Alex Tolgos told the striking nurses to return to work or face the sack.
But the county Knun secretary Benson Biwott dared the governor to sack the nurses.
In Kisumu, striking nurses warned that the county's pilot Universal Health Care (UHC) would fail unless their grievances were addressed within the next few days.
The Kisumu Branch Knun chairperson Flora Ambani said nurses were the engine of the UHC.
The nurses, who gathered at the Jomo Kenyatta Sports Ground, vowed not to resume work until their grievances were addressed. In Trans Nzoia, services at County Referral Hospital and public health facilities were paralysed.
More than 500 nurses did not report to work, with union officials asking patients to seek services at private health facilities.
The scenario was the same at Samburu County Hospital in Maralal town, with nurses taking to the streets before going to meet Health Chief Officer Sam Nakope.
[Story by Graham Kajilwa, Stephen Rutto, Mactilda Mbenywe,Osinde Obare and Martin Njiru]
Related Topics