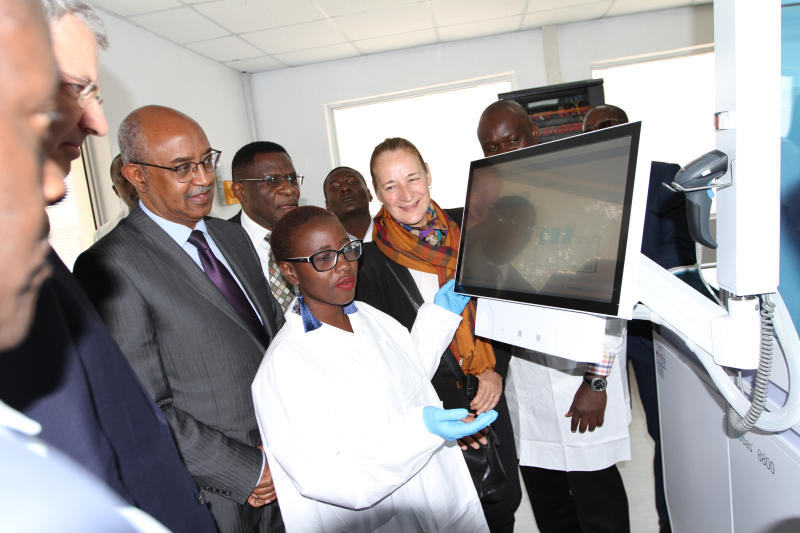 A new machine that reduces effective HIV testing time from more than a month to a week has been introduced in the country.
The machine was installed yesterday at the Kenya Medical Research Institute (Kemri) in partnership with Roche, a swiss pharmaceutical compan.
The cobalt 8800 machine can determine an HIV patient's viral load in under a week.
Unlike the traditional Rapid Test, Viral Load Test otherwise known as VLT is able to identify the HIV virus within the cell, making it possible to capture infections earlier.
The test is also important for HIV patients in determining if the anti-retroviral treatment they are in is working or whether they have grown resistant to drugs.
It also informs the medics if the individual is following the treatment.
The new technology can process up to 3,000 viral load tests in a day. It will be the second machine after another one installed in Kisumu last month.
Compared to previous one that combined both HIV viral load and infant monitoring of the virus, Kemri lab scientist, Lillian Nafisa, said the new state-of-the-art technology is a boon for HIV testing.
Viral load
Previously, viral load tests would take a month or more, putting patients at the risk of infecting others unknowingly or contracting new infections.
"With this new technology, although we take one milliliter of blood, we only use 0.2 of it. In case we need to do a repeat test, we will still have a sample," said Ms Nafisa.
From the same 0.2 ml sample, the patient is also tested for Hepatitis.
Kenya joins Uganda and South Africa as the only African countries with the latest viral load test technology.
Related Topics