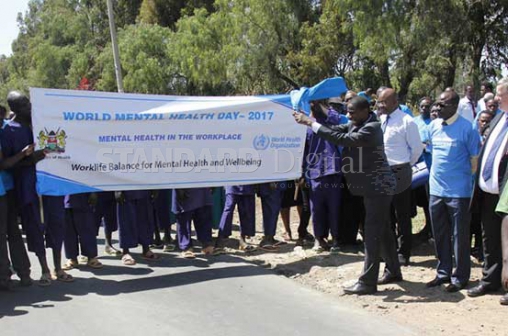 Experts have sounded a warning against rising cases of untreated, work-related depression in the country.
The situation, they say, is compounded by little or no understanding of depression and stigma.
Speaking during a World Mental Health Day event at Gilgil Mental Hospital on Tuesday, senior Ministry of Health officials warned that depression was increasingly becoming a major threat to workers' productivity.
"It contributes to 10 per cent of time off work by the employed population, with an average of 36 work days lost per depression episode," said Director of Medical Services Jackson Kioko.
The ministry's head of curative and rehabilitation services, Izaq Odongo, said there was urgent need for employers to craft policies that promote a mental-health friendly workplace.
Workplace community
"There is need for the workplace community to talk about depression and other mental health problems such as substance abuse and put more emphasis on a mentally healthy workplace," said Dr Odongo.
He said depression was quietly eating into the country's economy.
"Symptoms of depression such as difficulty in concentrating, making decisions and remembering are up to 94 per cent of the time during an episode of depression, causing significant impairment in work function and productivity," he said.
One in every four persons is likely to experience a mental health problem in their lifetime. Out of these, more than four in every 10 suffer from depression.
Mental, neurological and substance use disorders account for 13 per cent of the total global burden of disease.
"These statistics point to the need to make deliberate efforts to support initiatives geared towards mental well-being," said Odongo.
The Director of Medical Services called for workplace health policies to provide individuals and employers with information about self-care and well-being.
"This will ensure a mental health-friendly workplace that provides for programmes and practices that promote and support employee wellness and work-life balance," said Dr Kioko.
Such policies would come in handy in identifying performance problems that may indicate worker-distress and assistance to those in need.
The Ministry of Health is currently implementing the 2015-2030 Mental Health Policy that focuses on, among other areas, setting standards for mental health in the workplace.
According to Kioko, the policy spells out how to curb stigma and discrimination against persons suffering from mental health.
The ministry will also be working with anti-drug agencies to contain alcohol and drug abuse in its prevention and management strategies.
The ministry is reaching out to employers to invest more in the mental health of their workers.
"Mental health is a key determinant to overall health and socio-economic development. There is need for stakeholders to invest in a healthy workplace through transformative leadership to reduce risk factors for stress," said Kioko.
County Chief officer for Health Samuel Mwaura said the county government had partnered with stakeholders to identify and offer counselling to people suffering from depression and mental illness.
The three-month programme dubbed 'Project Management Plus' has been piloted in Naivasha and Gilgil.
"The project will bring on board people who often do not access counselling services, which have been concentrated on HIV and Aids," said Dr Mwaura.
Related Topics