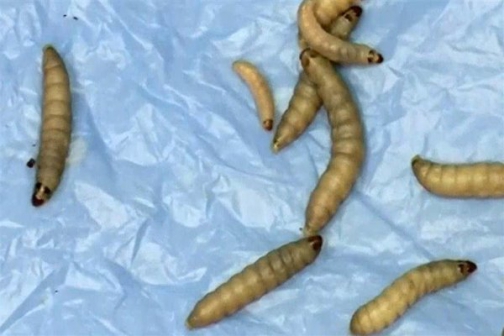 Scientists have revealed that there is a special breed of caterpillar that feeds on plastic bags.
The revelation uploaded on the scientific website, Current Biology, comes at a time when the bags have been banned in the country. The site gives report on various microbiological studies.
The report indicates that a special breed of caterpillar, wax worms, feed on the plastic bags making them the most reliable solutions to the pollution problems caused by plastic garbage.
According to the study, the caterpillars scientifically known as Galleria Mellonella feed on the polyethylene, which is one of the most common materials used to make the plastic bags.
"When a PE film was left in direct contact with wax worms, holes started to appear after 40 minutes, with an estimated two holes per worm per hour," the study indicates in its findings.
A month ago, Environment Cabinet Secretary Judi Wakhungu declared a ban on the manufacture and sale of plastic bags.
The announcement was a setback to many businesses that have invested heavily in the sector but was sweet news to environmentalist who for decades have viewed plastics as a major pollution agent.
According to Prof Wakhungu's ban, which was gazetted in March and comes to effect from September 1 there should be no sale, manufacture or importation of plastic bags in the country.
The research findings found that the wax worms not only feed on the plastic bag materials but also possess special capability of making the plastic materials biodegradable. However, no specific rate has been determined on how the caterpillars can render the plastic materials harmless.
The worms are reported to be feeding on the beeswax, which possesses special chemical compositions significant in breaking down the polyethylene compounds into decomposable materials.
The 2017 study was conducted by two European scientists; Federica Bertoccini of Spain, and Paolo Bombeli and Christopher Howe of Britain.
This is good news for Kenya, which struggles with non-biodegradable wastes which have littered places like Dandora and Kibra.
World Health Organisation rates Kenyan pollution index at 74.
Related Topics