Home
/
Health & Science
Nurses' union chair axed for 'sabotaging' CBA talks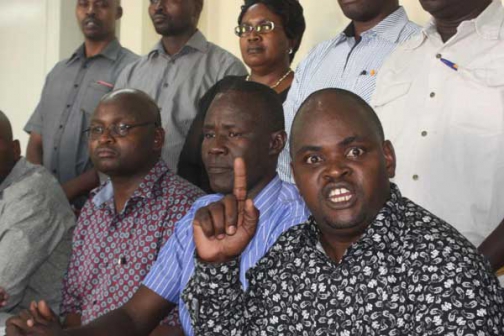 The in-house fight in the nurses' union reached its climax after the executive council expelled chair John Biiy over gross violation of office.
Mr Biiy was axed after a meeting by the union's National Executive Council who claimed among other misconducts that he has been sabotaging the ongoing talks to formulate a Collective Bargaining Agreement (CBA).
According to a joint statement by the NEC leaders among them the union's General Secretary Seth Panyako, it was resolved unanimously that Biiy ceases to be the union's chair and appointed Joseph Ngwasi in acting capacity.
It is claimed that Biiy contravened the union's constitution by not observing internal dispute mechanism.
"Biiy violated the union constitution by colluding with employees, employers and Government and other entities to frustrate the union's programme and activities of importance to frustrate the CBA negotiation in progress," said the union's Deputy General Secretary.
Currently, Biiy has an active case in court against Panyako for abuse of office due for Monday.
"As far as I am concerned, we have not received any orders from the court barring us from taking such a disciplinary action. Usually, anyone who is not satisfied with the council's decision has 21 days to appeal," said Panyako.
The rift in the union emerged in December last year when Panyako led the National Governing Council in rejecting a return to work deal signed by Biiy and Opetu with the government for nurses who were then on strike.
It was until Panyako stepped in and renegotiated the deal awarding the nurses a new nursing service allowance of between Sh15, 000 and Sh20, 000 permanent on their payslips that the strike was suspended. The two leaders were later pardoned by the union's governing council.
The deal had also stipulated that the KNUN, County governments and National Government hold discussions to draft a CBA that should be registered by March 2.
In the statement, Biiy is accused on sabotaging these talks by colluding with the government, consequently irreparably damaging the image of the union and so he is unfit to hold office.
Take a quick survey and help us improve our website
Take a survey
"Thus the NEC meeting has resolved to expel John Biiy from the union leadership forthwith in accordance with the Union Constitution and he ceases with immediate effect to transact any business on behalf of the union," said Opetu.
Further, KNUN Panyako confirmed meeting with the Health Cabinet Secretary Dr Cleopa Mailu who is assured the union that striking nurses in Kenyatta National Hospital and Moi Teaching and Referral Hospital will be paid the new allowance from Thursday next week.
Nurses in these two facilities had been exempted from the allowance as their employers do not have a recognition agreement with the KNUN which engineered the windfall.
Related Topics