Home
/
Health & Science
Women in Kenya to outlive men, says WHO report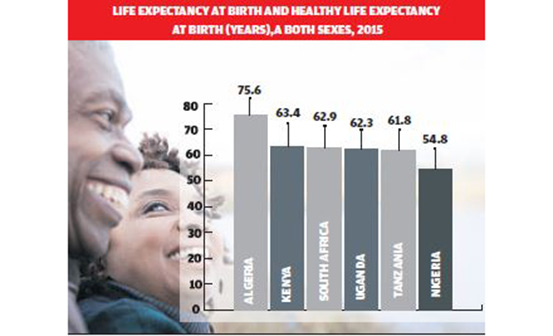 Women in Kenya will outlive men by up to five years, a new global health report shows. The annual World Health Organisation (WHO) report released on Thursday, indicates that a woman in Kenya has a longer lifespan of 66 years, while men will be lucky to live past 61 years.
Reason? While women keep away from alcohol and cigarettes for one reason or the other, men find it difficult, even normal to do so.
Also, the initiatives to boost the welfare of girls and women, including maternal healthcare, have been on the rise. On the flip side, men smoke, drink, and appear more reckless drivers than women.
The report says tobacco smoking is generally more prevalent among males aged 15 years and older than women in all regions of the world.
The import of the finding is that men in Kenya are expected to die at least five years earlier than women with whom they share a birthday.
The 2016 World Health Statistics report further supports the premise that women live longer than men in every country of the world, with female life expectancy at 73.8 years and male life expectancy is 69.1 years.
Whereas the gaps between males and females differ between regions and countries, global trends support the premise that on average women live longer than men. The probability of a Kenyan dying prematurely from cancer, diabetes, heart condition or chronic respiratory disease between 30 to 70 years stood at 18 per cent. Kenya is one of the top 10 most affected countries in Africa.
African women showed a considerably higher HIV incidence than men. Deaths under the age of 70 are rated as premature.
In Kenya, the improvement in quality of life is corroborated by the 2016 Kenya Economic Survey released a month ago that showed the total number of registered deaths by major causes declined by 598 to 108,337 in 2015. Pneumonia, malaria, cancer, HIV/AIDS and tuberculosis remained the top five leading causes of death in Kenya.
Kenya's maternal mortality ratio (per 100,000 live births) is 510, higher than Uganda at 343, Rwanda at 290, Tanzania at 398 and South Africa at 138.
Generally, healthy life expectancy which is defined as a measure of the number of years of good health that a newborn in 2015 can expect, stood at 63.1 years globally (64.6 years for females and 61.5 years for males).
According to the 2016 World Health Statistics: Monitoring Health for the Sustainable Development Goals' report life expectancy globally increased by five years between 2000 and 2015, the fastest increase since the 1960s.
The WHO observed that, life expectancy has been improving globally at a rate of more than three years per decade since 1950, with the exception of the 1990's when it stalled in Africa due to the rising HIV epidemic, and in Europe because of increased deaths in many ex-Soviet countries following the collapse of the Soviet Union.
Women in Japan took the cup globally and are expected to live the longest, at 86.8 years, whereas Switzerland is the place men could live up to 81 years. In Africa, you are more likely to live longer if you are in Algeria, 76 years, Mauritius at 75 and Cape Verde, 63 years.
You are also most likely to live beyond 82 years if you are in Switzerland, Spain, Italy, Iceland, Israel, France, Sweden and Canada.
Closer home in Eastern Africa, Rwanda emerged as the regional giant where her citizens are expected to live longer at 66 years, followed by Ethiopia at 65 years and Kenya at 63 years. Uganda and Tanzania tied at 62 years, Burundi at 60 years and South Sudan at 57 years.
On the flip-side, Sierra Leone recorded the lowest life-expectancy for both sexes both at the global and continental levels at 50.8 years for women and 49.3 years for men. Nonetheless, it was more good news for the WHO member states in the African Region of WHO where life expectancy increased by 9.4 years to 60 years; this was attributed to improvements in child survival, progress in malaria control and expanded access to anti-retroviral for treatment of HIV.
The report contains data from 194 countries on risk factors and behaviours that affect health.
They include illnesses and death from key diseases, the status of health services and treatments, health system indicators, including life expectancy and financial investment in health.
Related Topics