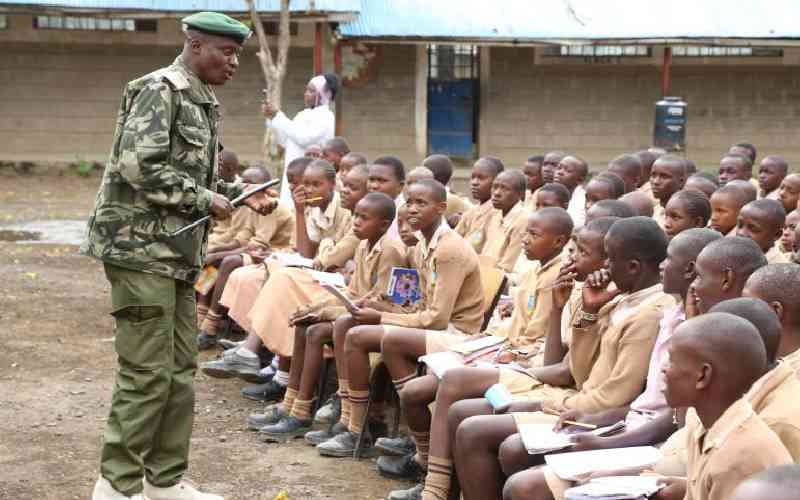 They huddled in a group, some staring at the empty sky while others chewed their fingernails.
The boys and girls had assembled to listen to a man who had become their mentor and only shield from a life in crime.
Many were pupils in classes seven and eight, who had already brushed shoulders with the law for being involved in criminal activities.
Others came from dysfunctional homes where violence reigned supreme.
"I want you to listen to me very carefully. I work with the Prisons Service. Life behind bars is a tough, sad and pathetic life. It's not for young people like you. You must do all you can to live a life of dignity and integrity and avoid ever stepping inside a prison. A life of crime is a worthless life."
His voice rang across the field sweeping through the young audience that now sat up and listened keenly. Superintendent George Odera of the Nakuru Men GK Prisons is a man on a mission.
After meeting young men behind prison walls jailed for various crimes ranging from; murder to robbery with violence, he made it his duty to reach out to those still living in a free world.
He has dedicated his life to fighting crime among young offenders. He is saddened by the fact that a number of minors are incarcerated.
Odera who was enlisted into the service in 2006 after graduating with a Degree and Master's in Business Administration from a University in India, says that he was disappointed and terrified after he noticed that many inmates in the facilities were minors.
He befriended them and started to slowly engage them. He learned that many committed crimes due to a lack of knowledge of the repercussions and consequences of their choices.
Recently, the Standard team met Odera at Eileen Ngochoch Primary School where he was speaking to Standard Seven and Eight pupils on the issues of drugs. He was accompanied by two ex-inmates and a fellow officer.
"Most of you children are lured into drugs and that becomes their initiation into a life of crime and the criminal world. Many never knew that committing a crime would land them in prison. Others had no idea that they shouldn't engage in early relationships while many others never knew that being an accomplice was a crime," Odera told them.
The research he conducted in a number of prisons he has been to, revealed that about 70 per cent of inmates were youth from slum areas.
Born and raised in Kaloleni slums in Nairobi, Odera vividly remembers doing his best not to indulge in crime or drugs.
He explained that the toxic environment never brainwashed his morals.
After schooling in a day school, he managed to join university, thanks to being focused. Odera said he has never used drugs.
His uncle who was in the military was of great influence to him, as he would imagine wearing the uniform. "I know the environment I grew shaped my thinking in a positive way. I saw my friends killed and others engage in crime and ended up in jail. That is why I urge children to avoid peer pressure," he said.
Odera who is in charge of security in Nakuru Prisons has visited about 400 schools across the country among them 50 primary schools.
The officer emphasizes to the youth the effects of drug abuse, sexual offences and abuse, child labour, engaging in crimes and also the importance of academic excellency.
While at school, the officer, wears his jungle green uniform which he said expresses the seriousness of the work.
"I like being in official job attire to emphasize the seriousness of the work, to pass a message to the youth that in cases of indiscipline the law will take its course, to teach them that crime is not good, and has consequences which are prison," he added.
Mr Odera said that he uses his off days and half of his leave days to visit schools and the rest, with his family.
He explained that at first, it wasn't that easy for the family to accept his work but seeing his passion for the program, they started supporting him.
The mentorship programme he believed has helped reduce the number of crimes in schools he has mentored. "When I visit a school, I teach them the consequences of crime, apparently a number of pupils and students never knew that arson and assault would attract conviction," he said.
Odera, not only mentors youth but also his fellow officers.
Rift Valley Regional Prisons Commander Aggrey Onyango said that the officer was doing a noble course which will help in reducing the number of convicts in prisons.
"We appreciate the efforts of the officer, the program will help reduce the number of prisoners and students will get to learn the consequences of crime," he said.
Related Topics