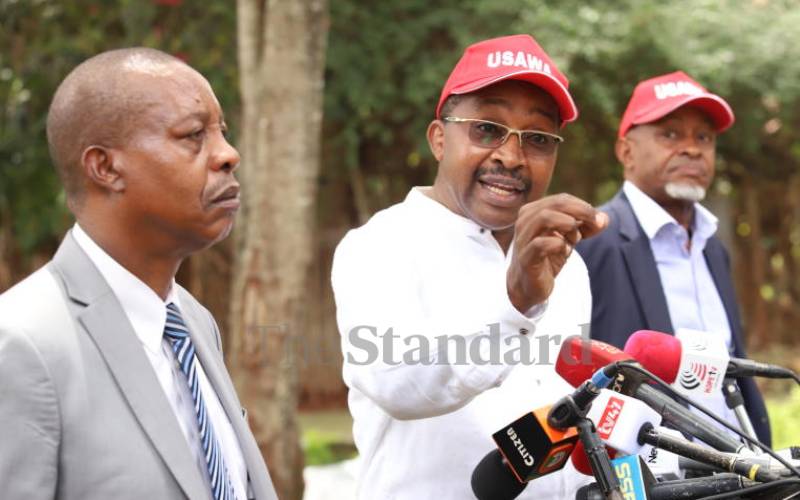 Murang'a Governor Mwangi wa Iria has maintained that he will be on the presidential ballot come August 9 General Election.
Speaking at his Usawa party Headquarters in Nairobi yesterday, Wa Iria dismissed the two-horse narrative arguing that he has the numbers to ascend to power and declared that the time is ripe to hit the ground running.
He said although has not been actively campaigning for his presidential bid he is confident of securing Mt Kenya votes.
Wa Iria maintained that he wants to vie for the presidency to protect the interests of the people of Mt Kenya.
He exuded confidence of bagging majority votes from Murang'a, Kirinyaga, Laikipia, Nyandarua, Nyeri and Kiambu counties and challenged his competitors to " bring it on."
Wa Iria launched his presidential bid last year where he promised to prioritise agriculture, education and health sectors.
The governor had resorted to popularising his presidential bid on billboards in various parts of the country and majority of his supporters have their vehicles branded with his photo and party slogan.
But yesterday, the governor said he was "waiting for the appropriate time" as per the Constitution to roll out campaigns across the country from next week.
"I can assure you that I have more than enough votes in Mt Kenya region and if any of the presidential hopefuls doubt me, let us compare the numbers," he said.
The governor welcomed like-minded parties to form a pact with Usawa party.
"Raila and Ruto can only look for me and not the other way round," he said
He further said that his target is to only get three million votes from across the country to add on to the 10 million Mt Kenya votes.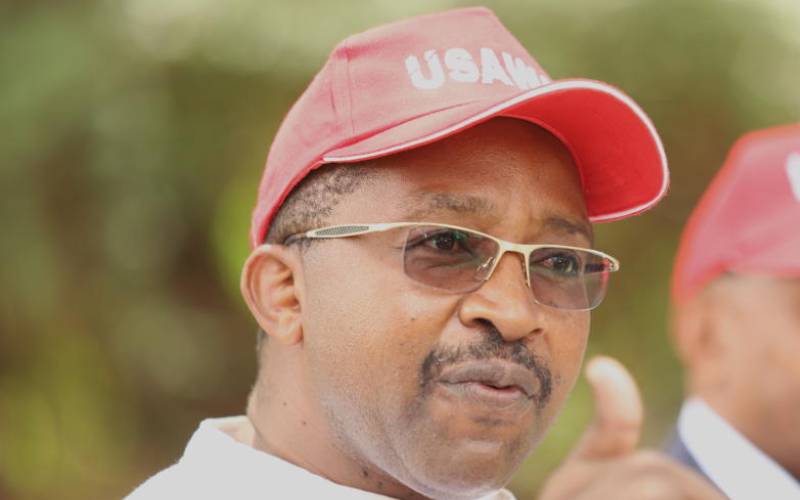 Popularizing his "one home, one cow" agenda, Wa Iria dismissed Deputy President William Ruto's bottom-up economic model and Raila Odinga's Sh6,000 monthly stipend for the poor as unachievable saying he has better solutions for Kenyans.
The governor revealed that he is in the process of drafting a Bill that will advocate for every household to own a cow which will ensure returns to families instead of a cash stipend.
He maintained that the cows he will give out should produce 10 litres of milk daily hence every household will make Sh400 daily and Sh12,000 monthly.
"In my government, every household will have a cow in an effort to empower our people. In Usawa party we embrace farming and as you can see our party symbol is a cow, because we embrace farming," he said
The governor said that he is the anointed leader by the Agikuyu community to lead the people in the national government.
He argued that "I am sparing my people from a curse," should I fail to vie in the General Election.
"I am a spiritual leader. Gikuyu and Mumbi will confront me if I don't vie as the next president of Kenya," he said.
He welcomed aspirants to vie on Usawa party ticket.
The party is charging governor aspirants Sh200,000 for men and Sh100,000 for women, Sh75,000 for Woman Rep, while for Senate Sh100,000 for men and Sh50,000 for women and MP seat Sh100,000 for men and Sh50,000 for women.
Related Topics