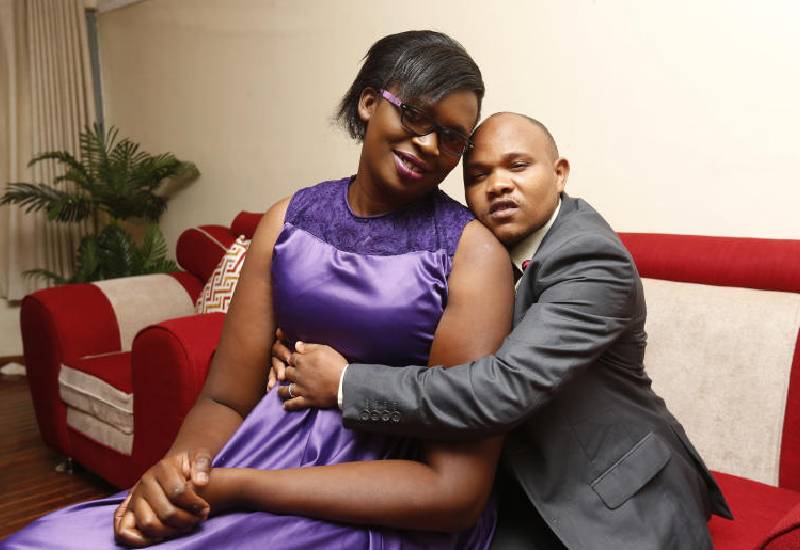 The first time Ezekiel Mwangi saw Lilian Wawera at a wedding, he thought, 'she would make a good wife'.
The beginning of an ordinary love story, right? Well, it could be except for the fact that the two fell in love despite the three feet of height difference. They share why their love cannot be measured.
At 7ft 2 inches, Lilian Wawera is so tall, she could snatch a bird from the air with ease.
In fact, she is one of 2,800 people around the world, who are 7 feet tall or taller.
And at 4ft 5 inches with youthful looks, Ezekiel Mwangi, could easily pass for a teenager, save for a muscular frame and a receding hairline.
Lilian and Ezekiel are husband and wife. Theirs is a love story with Shakespearean undertones.
In December last year, the couple's wedding pictures – their height difference conspicuous at a glance – surfaced on social media.
READ MORE
People made fun of them, derided them and even abused them.
"I saw someone say he must be a rich man. That he is a 'sponsor' and I am after his money," Lilian says.
The two first met in April 2017. "He was a groomsman and I was a bridesmaid at a mutual friend's wedding.
"He looked familiar. I thought I had seen him at a crusade a few years earlier. I asked him if he had been at the meeting and he said he had," Lilian says.
To Lilian, the chitchat between them that day was a harmless, who-are-you kind of conversation that was as much respectful as it was routine.
Unknown to her, Ezekiel had already set his eyes on her. "She would make a good wife," he had told himself.
"She had a beautiful heart. She was God-fearing. She was tall. I had been praying to God for a tall God-fearing woman. And here she was," Ezekiel says.
He says 'tall' was a secondary factor but nonetheless important. A tall woman would buffer his height and his children would be taller than he had ever been.
What he lacked in height he made up for in confidence because, preceding their conversation, he had asked for her number.
"He asked for the number three times. I kept ignoring him. I did not want to give him my number. I was already seeing someone else.
"But he kept nagging me for my number. I eventually gave it to him but only because I did not want to attract attention with him nagging me for the number."
Two weeks later, Lilian's phone began ringing and beeping with calls and text messages from Ezekiel. She did her best to ignore them but as a born again Christian made an effort to respond to a few.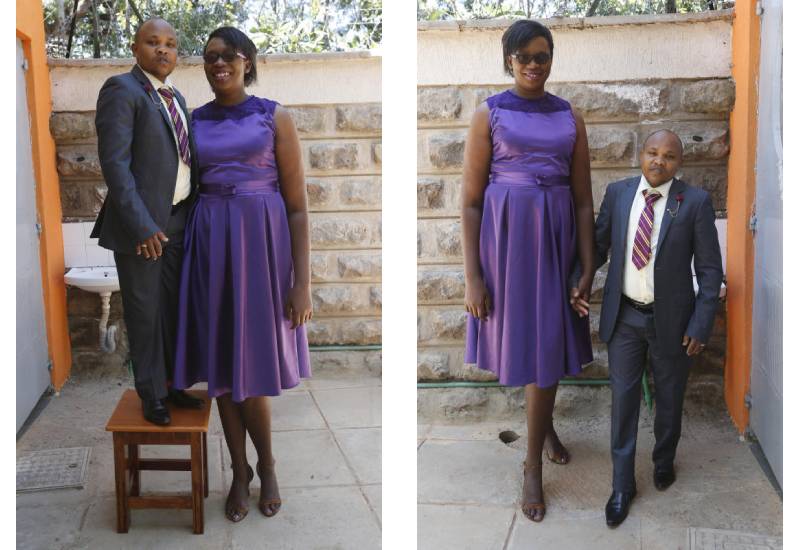 Something else was happening in her life: she was breaking it off with the man she had been dating.
The man, she says, had been demanding for sex yet she believed fornication was a sin. "I had to end it. He was asking me to do something I did not want to do."
A few weeks later, Ezekiel asked to meet Lilian. She consented and invited him to visit her at her house.
Without mincing words, the young man went straight to the point.
'I saw you at the wedding and I loved you. Let me marry you,' he told her boldly.
Marriage was not on Lilian's mind. She had been disappointed by her ex-boyfriend and her guard was up.
"I did not trust men. I was asking myself many questions. I decided to give him a chance telling myself that maybe he would prove me wrong."
They started dating officially and three months later, Ezekiel took Lilian to meet his parents.
Conventional wisdom dictates that a woman pairs with a man taller than her but their topsy-turvy features wasn't a deal breaker for her.
In fact, she says, she never even saw him for his height. "The kind of man I wanted was one committed to God and espouses Biblical values. Everything else did not matter much to me."
Something else that Lilian liked about Ezekiel was that he was not quick to anger. She found it enchanting because she could get riled up in seconds.
Also, Ezekiel's parents had tried to talk him out of marrying a tall girl. Ezekiel told his parents that he would stick to his choice. That he was willing to stand up for himself was another good sign for Lilian.
Ezekiel on his part, wanted a God-fearing and tall woman. "And a virgin," he added later during the interview with Eve.
"How did you know she was a virgin?" we asked.
"I just had a strong feeling; like God was telling me the kind of woman Lilian was," he says.
Virgin matters aside, Lilian was treading through their relationship carefully. She had one leg in and one out just in case she needed to bolt – if Ezekiel turned out to be like her ex.
"He wanted me to introduce him to my parents and I would agree half-heartedly. Whenever the day for visiting drew close, I would pick a fight with him and cancel everything."
She was struggling to make a decision on Ezekiel: 'Is he the one?' the voice in her head kept asking.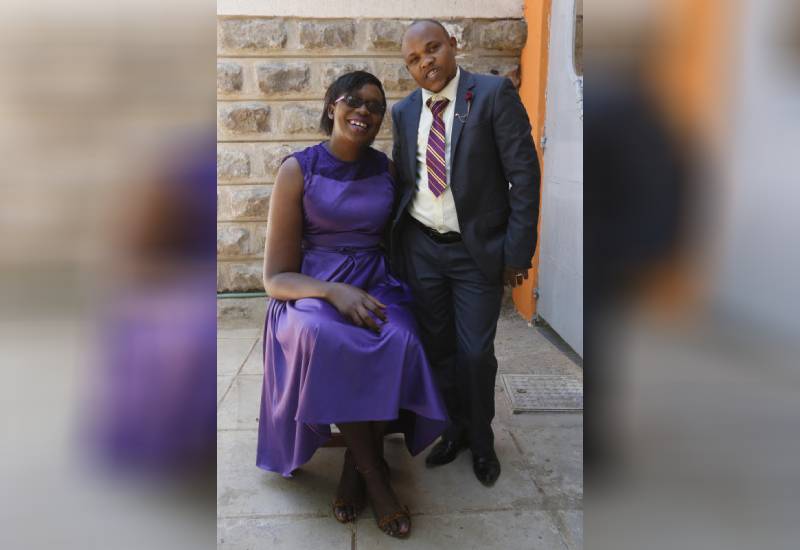 Like with all questions for which she did not have answers, Lilian resorted to praying. She needed an answer fast on the marriage question. In December 2019, having dated for more than two years, Lilian went to Heaven's Gate Prayer Mountain, a recreational centre in Naivasha, to pray.
After a few days of seeking God's wisdom, none was forthcoming. She still wasn't sure about marrying Ezekiel.
A spanner was also getting thrown in the works by a new suitor -- a much taller suitor; a six-foot-something childhood friend.
This new suitor had also proposed marriage. Poor Lilian had a decision to make – between tall and short.
"I just kept praying and asking God for clarity." That clarity, she says, came in form of a dream. In the dream, this new suitor was riding a bicycle with Lilian (as a passenger) at the back.
They got into an accident and fell on thorn bushes. Instead of helping her up, the guy just took off and left her to her devices.
Ezekiel then showed up – in pure superman style. He nursed her wounds and carried her in his arms (even in a dream, the man is short but has chutzpah) to safety.
When she woke up the next day, everything was clear. She was going to say yes to Ezekiel's two-year-old marriage proposal. But before marrying him, she would finally take him to meet her parents.
They wanted to marry on April 12, 2020 but Covid-19 scuttled those plans.
On December 19, 2020, the marriage took place. They married in church with a few family and friends in attendance.
Soon they were the centre of attention on social media.
"It was not something that we hadn't experienced really. We get called names. We are not bothered at all. What matters to us is that we love each other. We are committed to this marriage," Lilian says.
Today, if you ask Lilian to introduce herself, she would say: "Lilian Wawera Mwangi". In other words, in her mind, it is a lifetime commitment.
To her, love is indeed commitment – to share your life with someone else regardless of their shortcomings. Love, she says, is not a feeling.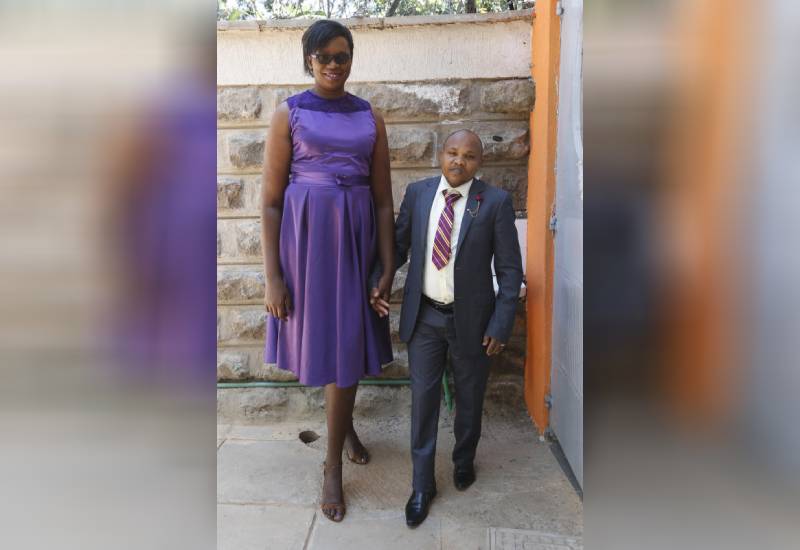 Today the couple live in Mogotio, Baringo County, where Lilian is a full-time evangelist with the Anglican Church.
Ezekiel, who had been a shop attendant at a general shop until his ring finger got severed in a horrific accident, is unemployed.
"We are still figuring out how to get him work," Lilian says.
Despite their unusual love, there is no doubt, at least from their outward expressions, that the two have found soulmates in each other.
Lilian wants two children. Ezekiel wants three. Their fairy tale, they say, has just begun.