Home
/
Relationships
I found the love of my life at 63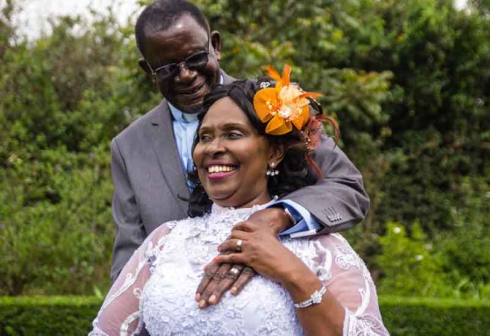 This is a love story of a woman who was single for a long time and met her prince when she was 63. She takes Lucy Maroncha through her six decades of waiting to find real love.
Meet Mary Wangari Ochana, 63 and Reverend Geoffrey Ochana 78. This is a newly wedded couple and from the glances they throw at each other and the humorous jokes they tell about themselves, one can tell they are indeed fresh in this game called love.
They are only two months in their marriage and they are still in honeymoon mode. "Getting married to a partner you love and respect is among the greatest blessings one can get," says Mary who is as shy as any newly wed can be. She has every reason to smile since it took her years of waiting to get her prince.
Unlike her husband Geoffrey Ochana who is widowed, Mary, a mother of three has never been married. Geoffrey lost his first wife to cancer three years ago and in those three years he says he practically cried to God to give him another wife.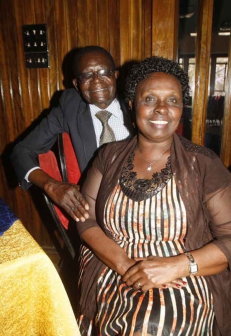 "In my Teso community, men don't just shed tears but I found myself crying every night as I begged God to give me another companion," he says. While Geoffrey's wife was alive, they would visit Mary's home courtesy of her first daughter, Lucy, who became a Christian before everyone else in the family.
"Although I used to drink and do many things an unmarried female non-believer could do, I was a responsible mother," Mary says. Geoffrey's son and Mary's first daughter were friends and so when Geoffrey and his first wife visited Mary, it was only driven by their children.
"I had never perceived Mary's femininity in any romantic way but I admired her strength as a single mother," Geoffrey says.
The two families however parted ways as Lucy relocated to the United States and she would have been the only link to Geoffrey and his family who had also moved to Kitale.
When the Geoffrey's wife died, Lucy called her mother requesting her to go and console Geoffrey and to also pass her condolences. Coincidentally, Lucy and the reverend's son had separately relocated to US with their respective spouses and through him, Lucy got the news about the death of her friend's mother.
"I never managed to visit Geoffrey that time but three years later, Lucy called again and asked if I had gone to see her pastor," Mary recalls.
This last plea from her daughter would be the start to Mary's journey of marrying Geoffrey. Meanwhile, as Lucy was calling from the US, Geoffrey was getting a deep nostalgic memory of Mary. And so when Mary finally called to say how sorry she was about his wife's death, Geoffrey couldn't believe that was happening.
After only a few phone calls, Geoffrey couldn't hold it any longer and he proposed to her. The two still make fun of that day two months later in their marriage.
Dating process
Their dating process wasn't as enthusiastic as it would have been had they been younger and besides, Geoffrey was in Kitale then while Mary was in Nakuru.
"Our age and distance aside, we have a Christian testimony that we had to defend," says Geoffrey. He adds that he admires his wife's prowess in protecting her Christian faith. Mary says that she visited Geoffrey only once in Kitale and had stayed with their friends while Geoffrey travelled to Nakuru twice and stayed in a hotel.
While their children were very excited, Geoffrey says that he was very shy to tell his children that he was dating again. "Our children knew we were lonely although we kept ourselves busy doing the work of God," Mary says.
Geoffrey on the other hand says that he is now confident to invite people to his home as opposed to when he was alone.
Like with all wedding plans, theirs wasn't short of challenges. Geoffrey would have married Mary in the second week after she said "yes" but he had used a lot of money during his first wife's illness and subsequent death and was not financially stable.
"I was so worried I would not make her happy and comfortable as she deserved," he says. He would soon learn that Mary was drama-free and his presence alone was enough to make her content and happy.
But their friends came in handy to help in planning the wedding. Mary recalls a prophesy that had been made over ten years earlier in which the "prophet" had described the man who would marry her.
Like the biblical Sarah, wife of Abraham who laughed at the prophesy that she would conceive, Mary just saw it funny because she was already in her early fifties. But when Geoffrey called and proposed to her, a sudden desire for marriage was aroused in her.
That's when she remembered the ten-year old prophesy. That's why she didn't hesitate on his proposal and accepted in only two weeks. "What was so outstanding was the gap between his teeth just as the prophet had said," she says.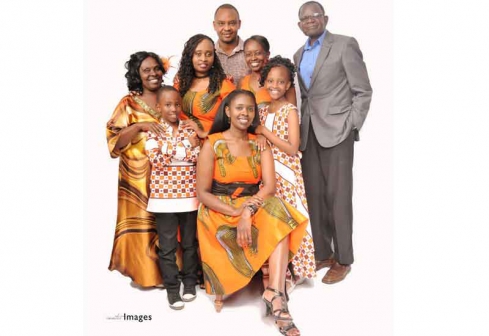 Teething problems
Soon after Geoffrey proposed, Mary got a Green Card and had to travel to the United States. The seven months she was in the US were hardest for Geoffrey who for a moment thought his bride would never return to Kenya.
Like every newly-wed couple, their marriage wasn't immune to challenges. Having been single for so long and doing things her way, it hasn't been easy for Mary now that she has to seek her husband's opinion on almost everything.
"Sometimes I have to stop myself midway after remembering I haven't informed him that I would like to go somewhere or do something," Mary says.
On the other hand, Geoffrey feels that Mary takes a while to understand things but he is quick to say that he understands that she was used to her own space.
"I have to tell her something twice or three times for her to really understand where I am headed," he says, but adds that she is a fast learner and she's doing her best to understand even his body language and to quickly interpret his voice.
The couple isn't leaving anything to chance, they want to spend the rest of their lives the best way the can.
"I want to spend the rest of my years making Mary happy and ensuring that she feels loved and appreciated," Geoffrey says.
Even though the couple went for a honeymoon for a few days after the wedding, they will be traveling to the US where they will spend more time bonding.
Related Topics