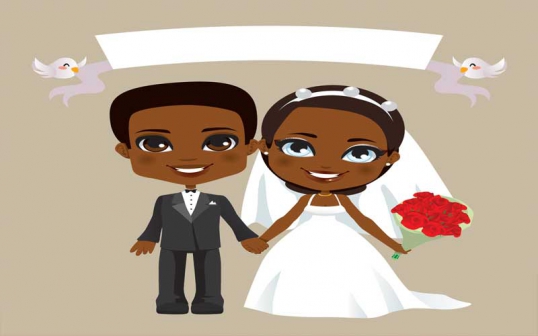 There was a study last week splashed across the press (and, no, I'm not talking about the one where the current government and the Opposition are shown to be in a statistical dead heat as we head towards August). I am talking about the study that came out with all sorts of statistics on local divorce figures.
And according to that credible study, the age group whose marriage is most likely to end early are those who marry between the ages of twenty and twenty four.
Of course it was not always like this. In the olden African days, a man of seventeen married a girl of thirteen – and they produced about fifteen offspring in the next fifteen years (and five of those died before the age of five), and ten of those continued to carry on lineage for the likes of the Wangas above.
Fast forward to the 21st century, and if you are a young lady of twenty one reading this (because we do get e-mail from this age group) or a young man of twenty three reading this, and are in the final stages of preparing that July First wedding, please call it off.
Even if you have to use the chilly weather as an excuse to do so.
That old English adage – 'marry in haste, repent at leisure' was not meant to apply only to weddings in Las Vegas. Its jurisdiction covers even weddings done here in Naivegas (Naivasha). And here's why.
READ MORE
When a man marries before he has even seen quarter a century of life on this planet, or a young lady who has barely tasted two decades of Mother Earth dashes into the nuptials simply because – white dress, photo shoot, duh! – they are not being informed by maturity but rather lust and fancy notions.
No doubt, life will change for both of you a few years down the line – and if it changes for the better, especially financially or career wise, woe unto thee and war will betide thy marriage.
Picture this for a minute.
A young man marries you the December after he graduates in November – and you start life together.
Three or four or five years down the line, the man is driving and if not exactly rolling in money, at least he has a little disposable income. You are 'stuck' in the house with two kids aged four and two, or three and one, or two and a few months, or whatever your 'kukwama' permutation may be.
He is 'rolling' with the Boys (his single friends), watching football every weekend – and now that the season of EPL is ended, he is going on road trips with the boys (and college girls he'll never ever reveal).
Next year, or the other year, and definitely by 2020 AD, your permutations are at an age where YOU feel relatively independent. You have been eating right and hitting the gym. You are still in touch with Tabs and good with Gwendolyn (of course y'all call her Wendy) and naughty Connie from your college days.
And your quartet is still in its mid-twenties (because you, my dear, got married at twenty two).
The 'Girls' – although you all are really ladies in your mid twenties – decide to form a 'chama.'
The Girls decide to get their 'mojo' back.
The Girls decide on Independent Fridays, and to do 'No Kids' weekends once every three months – and because that 'nanny' (really, your third cousin on your mom's side) who used to be so shags but after three years with you is styled up and on point with the tois, you are good to go.
Of course, men being slow, it takes your hubby from this Saturday till Saturday, September Thirty, (and only after you've played 'Wake Me Up, When September Ends' twenty times) to wake up to the fact there is a New You, with self autonomy, in the vicinity.
By then you both have drifted too far apart – and your young marriage is over