Home
/
Easy recipe: Fried tuna with potato wedges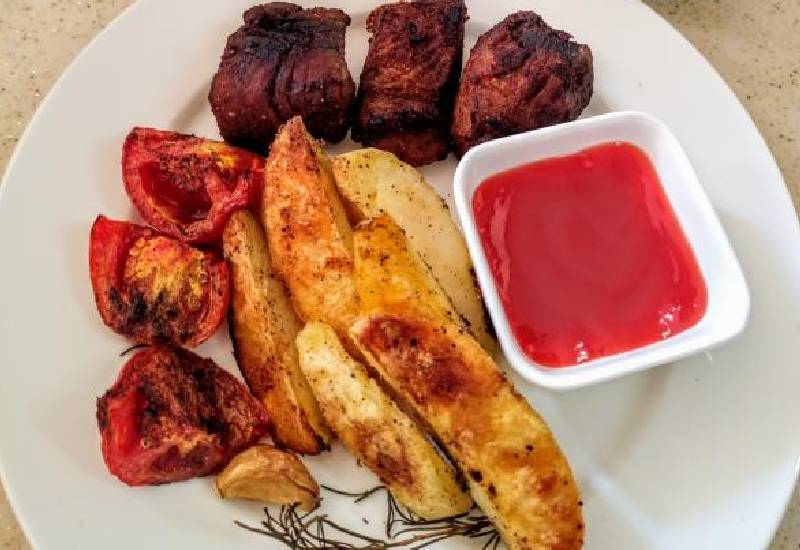 Do you love French fries but are wary about eating fried food. Why not roast your potatoes in the oven instead? We will still fry the fish but it's a healthier meal than traditional fish and chips. Let's get cooking.
What you will need:
4 medium potatoes, cut into wedges (blanched)
1 1/2 Tablespoon olive oil
1/2 teaspoon paprika
1/4 teaspoon garlic minced
1/8 teaspoon cayenne pepper, (optional)
1 teaspoon salt
1/4 teaspoon ground black pepper
4 tomatoes halved
5 garlic cloves
What to do:
Pre-heat oven at 180 degrees celsius.
In a large bowl, combine olive oil, paprika, garlic, cayenne pepper, salt, and black pepper. Add the potato wedges and toss to coat the potatoes with the seasoning.
Place wedges, tomatoes and garlic cloves on a baking tray. Bake in the oven for 20-25 minutes at 180 C or until golden brown and crusted.
Serve with ketchup and some fish.
For the fish:
1kg fresh tuna steaks
1 teaspoon garlic paste
Juice of 1 lemon
Salt and pepper to taste
1 teaspoon paprika
1 tablespoon honey
What to do:
Marinate the fish with all the above ingredients for about 1 hour or so.
In a deep frying pan over medium heat, pour in vegetable oil.
Once the oil is hot, deep fry the fish until brown and cooked towards the inside.
Serve with potato wedges and some grilled tomatoes.
Quiz Maker - powered by Riddle
Related Topics