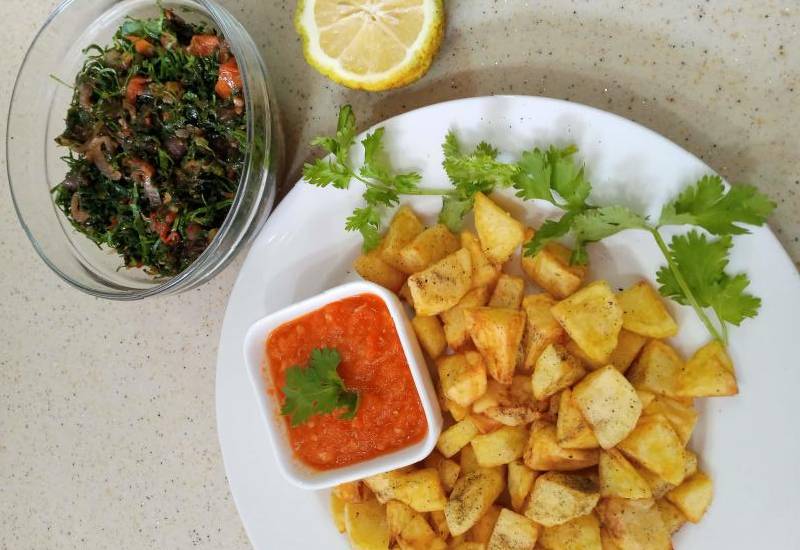 Let's make a delicious sukuma plus dish. Sukuma plus is simply combining sukuma wiki, also known as collard greens, with spinach to make a meal.
We will make some sukuma plus and sautéed potatoes with tomato concasse. This meal will help you get your iron up and super delicious.
What you will need:
1 kg potatoes, peeled and cubed
1 teaspoon garlic ginger paste
1 teaspoon black pepper
2 beef cubes
Juice of 1/2 lemon
Salt to taste
1 tablespoon oil
1/2 bunch sukuma, shredded
1/2 bunch spinach, shredded
2 tomatoes, diced
1 onion, sliced
What to do:
In a pan over medium heat, add 1 tablespoon of oil then add the cubed potatoes, 1 teaspoon of garlic ginger paste and 1 teaspoon of black pepper.
Crumble 1 beef cube and cook until potatoes are soft and start to brown a little bit. Once soft, add juice of half a lemon and set aside.
READ MORE
In a separate wok over medium heat, add half a tablespoon of oil. Add the onions and sauté until soft.
Add the diced tomatoes, crumble in the beef cube and mix well.
Add the shredded sukuma and spinach (sukuma plus) and cook for 5-8 minutes or until the sukuma plus is soft and has reduced in size or shrinks. Adjust seasoning with salt if you wish.
Once the sukuma plus is cooked, use a fork to pick it from the wok into the potatoes pan. Sprinkle the sukuma on the sides of the pan. This will infuse the sukuma flavour with the potatoes flavor and make one out standing combo.
Serve as a meal on its own or with some tomato concasse.