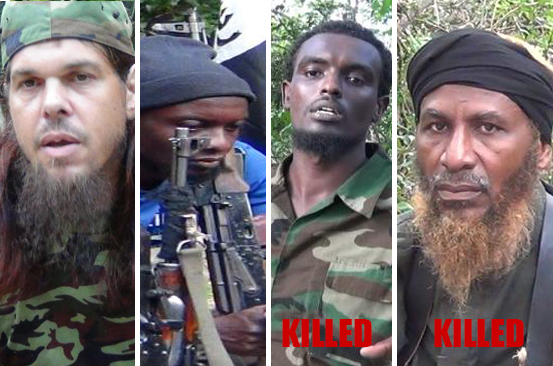 Kenya: The Government has released photos of 36 terror suspects on the run and urged members of the public to share any information they have with the authorities.
Interior Ministry Spokesman Mwenda Njoka says the suspects are likely to be injured following attempted attack at a KDF camp in Baure, Lamu County.
All the 36 suspects are unidentified and are members of Jeysh Ayman fighters. Jeysh Ayman is an Al Shabaab elite group that targets Kenya.
The police, at the same time, released five profiles of identified Al Shabaab militants, who were involved in the recent attack at a KDF camp in Lamu. The five are; Ahmed Mueller, Ramadhan Kioko Aka Abu Nuseiba aka Pinji, Thomas Evans Anthony aka Musa Uk, Lukman Osman Issa aka Shirwa and Said Hemed Abdalla.
Two of the militants, Lukman Osma Issa and Said Hemed, were killed by KDF soldiers during the attack.
Among those identified is a 43-year-old German national, Ahmed Mueller, based in Somalia and a member of Al Qaida.
He is currently on the run and probably injured after they attempted to attack Baure military camp in Lamu.
Mueller is believed to have gone to Somalia in late 2011. In 2012, it was reported that he was planning to undertake a suicide operation on an unknown location.
According to police report, he is one of the few Western foreign fighters in Al Shabaab, who survived Ahmed Godane's purge. He is suspected to have been involved in Mpeketoni attack in June, 2014.
The second profiled militant is Ramadhan Kioko aka Abu Nuseiba Aka Pinji. Kioko went to Somalia in 2008 during the inception of Al Shabaab. He is described as battle hardened because he has frequently fought at the frontline with the militia.
In 2012, he took his 10-year-old son to join him in Somalia. He is now aged 13 and still in Somalia. Kioko, who hails from Nairobi's Majengo area, is a close associate of Ahmed Iman. He is married to Hawa, who is also in Somalia, thus making them a complete family of Al Shabaab militants. Police describe the family as unique and a rare situation in terrorism circles
Before joining Al Shabaab, Kioko was a notorious pickpocket in the streets of Nairobi. This earned him his alias "Pinji".
He is also part of the militia that was involved in the attempted attack on a KDF camp in Baure and is on the run and probably injured.
Thomas Evans Anthony aka Musa UK is deceased. He was part of the Jeysh Ayman fighters, who were involved in Lamu attacks in June 2014.
Evans had in July 2011 attempted to enter Kenya through Moi International Airport Mombasa but was deported as he had been declared a prohibited immigrant. He is believed to have returned to Kenya using false documents and managed to join Al Shabaab in Somalia most likely late 2011.
At the time of his death, Thomas was filming a video that would most likely have been used for propaganda, radicalization and recruitment of youth in Kenya and other places.
According to sources, the video captured their preparation and movement from Somalia to Boni Forest, which is similar to a video released by the UGUS (Al Shabaab) in February 2015.
Thomas Evans is closely associated with the late Mohamed Sakr, late Bilal Berjawi and Jermain Grant (currently in Kenyan custody). They are all British Citizens, who were fighting alongside UGUS(Al Shabaab).
A fourth profiled militant is Lukman Osman Issa aka Shirwa, who was killed by KDF during Baure camp attack. He was a commander of one of the groups that attacked Kenyans in Mpeketoni in June 2014.
Lukman is a to brother Issa Osman Issa, an Al Qaeda operative in East Africa, who was part of the terror group that was involved in the Kikambala Paradise Hotel bombing in 2002.
Issa is a close associate of Mohammed Abdulkadir aka Ikrima, who was behind Westgate attack and is among the most wanted by the US government.
A fifth profiled militant is Said Hemed Abdalla, who was was killed by KDF as they attempted to attack Baure Camp. Abdalla started affiliating himself with Al-Shabaab activities in 2010.
He is reported to have been part of the group that travelled from Mombasa and Malindi to conduct the Mpeketoni attacks in June 15, 2014.
He was a close associate of the late Sharif Ahmed Sharif aka Abu Makaburi and late Abuod Rogo. He operated a car wash business and a tour company called in Mombasa.
Related Topics