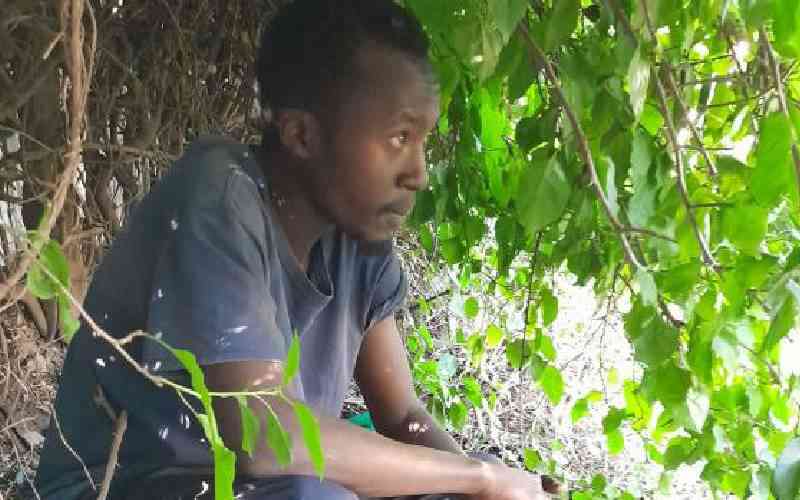 As we snaked our way to Kahawa Wendani Chiefs camp, the blazing midday sun shone relentlessly. Most people were taking shelter under the shade.
After a warm reception, we started walking towards a thicket opposite Upton building in Kahawa Wendani where Brian Kamau, 25, a university student dropout has called home for the last three months. I was in the company of the area chief, two community mobilisers and Kamau's mother, Waithera Mwangi.
We found an old blanket, a black jacket and a plastic lunch box. Kamau was not "home". We are told after his story went viral on social media, his friends raised money for transport so he could go back to his home in Nanyuki.
His mother Waithera broke done when she saw where her son has been living.
Prodigal son
Similar to what the prodigal son did in the Bible, Kahawa Wendani Chief Christine Makimei says Kamau went to her office two days ago asking for help. After questioning him, Kamau confessed that he is hooked on drugs and is living in a nearby thicket. Makimei quickly sent her aides to confirm if what he (Kamau) had told her was true.
After confirming the story, Makimei started looking for his parents. Kamau gave out their contacts and they tracked down his mother.
Derrick Mbugua, a community mobiliser, from Kahawa Wendani is the one who shared photos of Kamau living in a thicket on social media and it went viral. He took the photos after Kamau took him to the thicket. Like the Chief, Mbugua too did not believe Kamau's story. It is until he went to check at 3.00 am that he found Kamau in deepl slumber in the thicket.
The next day, Mbugua and Kamau went to a cyber café where they downloaded his form four certificate and a few university transcripts. Mbugua was shocked to learn Kamau was a very bright student who had scored an A - (minus) in KCSE and needed help to transform his life.
"He told me that he wants to go back to school and the only thing he needed was someone to pay his tuition fees and accommodation. He confessed he has been hooked on drugs. He has assured us that if taken back to the university, he will complete his studies and become a better person," said Mbugua.
Parent's divorce
Waithera says her son was humble and obedient but changed after she parted ways with his father.
Luckily, he managed to score an A – (minus) in 2014 and joined Jomo Kenyatta University of Agriculture and Technology (JKUAT) to study for a Bachelor's degree of Science in Control and Instrumentation.
Kamau's mother says the situation worsened after Kamau joined JKUAT. "My son became a drug addict. He spent his tuition fee on drugs and betting. He would occasionally take my phone without permission and take huge mobile app loans. I am still paying the loans," said Waithera
She adds: "Using my phone, he took a mobile bank loan of Sh30,000 from Kenya Commercial Bank (KCB), Sh14,000 from Timiza (online money lender), Sh11,300 from Mshwari and Sh900 from Fuliza and then disappeared. This is what made me give up on him after being blacklisted by CRB."
Waithera says Kamau is a bright boy and she would want him to go back to school and pursue his dreams but she cannot afford his tuition fees and accommodation.
Kamau told The Standard that he regrets his actions. He blames his drug addiction due to peer pressure. "I got hooked on drugs by my friends in order to survive and reduce the pressure I was facing occasioned by hard economic times. I was using low-grade cocaine in powdered form. You become intoxicated for 24 hours," said Kamau.
He admits he squandered all his money on drugs.
Dropped out of campus
After dropping out of campus in April 2017 while in second year, Kamau relocated to Nanyuki town and started working at a car wash. "I used to wash cars in Nanyuki, later went to Nakuru and finally, Kahawa Wendani in Nairobi. I used to get jobs for which I was being paid a commission. I started pushing a handcart where I could hardly get Sh100 a day," says Kamau.
"I was unable to get food and pay my rent of Sh3,500. I was then kicked out by the landlord and the guilt of going back to my mother's house made me seek asylum in a thicket where I have lived for over 90 days."
He says he planned to start a business from the money he stole from his mother, but things didn't work out. "I asked for forgiveness, but my mother was not ready to receive me back to the house owing to the past experience. I regret my actions. I am willing to go back to school if I get a sponsor," he adds.
Njambi Chege, a local community mobiliser, says Kamau's story is an eye opener. She says the government should do a crackdown in Kahawa Wendani as many university students are hooked on drugs and engage in criminal activities. "Many students have squandered tuition fees and pocket money given to them by their parents. They end up homeless. Urgent intervention is needed to arrest the situation," said Chege.
Related Topics