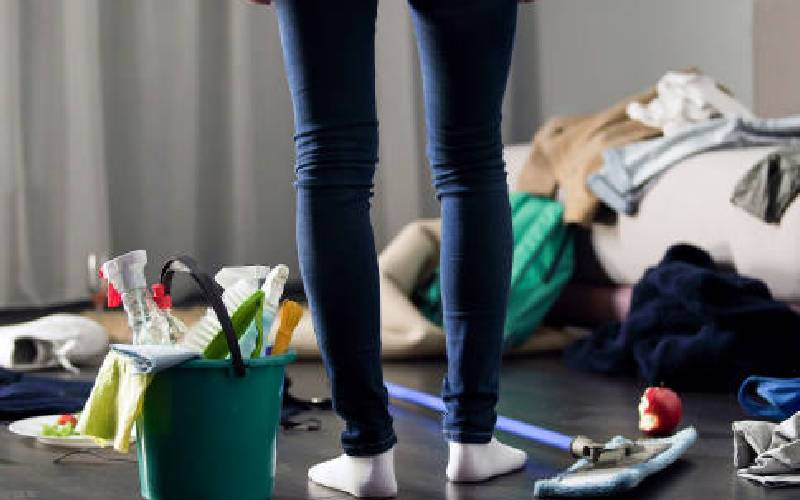 A good number of people usually don't have enough time to do a 45-minute morning run on the treadmill, lift weight at the gym or go to that Zumba class in town. However, they should have no reason to worry since they can substitute these with daily household chores as a form of physical exercise.
According to the Campadium of Physical Activities Tracking Guide, activities like sweeping and mopping the floor is like a gym workout. As one bends and stretches arms to clean those hard-to-reach areas of the house, they engage core muscles and stretch the whole body and this accounts for a great cardio exercise.
Sweeping and mopping the floor moves body back to front and side to side as happens in the gym with high movement of arms, legs, bending and muscle engagement. As you clean your house, you burn 195 calories per hour, says Compandium of Physical Activities Tracking Guide.
The Guide advises that while mopping the floor using a rag, one should do a squat-crawl movement - a great workout for legs. Mopping will also keep one's arms in motion, hence easing and improving blood circulation.
"Washing clothes by hand is a full-body workout because you end up lifting water buckets the same way in the gym where one needs to lift weights, moving your arms to get the grime out of your clothes, wringing the water out, and then drying them. Here, a lot of movement happens and the energy required to do this household chore is immense," says Patrick Namwambah, a Corporate Wellness Consultant and Owner of Sweat Hot Yoga and Pirates Studio.
Annette Sana, a personal fitness trainer recommends household chores as substitutes for gym workouts that anyone who yearns to take physical activity should go for.
According to Sana, cleaning windows and walls can be a good workout because your left and right hands are in motion, especially when reaching up high to clean walls. Similarly in the gym, it is common for one to lift their hands while lifting weights and doing Bosu squats.
Sana says stretching hands makes bones stronger and there is a possible burning of 180 calories per hour. She advises that you use both arms and clean in a circular motion.
Namwambah says running up and down the stairs while carrying loads strengthens your core muscles. This chore engages every major muscle in your lower body glutes, hamstrings, quadriceps, abs and calves.
He equates running up and down the stairs to gym squats, lunges and biking.
"As you ascend up the stairs, more load is placed on the muscles in your lower half, including the guards, glutes, hamstrings and calves. That's because as you ascend a staircase gravity is trying to pull you back down and your muscles have to work extra hard to overcome that resistance and this is a great muscle engagement, which likely happens in gyms centres," says Janet Hamilton, exercise physiologist and running coach with Running Strong in Atlanta.
Scrubbing the floor is another significant workout. The forward and back motion while scrubbing engages your abdominal muscles.
Related Topics