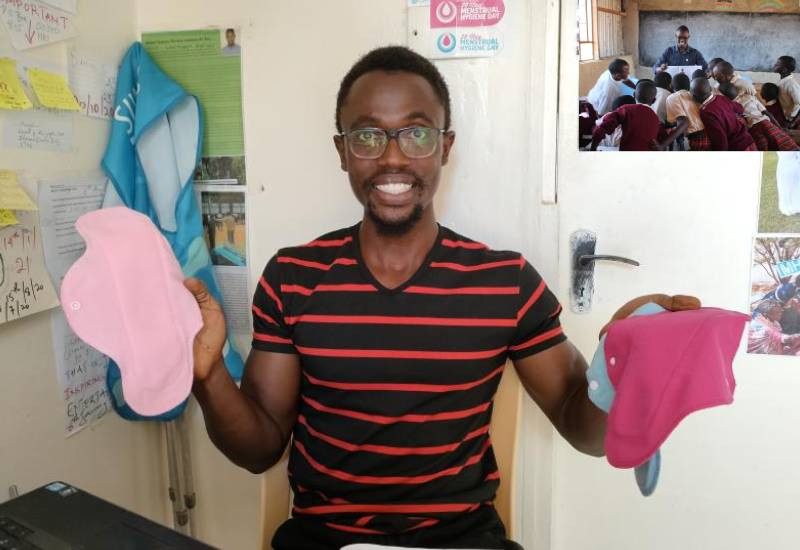 Anne remembers when she joined a middle-class girls' secondary school in Nairobi. At only 13, Anne had been admitted to the national school after passing her Kenya Certificate of Primary Education (KCPE) examination in a rural school nestled deep in the tea bushes of Kiambu.
On the one hand, Anne was excited because she would meet girls from other parts of the country and share her life with them. But Anne was also from a poor background, and could not afford most of the things the other girls had. Like sanitary towels.
And since poverty is shameless, it decided to humiliate her one afternoon during a History class. Anne was on her menses, but did not have sanitary pads. Her only solution was to tear up an old lesso, fold it and wear it as a makeshift pad, hoping and praying that it would not leak.
It did not leak. However, the piece of cloth somehow slipped and fell on the floor. Anne only realised this when her History teacher picked the blood-soaked rag and walked around the classroom, asking whose it was.
Many years later, Anne is a successful woman. She works at a lucrative firm in Nairobi and can afford a years' supply of sanitary pads, tampons and other feminine hygiene products.
But the memory of that hot afternoon in high school, when her teacher walked around the classroom displaying the gross products of her menstruation, haunts her to date.
Social stigma and taboos continue to deny millions of women, and girls like the 13-year-old Anne, the right to manage their menstrual cycle in a dignified and healthy way, despite it being a natural process.
Lack of access to menstrual hygiene products, sanitation infrastructure such as private toilets, handwashing facilities and menstrual hygiene education can prevent women and girls from reaching their full potential in the classroom, in the workplace, and at home.
A major contributor to this problem is the fact that men cannot, and should not, talk about women's menstruation.
The purely natural process is branded with terms like 'mambo ya wanawake', 'women's secrets' and 'that time of the month'.
This is despite the fact that most of these men live with women in their homes, and are even aware when it is 'that time of the month'.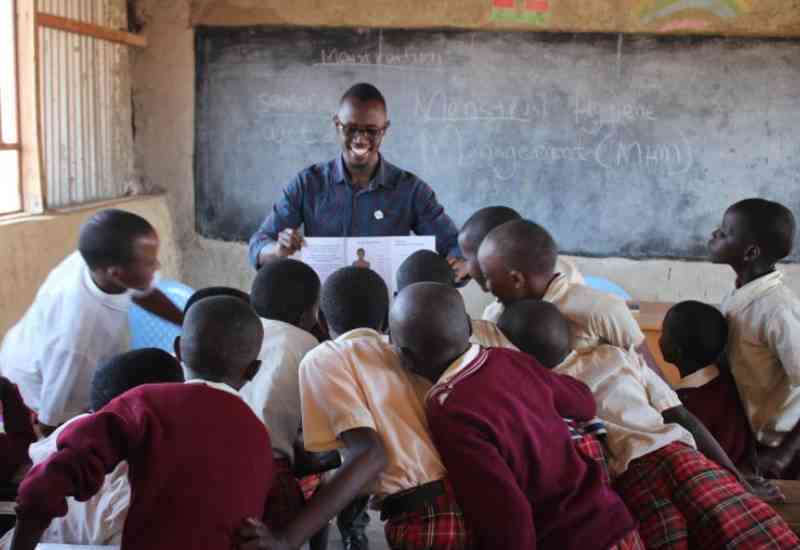 Daniel Karanja, a Nairobi man, has taken it upon himself to create awareness and break taboos surrounding menstruation and is proving to society what would happen if men got roped into this messy and bloody affair.
Karanja founded Community Socioeconomic Development Initiatives (COSEDI), a local organisation that enables him to undertake outreach activities in schools and prisons, interacting with women and girls and encouraging them to embrace menstruation with dignity.
"I involve men and boys in this conversation as well as having their proactive participation to come up with innovative ideas that will ensure dignified menstruation experiences," he says.
It is a conversation that has seen him travel far and wide. He says the highlight of it was when he got invited to facilitate a session about youth and menstruation hygiene during the World Water Week Stockholm Sweden celebrations in August 2019.
"Menstruation is a good indicator of female fertility and therefore men and boys need to support the natural bodily function if we're looking forward to seeing generations in future," he shares.
Born in Kitale, Trans Nzoia County, in 1990, Karanja reveals that boys were not told anything concerning menstruation and only 'bumped into' the phenomenon.
He says one day, he and his university peers had gone to perform a play called Utengano by Said Ahmed Mohamed at a Secondary school in Runyenjes, Meru County.
When they got there, a female colleague started experiencing menstrual cramps. He says she looked like she was in severe pain because she started crying and couldn't go on stage.
Initially, being boys, Karanja says they didn't know the problem. It was after some persuasion that she revealed the pains were associated with her monthly period and she had not carried sanitary pads with her.
"She said periods were a women and girls' affair and it was shameful for men to know even when they occur," recalls Karanja, who now holds degree in Disaster Management and International Relations.
Despite his colleague insisting that menstruation was not a men's affair, Karanja resolved to buy her the pads. It took Karanja a lot of time to get a female shopkeeper selling sanitary pads in the area.
"Even when l brought her sanitary pads, she couldn't believe it. To her, l had broken a taboo," he says.
He says the incident touched him and he wondered how many more women and girls were suffering this way.
"How many women and girls go through the same but cannot share with men around them due to the stigma around menstruation?" he poses.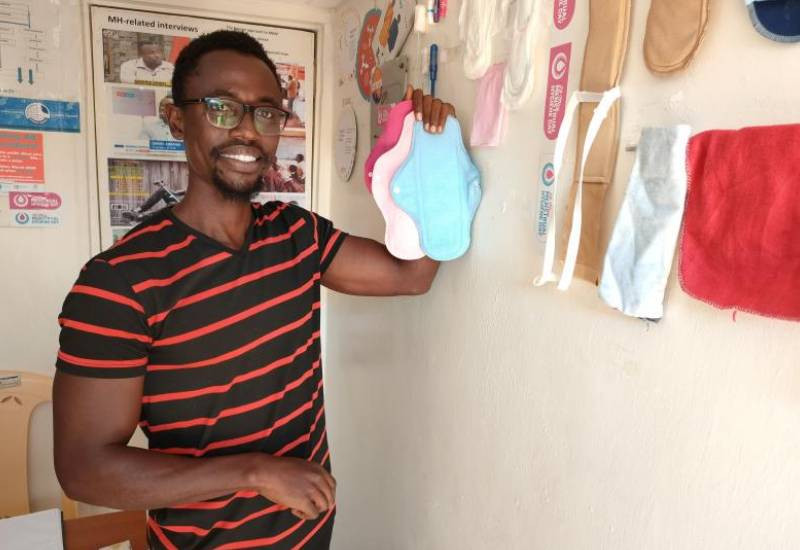 Back in campus, he bought and carried sanitary pads just in case he ever encountered a female student in the same situation.
He even announced to girls if they are in emergency need of sanitary pads they should consult him.
This endeared him to hundreds of girls at the campus, and the rest is history. Later, Karanja would receive training on Real-Time Emergent Learning (RTEL) that was supported by the Water Supply and Sanitation Collaborative Council through their partnership with Amref Health Africa on menstrual health and hygiene.
"Through training, l got the knowledge and skills that gave me confidence in engaging with men and boys on the importance of supporting menstruating women and adolescent girls and upholding their dignity during menstruation," he says.
He reveals some of his abstracts on innovation around engaging men and boys in supporting menstrual health and hygiene have been accepted in several international conferences, including the Colorado WASH Symposium, the Women Deliver Conference in Vancouver, UDS-DRI/CIWAS International Wash Conference in Ghana.
Since he started involving men, Karanja says he is making strides and right now more men are accepting to offer support.
He wants men and boys to be on the forefront, championing menstruation awareness and winning the confidence of women and girls that it is a normal process and they should take pride in it.
He explains that after empowerment sessions with the community, members make pledges that motivate people to talk freely about menstruation.
"I will break the silence in menstruation, I will not feel shy, l will take pride," is part of the pledge.
However, Karanja confesses that it hasn't been easy for him, especially in cultural-sensitive communities where men are not even allowed to talk about sanitary pads.
"Negative mindset is another barrier since communities are yet to accept menstrual periods are a natural body function," he says.
He explains that he also meets women who question his involvement with female affairs and has to take time to explain that menstruation is everyone's affair, and he is not planning to stop his involvement anytime soon.
Related Topics