Home
/
Living
I am learning how to date my husband afresh
A day in the life of:
Carole Kinoti is the founder and CEO of Fashion on the Road (FoTR), Mavazi Elevate Program, and a fashion designer at Carole Kinoti Brands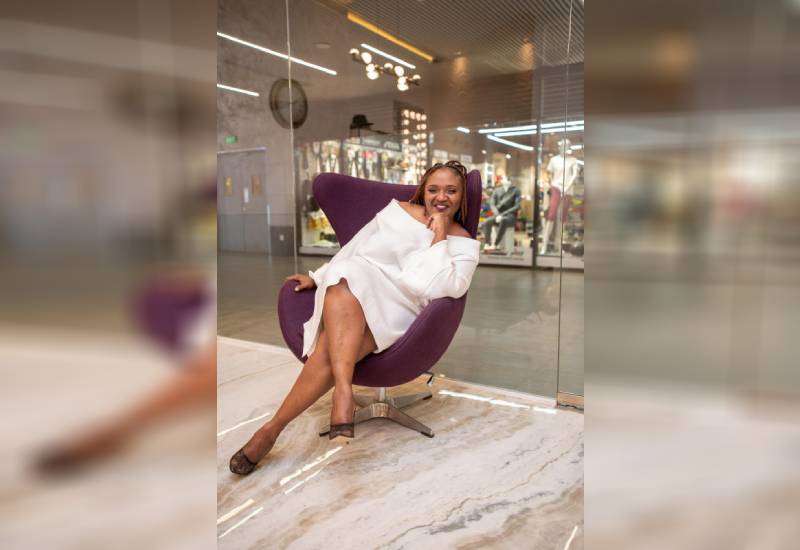 I run three operations: FoTR, a county-by-county tour that aims to find solutions around the fashion industry; Mavazi Elevate Program, created to empower young people on how to turn their talent into trade; and Carole Kinoti Brands, purveyor of Carole Kinoti Collections.
So my days don't look alike. But I have loved working from home. I have the most productive days from home because as a creative, environment matters. I like the silence and feel more relaxed here.
The pandemic has forced me to slow down. It has allowed me to discover myself as a designer and I've managed to pick the absolutely necessary programmes to run with.
I have been forced to look at the products I create from the vantage point of scalability. Standing back and saying, "What if I start this project and tomorrow I'm not here, what happens to it? How can it survive without me, or how can it grow beyond me?"
These questions are present in my mind in anything I try to do today.
At first I had a lot of fear around the pandemic that was stemming from lack of control. I took up exercise and meditation to help me cope; these are activities I thought I was too busy for before.
Now I am very intentional about making time. I also realize you don't need to get out of your way to exercise.
You can do it in your backyard or living room. I wouldn't want to complicate matters again by trying to go out for exercise, and in the process making trying to work out a whole other exercise.
I like the simplicity that Covid-19 has forced me to adapt to. I look for easier ways of doing things, of relaxing, of laughing, of spending time on my own. It also brought me closer to my family.
Earlier in January, my children went back to school – my daughter, 19, to the US and my son, 17, to South Africa. The pandemic gave me an opportunity to have them both at home and we bonded a lot.
When they left for school, and because my husband travels a lot for work, I found myself at home by myself for the first time in my life. I have never lived alone.
I must say the programmes I created were designed with this in mind, knowing that I would soon be facing an empty nest. I took it as an opportunity to further explore my potential and created FoTR around the things I love – traveling, creating, exploring nature and different cultures.
I have fun, I see places, and I grow my brand. In the future, I'd like to connect with the US. I am also learning how to date my husband afresh.
I dislike dull moments in life and like challenging myself. My dreams scare me because they are big. FoTR, for instance, has been the scariest yet because of the business model – travelling to all the 47 counties, that sounds crazy.
It involves a lot of costs, partnerships, which means convincing different people to come on board, and making promises. I work with women groups, and you don't go to these women who are your mothers and grandmothers and make promises only to disappear. But I don't make promises I know I can't deliver.
It took me a long time to realise that how I did business had to change. For 12 years, I followed the same formula: a client walked in, showed me a picture of what they wanted, then I took measurements, sourced for material and made the dress.
And clients didn't believe anyone else could do the work, which is understandable. Consequently, I had no social life. I was working seven days a week. This wasn't healthy. The little free time I got I spent with my children. It took a health scare in 2014 for me to hit pause.
I lost the interest in design, and this was very scary. The desire for design totally vanished, and I stopped taking calls from clients. Because I am an active person I couldn't just spend time at home the whole day, so I enrolled at Strathmore Business School.
This ended up to be the best decision I ever made because I could see what I was doing wrong. I had many clients but wasn't growing, and that's because I was working in my business as opposed to working on my business.
I had no time for training or anything else because I needed to be at work every day; and that's how come I suffered burnout and got the health scare. Also, a business cannot grow when you're doing it alone and everything depends on you. I had never even thought of things like having a succession plan.
I started giving what I was doing a broader, global approach. That's how come I launched Carole Kinoti Brands in 2015. I purposed to approach this second phase differently, with an aim to inspire and uplift people, to disrupt, to introduce fashion to the table where otherwise fashion wouldn't be discussed, and to inspire Kenyans to wear their own. What I do now is very partnership-based.
My advice to entrepreneurs, especially creatives, is to get business training. It is one thing to be good at what you do, it is another to run a successful business.
Seek partnerships and collaborations, to cut down costs and move faster. Get somebody to do your accounting, your legals, and look towards producing scalable products.
Self-care for me is protecting my inner space. It's about managing toxicity and surrounding myself with people and things with the right vibe and energy.
When I find myself having to create distance from someone or something with toxic vibes, that's the height of self-care and self-love.
My fashion tip to women is not to overthink dressing. Wear what makes you feel good. It is all about you.
Related Topics