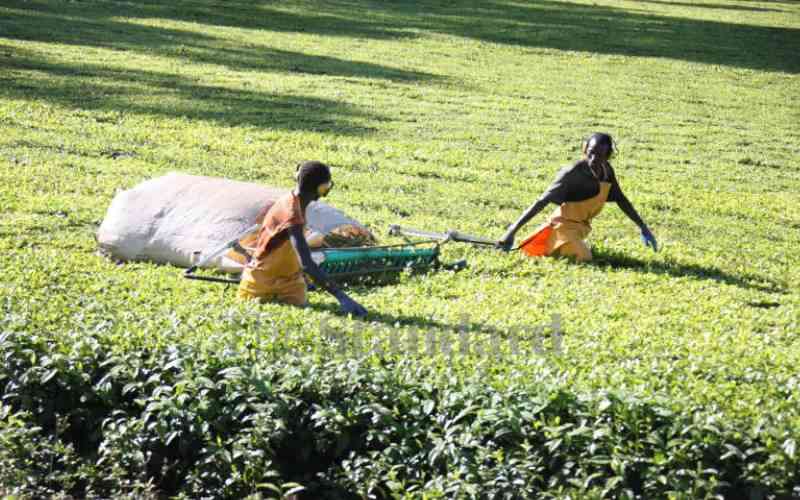 A task force has been formed to review operations of multinational tea firms in three counties.
The formation of the task force comes against the backdrop of a protracted battle between Kericho Governor Erick Mutai and United Kingdom-based tea firms over the deployment of tea harvesting machines.
Dr Mutai said the latest move was a collaboration among Kericho, Bomet, and Nandi counties.
His administration has been seeking to compel tea firms to lease an acre for Sh5,000 up from the current Sh264 per annum.
James Finlay, George Williamson, and CVC Capital Partners (formerly Unilever) occupy an estimated 200,000 acres in Kericho.
The task force, to be chaired by Richard Too, comprises 11 members and will have 60 days beginning October 31 to complete the tasks laid out for them.
The main terms of reference for the task force will be to come up with recommendations on the social and economic impact of the current and emerging challenges on the residents of Kericho, including but not limited to heavy mechanisation of multinationals and other tea sub-sectors.
"Analyse the roles of different stakeholder segments and make recommendations on how they can collaborate among themselves and with the county governments to develop the tea sub-sector," said the gazette notice.
The task force is also mandated to review the challenges facing the multinationals and other tea sub-sector stakeholders within Kericho County and make appropriate recommendations.
Mutai told the management of the multinational tea firms to heed his administration's calls for talks or else he would petition Lands ministry to revoke the 99-year land leases to multinational tea firms over mechanised tea harvesting machines stalemate.
"The multinational tea companies have responded to my call for the outlawing of tea harvesting machines with threats that if we continue the push, they will shift to Rwanda. They can as well do that today," he said.
He at the same time tore into the sale of 36,000 acres by Unilever Tea (Ekaterra) to CVC Capital Partners Fund VIII without the involvement of the county government.
The governor argued that the tea farms under a 99-year lease by the multinationals belonged to Kericho residents.
"The sale of such land cannot be decided in Britain," he said.
Related Topics