Home
/
Parenting
Dad unable to find daycare for son opens one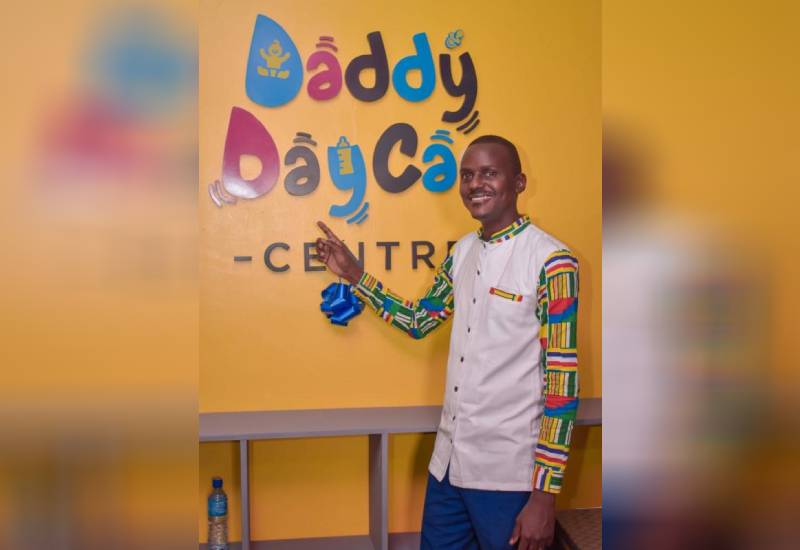 Finding a nanny to babysit your child in Nairobi is not an easy task. Among the challenges parents have to grapple with are unreliable housegirls, high cost of childcare and few, if any, daycare centres.
These are challenges Michael Shisia knows only too well. The father of two was so fed up with hiring and firing nannies for his three-year-old son that he decided to find a daycare for him.
However, even this did not work out for him as the desperate dad scoured for a perfect place to leave his son as he and his wife went to work. But it was to no avail.
Eventually, Shisia had to find an ingenuine solution to his problem: he decided to open a daycare.
The prospect of a man opening and running a daycare for babies is odd, even unheard of. But for Shisia, this is also his unique selling point.
Shisia says 'Daddy Daycare Centre' is the perfect place where children are taken care of when their parents are not around. The centre specialises in babysitting children below three years, two being Shisia's own children.
It also hosts children above three years old who attend playgroup and also pre-primary (PP1 and PP2) classes.
Shisia says running an educational institution was a lifelong dream for him and, "an inspiration I got from a movie.
"I watched dads who had a difficult time finding new jobs after being retrenched; they ended up forming a day care in their homes," he says, adding the idea came in handy when, together with his spouse, they could not find a daycare to place their son.
"I decided to open the daycare, which was my wife's brainchild, and invited other parents facing the same challenge. For me this was a gap I figured I could fill," he says, noting that he takes charge of the day to day running of the centre.
"I called it Daddy Daycare because it is my idea as a dad," he says, adding that it is also a social enterprise where children are instilled with skills and knowledge.
And in another unique twist, Shisia reveals that majority of the staff at his centre are men, as "men run this place."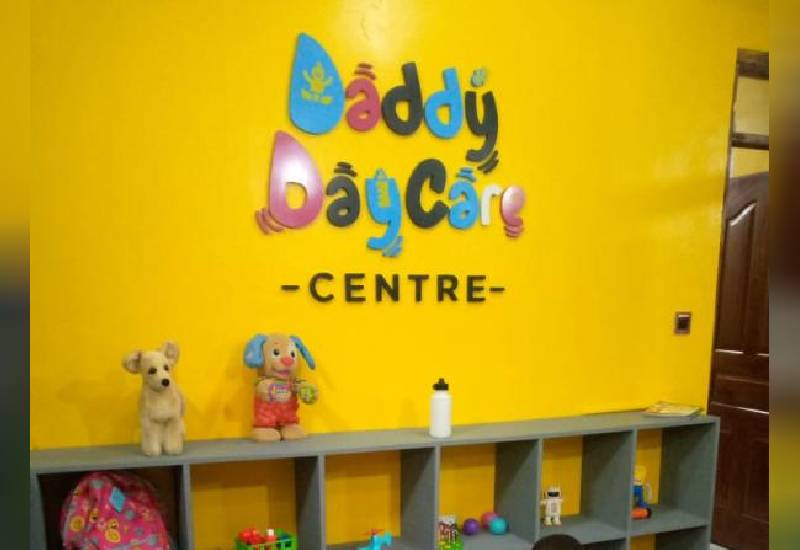 In order to raise startup capital for the centre, Shisia says he wrote a business plan which he presented at a youth competition.
"The government through the ministry of youth, a subsidiary of the youth fund called KYEOP, staged a competition in 2019. I applied for it and fortunately I won the competition. Judges saw it as a unique business idea. We won a grant and added our savings to start this business," he says.
Shisia told CityBiz his main target clients are "the working middle class because they are busy and do not have much time on their hands."
He says staff go through a rigorous interview processes before being hired to the centre.
"We take caregivers who are well trained and teachers who have Early Childhood and Development Education (ECDE) training. Most importantly, we ensure that our staff are passionate about caring for children," Shisia says.
And as for basic babysitting skills, Shisia says he now knows how to change diapers, a skill that his wife took a long time to teach him.
On how he convinces parents that men can take care of children, Shisia says, "We are in the service industry; we aim to offer quality services. This way, parents can trust us. We assure them of the security and safety of their children."
The father of two adds that he has made extra effort to ensure that his centre is child-friendly, ranging from the physical amenities to services offered.
"New parents raise questions when they learn that Daddy Daycare actually translates to the staff as well. Most of them are excited to see men taking care of children," he says.
And like any other business, Shisia's too has its own share of challenges.
"Some parents do not trust strangers, and this is a big challenge to us when we are marketing. It is hard to convince them to leave their children with us," adding that, "Pricing is also another challenge when we are marketing outside our niche."
Shisia charges Sh400 per child per day, and Sh500 per child per night. Weekly plans are available for Sh2,000 per child, and monthly plans of Sh6, 000. Playgroup costs Sh15,000 per term as it involves learning activities.
Related Topics