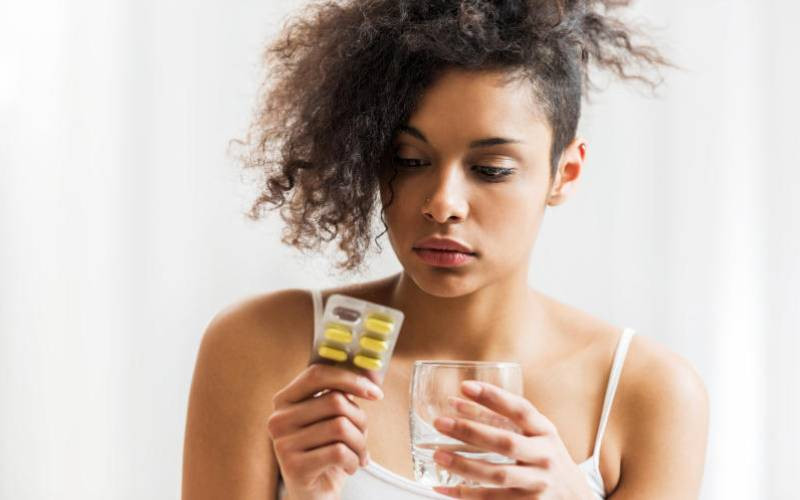 "It's crazy how slowly by slowly your life cannot function without painkillers. It starts as a way to ease the pain then there you are unable to function without painkillers, "Says Grace, a 34-year-old farmer who got addicted to painkillers after a farm injury.
When the leg injury occurred, Grace was on painkillers for a while until she realized that her life was centred around drugs.
"I could not do anything, without stopping the pain. I googled ways to treat myself and they talked about medical detoxification. I couldn't afford that, so I decided to do it on my own. I reduced the number of painkillers I used to take. If I took eight per day, reduced to 7, then 6 then eventually to one and now none," she says
Grace says that she does not take any painkillers.
"Siwezi labda munifunge Kamba muniwekee kwa mdomo I cannot take painkillers unless you tie me with a rope and force the drugs down my throat. Even when I am having period cramps I cannot take them," she says
Menstruation cramps have also hugely contributed to drug misuse, women who experience severe cramps rely on painkillers to go about their daily business.
Mary Achieng' a 33-year-old woman says that on days 1 and 2 of her menses, she takes at least 5 rounds of painkillers within 24 hours at 4 hours intervals.
"In high school, we would all be given buscopan. But did not work, so I used to wonder what was wrong with me. So after high school, I decided to try stronger drugs and they worked," she says
Achieng' says that she knows the dangers of taking painkillers as frequently as she does but the pain is too severe.
"I need to go to work. I tried ignoring the pain but, I couldn't. I cannot function. Day one of my menses the pain is too much I can be on the floor the whole day," She says
Nobody wakes up and decides to be addicted to any drug, it's either they are trying to numb a pain that never goes away or a coping mechanism.
However, one would wonder what is the difference between misuse, abuse and drug addiction?
How is drug misuse different from drug abuse?
A report by the meridian psychiatric partners.com stated that drug is taking a specific drug to treat a specific ailment, for example when a person cannot sleep and can't fall asleep after taking a single sleeping pill takes another pill an hour later hoping that "it'll do the job."
Drug abuse is taking a drug to elicit certain feelings. For example, when a person consumes sleeping pills to manage their moods or acquire a "buzz'.
Whereas drug addiction is a form of drug abuse. The distinction between the two disorders lies in how much control the user can exercise over themselves. Since a person who abuses drugs still has control over their life, they don't experience major disruption in their life.
Health System Specialist Junior F. Mukudi says that abuse or misuse of prescription drugs means taking medication in a way that is different from what the doctor prescribed. This can include taking more than the recommended dose, taking someone else's medication, or using medication for non-medical purposes.
Mukudi says that so many factors can lead to abuse of drugs such as painkillers.
"Abuse of painkillers can be caused by various factors, such as chronic pain, stress, depression, anxiety, or addiction. Some people may use painkillers to cope with physical or emotional problems, or to get high," he says
Mukudi says that some of the most abused painkillers are opioids, such as oxycodone, hydrocodone, morphine, and fentanyl. These drugs can cause euphoria, relaxation, and pain relief, but also have serious side effects and risks of overdose and addiction.
He adds that anyone can abuse painkillers, but some groups may be more vulnerable than others. For example, older adults, people with mental health disorders, people with a history of substance abuse, and people who have easy access to prescription drugs.
People who have abused painkillers can get help by talking to their doctor, seeking professional treatment, joining a support group, or finding alternative ways to manage their pain and stress.
"There are various options for recovery, depending on the severity of the problem and the individual's needs. The first step in treating pain killer addiction is to undergo a medical detoxification, which involves the use of medications to manage withdrawal symptoms, after detoxification treatment may include medications for opioid use disorder, rehabilitation, and aftercare," says Mukudi
On whether women abuse painkillers due to menstrual cramps, he says that that may be possible if the menstrual cramps are severe or chronic pain that interferes with their daily activities. However, it is not a safe or effective solution, as it can lead to dependence, tolerance, withdrawal, and other health issues.
What can women with severe cramps use instead of painkillers?
"Women with severe cramps should consult their doctor for the best treatment option for their condition. Some possible alternatives to painkillers are hormonal birth control pills, anti-inflammatory drugs, heat therapy, massage, acupuncture, exercise, or dietary change," says Mukudi
UTILITIES
A report by the National Authority for the Campaign Against Alcohol and Drug Abuse (NACADA) says one percent of the population aged 15 – 65 years either had mild, moderate, or severe Prescription drugs use disorders (PDUDs). Data shows that 0.2% had PDUDs where 0.1% were mild and another 0.1% were moderate.
0.3% and 1% of the population aged 15 – 65 years had ever used inhalants and prescription drugs in their lifetime, respectively. More females used prescription drugs compared to males. Nyanza region had a higher prevalence of lifetime use of prescription drugs at 3 per cent.
The findings show that 14 per cent of the population was aware of a treatment and rehabilitation facility in Nairobi leading with the highest awareness level at 31.4%followed by the Central region at 20.1%. The lowest was the western region at 3.1%.
Related Topics