Home
/
Health
4 worrying questions new mum's ask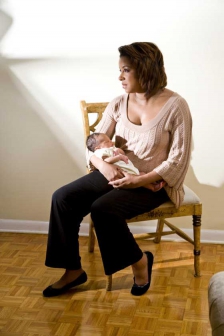 Life with a newborn baby can be difficult, especially if it's your first. Nature has a funny way of throwing all sorts of minor upsets and problems in the way of our brand new babies. This can be quite worrying. She may seem to suffer from colic all the time, for instance, and it isn't always easy to know what's normal.
He's always feeding
It's quite natural for a newborn to seem to be feeding all the time. However, according to childcare experts, you can't over-feed a breastfed baby. Frequent sucking is simply her way of keeping herself satisfied and she'll take as much milk as she needs at each feed. It could be that she simply prefers to take her time, in which case life for you will seem like one long breastfeed at the moment.
What to do: It is important in these early days to let her feed whenever she wants to in order to establish your milk supply. Her regular sucking will stimulate your breasts to make more milk so you'll have plenty for her next feed.
Make sure you get a lot of rest and eat a healthy diet with plenty of protein, iron and calcium. If your baby is only sucking on the nipple, not feeding, you might need to reposition her so she's properly latched on - ask your doctor for help. If she seems to need comfort, see if she'll suck her fingers or thumb, or try your little finger instead.
She sleeps all day
She is only a few weeks old and does nothing but sleep all day. Should you be worriedt?
If your baby was, and still is, slightly jaundiced when she was born, it might make her quite sleepy. All babies are different, though some are more wakeful than others. It could also be that your baby is just a little dozy through having had a good feed.
What to do: You only need to worry if your baby's constant sleeping means she isn't feeding often enough. She will feed best if she is properly awake at the time. If your baby is small in weight, you should wake her every three to four hours to feed.
But if she is bigger, then you can leave her for up to five hours between feeds. Newborns can sleep for about five hours at a stretch without being woken for food. Also, as she gets older, try to make your baby's wake time during the day fun and busy so that she decides she'd rather stay awake!
Coping with colic
Your baby may cry all the time. Could there be something wrong? She's probably suffering from colic. This shows itself as incessant crying when nothing - not even the breast - will stop her crying. It often happens for a few hours at the same time each day. Doctors do not know what causes colic. Just to be on the safe side, consult your doctor. It's often called "three-month colic" because that's when it usually miraculously stops.
What to do: Try to keep yourself calm and well-rested. Remember it will stop eventually. Holding her, singing to her, or walking around with her may help. You could also try gently rubbing her tummy, or placing her over your knee or forearm and rubbing her back. Take turns with your partner so you each get a chance to relax.
You might consider using a dummy to comfort her. And lastly, don't be frightened of leaving her to cry for a while: as long as she is safe and warm, she'll be all right. After all, you need your rest, too.
Wheezing
It's common for your baby to cough, sneeze and wheeze all the time and you wonder what the problem is. Her snuffles are probably being caused by mucus blocking her nasal passages when she's asleep, lying on her back. This will prevent her from swallowing properly and so cause her to wheeze.
These symptoms can also be associated with asthma, though some doctors don't believe children under three months can develop this.
What to do: Tilt your baby's mattress slightly by putting a pillow or a couple of books underneath the head end. A gently incline will help to drain the mucus away. You could also try a steam treatment to unblock her nose. Take her in the bathroom and run a hot, steamy bath and this will clean her nose beautifully. Keep rooms well ventilated but not draughty.
Related Topics