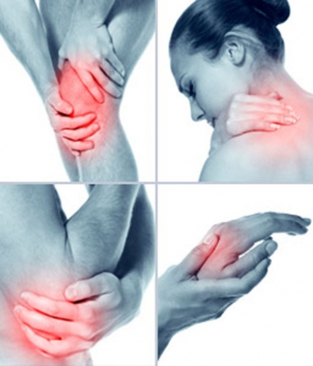 What is arthritis and what treatments are out there to help the pain?
With more than 10 million Brits suffering from some form of arthritis, we take a look at how you can help soothe your aching joints.
What is arthritis?
There are two main types.
Osteoarthritis affects 33% of people aged over 45, making it the most common form of arthritis. The condition is caused when wear and tear to the joints stops them being able to move freely, leading to pain and inflammation.
"This is a mechanically driven form of arthritis which increases with age," says Professor Philip Conaghan, professor of Musculoskeletal Medicine at Leeds University.
"It stems from old injuries, the strains of our jobs and weight gain over the years. You end up living an ever-shrinking life as you stop going out so much because you're in pain."
Rheumatoid arthritis is where the immune system attacks cells in the joint lining, causing pain, stiffness and swelling. Over time, the joint components are damaged and the condition worsens. About 400,000 people in the UK are affected, with three times as many women as men diagnosed.
Medication is needed to control the symptoms of arthritis such as pain, and to prevent further complications.
"Left untreated, rheumatoid arthritis rots the joints, eats into bones and through the ligaments, causing deformities and loss of joint function," says Professor Conaghan.
Gout is another common type of arthritis. Caused by a build-up of uric acid in the body, it is one of the only types of the disease that can be partially treated by a change in diet. Your doctor may prescribe a diet low in purine (found in many foods).
"Gout is common in heavy drinkers, but there are also important genetic tendencies," says Professor Conaghan. "A person with gout will be told to cut down on alcohol, as it contains purines."
There are many other forms of arthritis, ranging from potentially life-threatening lupus, to fibromyalgia, which causes muscle weakness.
How can you help yourself?
Weight: After 40, people put on an average of a kilogram a year and this weight puts extra stresses on your joints. Controlling this weight is one of the most important concerns in the fight against arthritis.
"A healthy diet is vital to preventing it,' says Professor Conaghan.
Activity: Maintaining muscle strength is key to preventing arthritis, because muscle weakness can worsen symptoms. Signs you're getting weaker are: pushing yourself out of chairs, using stair rails for support, struggling to open jars and having difficulty getting out of the bath.
"Most of us get a bit weaker as we age and we develop joint pain," says Professor Conaghan. "We don't move as much, leading to a downward spiral."
But there should always be some kind of exercise you're able to do. Build up leg muscles by walking in a swimming pool. Once you're a little stronger, use an exercise bike to burn calories. See a physiotherapist for exercises tailored to you.
Injuries: If you have sporting injuries, make sure you rehabilitate from them thoroughly and pay attention to getting strong again before you go back to sports to reduce your chances of reinjury," says Professor Conaghan.
Treatment
Osteoarthritis is usually treated with exercise, pain killers and anti-inflammatory drugs. Rheumatoid arthritis will need prescription medication to help reduce inflammation and prevent further damage to joints, usually disease-modifying antirheumatic drugs such as methotrexate.
What about copper bands or cod liver oil?
Recent studies suggest copper bracelets, which cost £25-£65, do not help alleviate symptoms. Any improvement is likely to be from the placebo effect. Taking cod liver oil is beneficial to your overall health and there is some evidence it may ease symptoms of arthritis.
Are high heels bad for you?
About 1.5 million people in the UK have arthritis in the foot or knee – most of these are women. This may be due to uncomfortable footwear or high heels.
"Ask a room of people if they've worn uncomfortable shoes for more than a week and most women will raise their hand, but just a few men," says Professor Conaghan.
Stilettos are an obvious culprit, but ballet pumps and flip-flops are bad for feet, too, so choose shoes with shock-absorbing soles and arch support.