Home
/
Health
Are you suffering from terrible back pain? 5 ways to help you be comfortable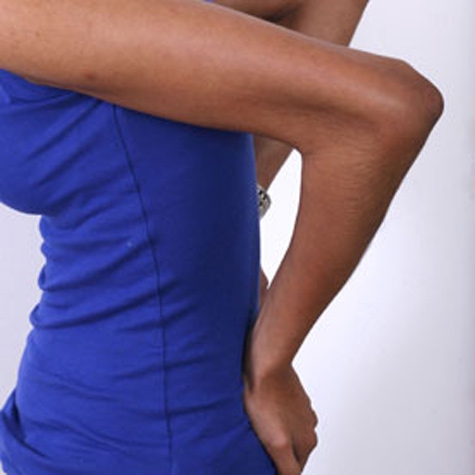 There are lots of ways you can solve your back pain without having to spend weeks, months or even years living in misery…
TYPES OF BACK PAIN
1. Upper back pain: Usually caused by muscle strain, an injury to one of the discs in the upper back, being overweight or poor posture.
But being stressed can also contribute because tension causes your neck muscles to contract.
2. Lower back pain: Over half of all women suffer from lower back pain, often caused by muscle or ligament strain, lifting heavy objects or a sudden jerking movement.
3. Sciatic pain: This can be a pain, numbness or a tingling sensation in your lower back and down one of your legs, caused by irritation or pressure on the sciatic nerve, which runs from the back of your pelvis, through your buttocks, and all the way down both legs.
4. Sudden pain: Some causes of back pain aren't straightforward. Damaged organs, tumours and even problems with the reproductive system can be manifested with pains in the back. If you're worried, go and see your GP.
5. Pain or stiffness in the morning: This could be wear and tear of the spinal joints, often because of age or overuse and the stiffness gets worse with rest. Inflammation from a disc problem could also be a cause: these get worse overnight as the swelling increases when you are lying still.
And here's what you can do to help lead a more comfortable life:
1. Don't slouch
Time slouched in chairs puts pressure on the muscles in our upper back, neck and shoulders, and can lead to long-term issues like repetitive strain injury, back and neck strain.
If you're sitting for long periods, Tim Allardyce, a chartered physiotherapist and registered osteopath, suggests, "Look over your left and right shoulder every couple of hours to mobilise your neck.
Then tip your head sideways, taking your ear down to your shoulder. This should release the pain in your neck and shoulders."
Also, try sitting on a Swiss ball when watching TV. Having to balance means you'll concentrate on your posture, which helps tone core muscles, vital in conquering back pain.
2. Buy a new bra
What you wear can play a part in back pain, too. Up to 80% of women wear the wrong-sized bra and 'thin straps and underwiring gives the wearer little or no support,' says Sue McDonald, an NHS bra fitter and co-founder of Optifit (an innovative made-to-measure bra that supports larger breasts without
underwiring). Make sure you are professionally fitted, and if you do have larger breasts, go for thicker straps on the shoulders and back, which helps spread the strain.
3. Support
You need to be aware of your sleeping position. "You want to keep the spine in a neutral position," says chiropractor Rishi Loatey from the British Chiropractic Association.
"Using two pillows can force your neck into a bent forward position." Equally, if you don't have enough support, this can also strain your neck. It's worth investing in a Goldilocks Pillow, around £45, which are specially made to fit your shape.
4. Keep active
Activities like swimming help ease back pain
If you think bed rest and avoiding movement will help your lower back problem, then think again. It's actually the reverse – staying active can help back and posture problems.
Choose exercises that move the whole body, advises Henry Howe, an exercise rehab specialist for Reebok Sports Club in London. "Swimming is good because it provides full body movement but with less pressure on your body because it's supported by the water."
5. Desk details
Spend most of your working week at a desk? Then it's vital to make sure your chair, computer screen and keyboard are all adjusted to suit you. "There's 20 times more pressure on your lower back if you sit incorrectly at your desk," says Rishi Loatey.
"Your feet should touch the floor and your hips should be slightly higher than your knees, so your chair should have a seat that tilts forward slightly.' Ensure the top of your computer screen is at eye-level and your arms bend at 90 degrees from the elbow to reach the keyboard.
"Laptops put your back under pressure because you have to bend your head to look at the screen," adds Rishi. "Prop the screen on some books to raise it up and invest in a detachable keyboard and mouse.'"
Related Topics