Gardy Chacha
All over the world, women have been shattering glass ceilings in fits that would have been mere dreams a few years ago. One such woman, Concilia Owire, tells her career story
ALSO READ: Achieving woman: Yvette Bonareri drafts law to compel children to care for parents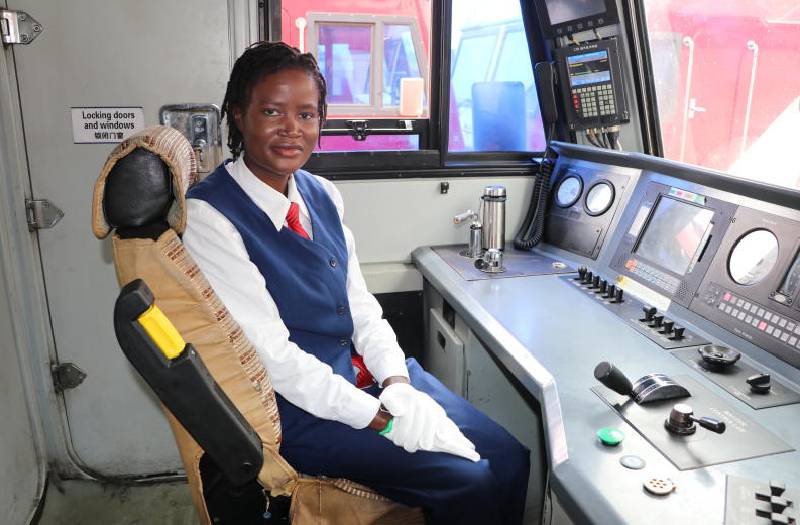 Concilia Owire, the third born in a family of four (two girls and two boys), went down in history as the train driver who shuttled the inaugural Standard Gauge Railway (SGR) train that carried President Uhuru Kenyatta from Mombasa to Nairobi.
She was only 23 in May 2017 when she took the reins of the train in that historical journey. "I was nervous: who wouldn't be?" she says.
It was her first time meeting the president. And the fact that she was entrusted with the safety of everyone on board — the president included — was both exhilarating and nerve wracking.
Concilia's journey to become a train driver began in January 2016. "I saw an advertisement in the papers asking for those interested to apply for a course in locomotive engineering," she says.
Aged 22 at the time, Concilia worked for a contractor on a project for Kenya Power and Lighting Company. "I have a Diploma in Electrical Engineering from Kenya Power Institute," she says. "My dream growing up was to be an electrical engineer. My brother was one himself and I had loved how he went about his work."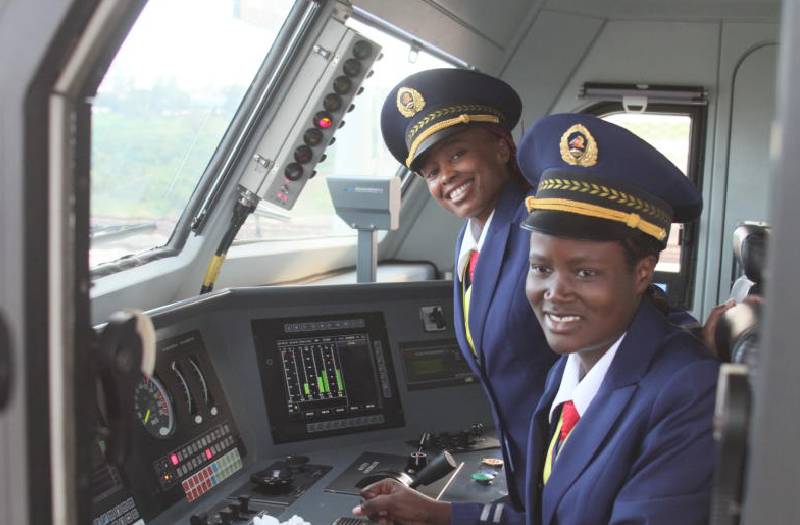 She says a career in electrical engineering was fascinating to her because she had never met — or even heard of — women electrical engineers. "I took it as a challenge: I wanted to work in a field that not many women had found opportunities in," Concilia says.
She got lots of encouragement from her brother. "You can do it," her brother would tell her. "Just have the focus." In a small way, she says, becoming an electrical engineer was paying homage to her brother; from whom encouragement came in a steady stream. "He believed in me. And I wanted to emulate him," she says.
ALSO READ: #WCW: Auditor-General nominee Nancy Kabui Gathungu
Concilia was, therefore, in the early stages of an awe-inspiring career. But glancing at that newspaper advert, she felt nostalgic. She had felt an unmistakable desire to try out a new opportunity. What she was unsure of was whether it would be a good move.
The first people she consulted were her family. "They supported me but some were concerned that I would throw my career into disarray. They argued that I already had a 'sure' career," she says. Locomotive engineering, apart from the 'engineering' bit, sounded like one of those careers with fancy names but for which there aren't available jobs.
But it was too late for second guesses because Concilia's heart had latched onto this new challenge and she was aching to find out why.
"I applied," she says. She subsequently went through an interview and, to her surprise, got accepted. The course lasted from April to August of 2016 — at the Railway Training Institute (RTI). She emerged the best student in a class of 35 students.
"Surprisingly, I did not find much difference between the two engineering careers," she says. "It was as if my Diploma in Electrical Engineering was preparing me for studies in locomotive engineering."
Afterwards, she picked up an internship with China Road and Bridge Company (CRBC) — the company that was building the SGR — and was stationed at Mtito Andei. By a stroke of luck, she got picked by CRBC for a scholarship to further her studies in locomotive driving at an Institute in China. "I was in China between December 2016 and March 2017," she says.
Back in Kenya, Concilia joined Africa Star Railway Operations Company (Afristar) — the firm currently in charge of operations on the SGR between Mombasa and Suswa via Nairobi.
ALSO READ: Naomi Osaka, the highest paid female athlete
"I joined as an assistant locomotive driver," she says. She spent most of her time between March and May 2017 driving freight locomotives between Nairobi and Mtito Andei. "I took every opportunity to improve my skills: nothing was for granted," she says.
Her pin-point dedication would pay off in the weeks that followed as her employer sought the most skilled driver — with exquisite operations skills — to take the reins for that first trip featuring President Kenyatta.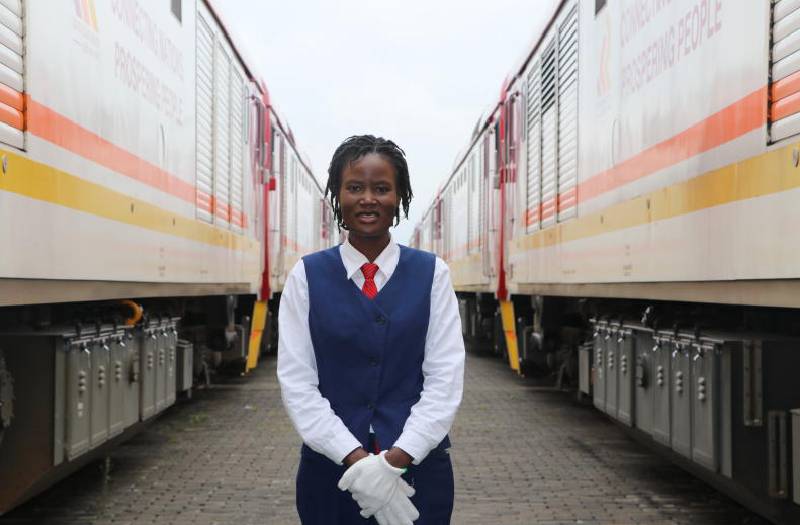 Taking the reins
"I was picked through a process that started with eight of us. The list narrowed to four, then two: eventually ending with me in the train's cockpit," she says.
Today, aged 26, Concilia is both a train driver and team leader. Of Afristar's 26 train drivers, seven are women and Concilia is the youngest of them.
Before the Covid-19 lockdowns, Concilia was driving trains in the passenger division.When the pandemic hit, she was assigned freight trips to carry cargo from the port of Mombasa. "A lot of the goods we are transporting currently are Covid-19 related. They include masks, gloves and hand sanitisers," she says.
It is heart-warming, she says, that in the midst of uncertainty and pain, she is able to effectively serve her country by transporting valuable equipment to fight the killer virus.
As a precaution, Concilia and her colleagues on duty are currently domiciled in company-owned premises. "We can't go home since we are still working: to prevent the possibility of infecting family members," she says.
She also has to wear protective gear — like masks and gloves. As part of working protocol, she practices safe distance, while also washing hands and sanitising at every opportune time.
Driving a train, she says, is satisfying. "It is more of brainwork: it is less physically tasking," she says.
Her achievements (occasioned by a swift change in careers) have proven to her that a girl can achieve anything she sets sight on. The sky remains the limit for young Cecilia. At 26, she still has her whole life ahead of her. What will she achieve next?
"Right now I am more interested in passing the knowledge and skills I have gained to other people: moreso young girls who, like me, fear that some careers were a preserve of men and want to challenge status quo," she says.
She has received support and discouragement in equal measure. Her family are proud of her achievements. Her best friends have often responded with a thumbs up.
But not everyone has commended her. A few times she has been told — mostly by men — that her job is not befitting for a lady: that she ought to resign and pick 'lady-type' jobs. To the naysayers she pays no attention.
In her free time, she mentors young girls in children's homes. And at home she finds enjoyment watching movies and occasionally reading. Her favourite pastimes are casual walks and visiting the national park.
What of finding love? Concilia set aside romance since joining RTI. She says, sometimes, to focus on a goal, one puts aside peripheral aspects of life such as love.
"Dating is something I am not focusing on right now. Perhaps, maybe in future, it is something I will consider," she says.
She is currently pursuing further studies in locomotive engineering courtesy of her employer. Last October, in 2019, Concilia — for the second time — got the privilege to steer the first train from Nairobi to Suswa with President Kenyatta on board.
"It's been an epic three years," she says.