The Standard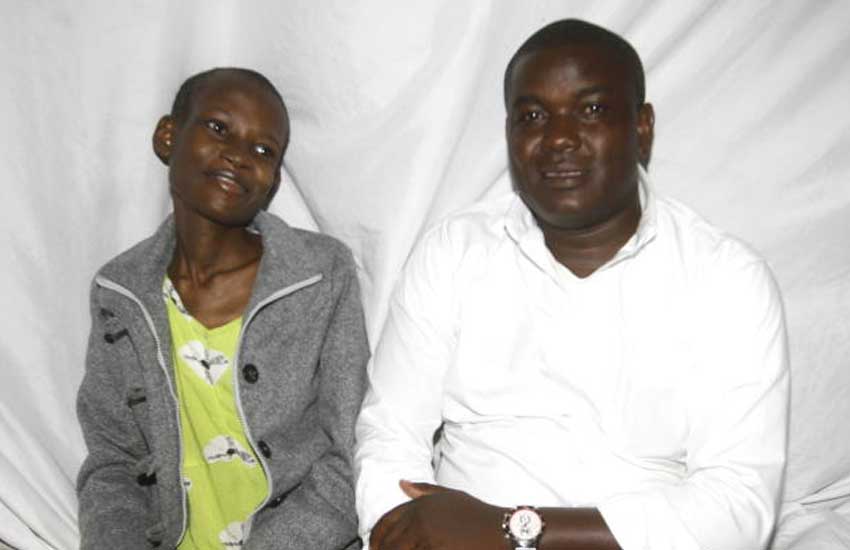 Love lives everywhere and in this case, in a tiny mud thatched house with rusting roof and a lone dim bulb.
ALSO READ: Bookseller provides ladies with free sanitary pads in Nairobi's CBD
There is a beautiful love story in Kibera, the place Anastasia Adhiambo, 32, and Ibrahim Mudi, 33, have called home for almost a decade.
It started in 2011. They met through a friend and hit it off. He loved her mischievous laugh. She loved his laid back demeanour and sense of humour. His deep dark skin fascinated her.
He loved the way she sang along to gospel music – with eyes closed. It is those little things that solidified their journey of love. They texted endlessly, met several times, and when he asked her to move in with him, she said yes.
He was 24, she was 23. They got three children and their story was flowing smoothly. It would have peaked this Valentine's Day if things had gone according to plans.
Fish and ugali
She would have made his favourite meal of fish and ugali. They would then have huddled around their small television to watch news and catch up.
"From the first day I saw her, it was different. Maybe that is what people call love…" says Mudi on how they met. Adhiambo nudges him playfully with her elbows. They look at each other and laugh, momentarily getting lost in their own world. She places her face on her palms, giggles and says: "Talking about love is so strange."
ALSO READ: #EasyRecipe: Chocolate cake
She gives him a full smile that causes her whole face to crease. Mudi adjusts the pullover that is draped on his wife's frail frame. She clears her throat and they start talking about the disease that has interrupted their love story.
Adhiambo was diagnosed with stage three colon cancer three years ago. It started with stomach pains, nausea and chills. She was pregnant with her last born. Doctors dismissed it as possible pregnancy signs. She had her baby but was still getting sick.
"My body was wasting away. One day I started having fecal vomiting. We knew there was something seriously wrong with me," she says.
She was alone in the consultation room when doctors broke the news. There was a big cancerous tumour lodged in her colon. The cancer had spread so far; it could not be operated.
"I cried. I wondered if my husband would stay. I knew he loved me but this was huge. It was cancer... I decided not to tell him," she says.
Mudi says he had gotten so anxious over his wife's unexplained symptoms that when he heard that they finally had a diagnosis, he went straight to the doctor.
"It shocks you when you hear the doctor telling you the mother of your children has cancer. As a man, you have to be strong for your girl," he says.
ALSO READ: Cultivating peace of mind
Chocked with emotions
Adhiambo says she only got to learn that her husband had been told of her illness when she requested for soda and sausage.
"He told me that he will bring me something healthy, and that I was not allowed to take processed food. Then I knew he had been told, and that he had decided to stay.
The days that followed redefined love for them. For the seven months she was in hospital, Mudi never failed to show up.
In rain, in sun, for the many tests she took, and even on days when he did not have money to buy her what she craved, he showed up. "Every single day, he came. Imagine…every day! No excuse," she says, getting chocked up with emotions.
When the side effects of chemotherapy started in earnest, and she tumbled from the retching, he scooped her and wiped her.
When the diarrhoea hit and she was too weak to walk to the latrine outside their home, he carried her. When she used the bucket as a toilet, he washed it.
When the pain became intense and she screamed, he stayed up all night and wiped her sweaty brow.
"This man…this man….he is different...the best," she stammers and then a soft sob hits her and she starts crying. Wycliff Otiala, a neighbour, says in Adhiambo's illness, they have seen the real meaning of love.
He says they watch with admiration when Mudi washes clothes and cleans the house before going to work.
"He is a young man. Others would have left, but he is here. We admire the bond they have," he says.
Mercy Kamau, palliative care nurse who takes care of Adhiambo, says she gets overwhelmed by the love the two share.
"I get touched when I see the things he does for her. Their story deserves to be told. It is a story of true love," she says.
Monthly salary
Mudi says taking care of a sick wife for many months has emboldened the reality of how fleeting time is. Adhiambo is on home-based palliative care with the Nairobi Hospice because the cancer is moving too fast.
Uncertainty hovers, but Mudi says he made a silent vow to never tire. "One moment you are making plans on how you want to move to a bigger house and start a business, and then cancer comes and changes everything," he says.
He enjoys the brief moments of peace and silence induced by morphine. When the pains subside, she watches as he struggles to cook, and teases him when he makes mistakes. In the midst of it all, laughter still penetrates the darkness. Love wins.
"The first 12 cycles that she underwent did not do anything.
Maybe it is because we would skip treatment when we had no money.
Now she is on the second line, and still, one cycle costs more than my monthly salary. We really hope someone can step in and help us," says Mudi.
They admit that they are scared. They worry about the future of their little children. Mudi says he takes many breaks from work to check on her. He hates the anxiety every second brings. He has learned to sleep differently because stirring in their small bed wakes her.
"This cancer has changed a lot of things for us. But I love this woman. Do not let the disease fool you, this woman is stunning," he says, shuffling through the many photos he has on his phone.
Adhiambo chuckles. A cough runs through her body. "Ibrah, you are making me uncomfortable," she teases.
They laugh again, united by the love that has carried them through it all.