Gardy Chacha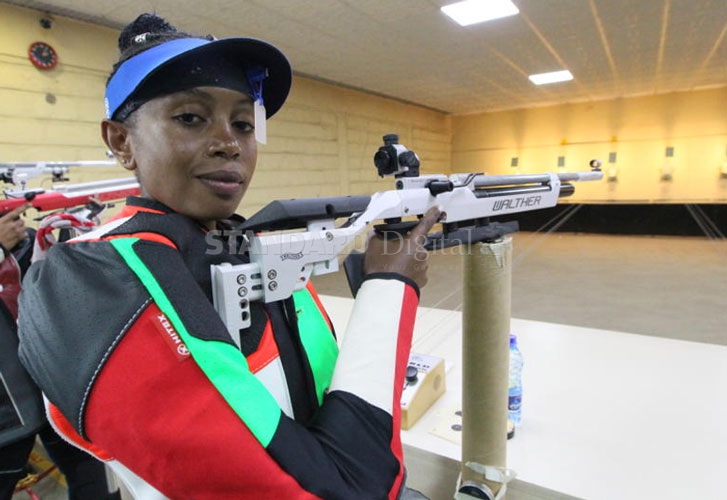 A Sh179, 000 jacket nearly got in the way of Priscilla Wangui Mburu's sports shooting career but she learnt that loving the sport also meant sacrifice. Now regarded as the best woman shooter in Kenya, she narrates her story.
ALSO READ: Naomi Osaka, the highest paid female athlete
Standing at 5ft 3 inches and weighing just 56kg, it's hard to picture Priscilla Wangui aiming a bazooka-like riffle to shoot.
In fact, a close friend once chided her, "The gun is bigger than you!" To which she just laughed.
But Priscilla is like dynamite in a capsule: a David out to prove herself against Goliath. She is one of just three women countrywide who shoot professionally. She joined sports shooting in 2016. About a year before, she had been recruited to join Kenya National Police service.
"I fell in love with shooting on my first day at the shooting range. I was undergoing police training. I had heard many things about guns: that when you shoot, there is blow back. But when I got hold of the rifle, I felt an adrenaline rush. My first ever shot was on target. And I fell in love with guns from that day onwards," she says.
When we first meet Priscilla, she is at the shooting range at Nairobi Sailors Club along Lang'ata Road, Nairobi. She is practicing for the 14th Africa Championships to be held in Algeria – a precursor to the 2020 Olympics in Japan.
"Those who will attain MQS (Minimum Qualifying Score) will proceed to shoot at the Olympics. I want to be in that team," she says.
Priscilla has every reason to be optimistic. This is because she is currently regarded as the best woman shooter in Kenya.
ALSO READ: #WCW: Shelly-Ann Fraser-Pryce, sprinting to greatness
In rifle shooting, players aim at rings. The innermost ring (the smallest) represents 10 points. The outermost ring represents one point. Each player is allowed 60 shots. The shots are tabulated by addition.
"The highest possible points are 600. No one in the world has ever achieved 600 points," she says. Her best performance since she joined the sport saw her accrue 555 points — just 45 shy of ultimate glory.
A good shooter, she says, must be physically fit, passionate about the sport, and mentally healthy. "I attend gym frequently to build muscle strength. Remember, when shooting, one is standing for long periods. And the gun is considerably heavy. To aim well, you need several muscles to be functioning optimally," she says.
Those muscles, she points out, are thigh muscles, triceps, biceps, hips, and leg muscles. As for mental health, it goes without saying, that guns and bullets aren't the best things in the hands of a mentally unstable person.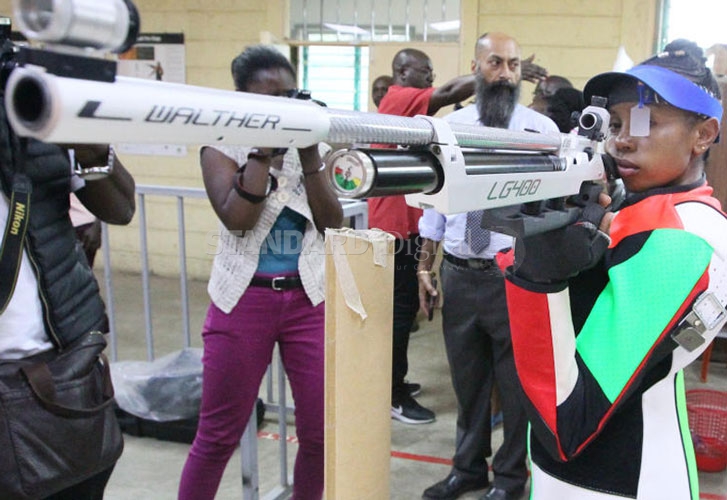 There are different disciplines of sports shooting. There is small bore, full bore, air rifle and air pistol. Small bore and air pistol are shot from 10 metres.
Full bore is played outdoors. Players shoot from different lengths between 300m and 900m, and under varying conditions, at different times. In Kenya the full bore shooting range is located in Laikipia.
"I play all of them except air pistol – because usually air pistol and air rifle run concurrently during competitions," she says. The game tests a player's accuracy and precision.
ALSO READ: Move it: Why I quit my job to pursue cycling
Priscilla says she almost gave up pursuing the sport because of the costs of shooting gear: a jacket, trousers and shoes.
"They are too expensive," she says. "But then I realised that I love the sport and I have to invest in it."
Priscila had to import the jacket and the trousers at a cost of Sh179, 000 – from Czech Republic. She is yet to buy the shoes but she says she is working on the plan.
She is happy because she has won a number of local competitions. Last year, 2018, she also won a small bore competition in Bisley, United Kingdom.
She says the sport has accorded her more benefits than just trophies.
"It has made me courageous, hardworking and strong. It has instilled in me the value of humility in winning and in losing. Today, I can encourage friends to pursue things they believed they could not do," she says. On top of everything else she gets to travel the world playing in different competitions.
Her parents, she says, are her biggest fans. And her friends have been supportive; except one friend who has reservations regarding women shooting rifles. "She keeps asking me how I do it," Priscilla says of her friend.
For a long time, she says, the sport only drew interest from disciplined forces. Today some civilians are joining the fray.
"You do not have to be a police officer to play sports shooting," she says.
The Kenya Regiment Rifles Club (KRRC) along Lang'ata Road in Nairobi would be a good place to start for those interested in the sport.
Priscilla is now 28. When I ask her how long into the future she hopes to retire her shooting she quotes the motto by the National Rifle Association of the UK.
"Sit Perpetuum – may it last forever."