Selfless Argentinian cop gets promotion after breastfeeding 'dirty, malnourished' baby
Achieving Woman By
Wanja Mbuthia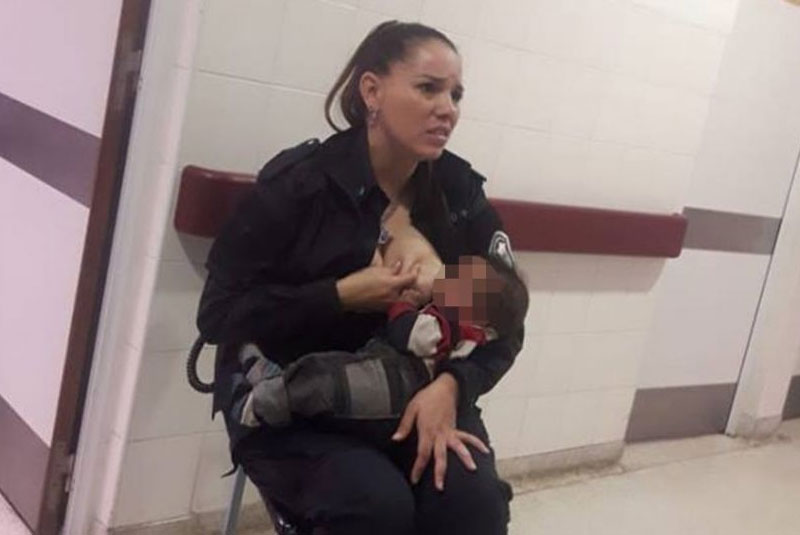 ALSO READ: Achieving woman: Yvette Bonareri drafts law to compel children to care for parents
Argentine cop Celeste Ayala received a promotion days after a photo of her breastfeeding a malnourished kid went viral. Celeste, a mother of three was on duty at the Sor Maria Ludovica Children's Hospital in Buenos Aires when a baby was brought in crying desperately.
The cries led her to seek for permission to cuddle and feed the baby from the hospital management. Permission was given and Ayala held the baby and started to breastfeed him, after which he stopped crying immediately.
Her colleague Marcos Heredia, took the photo of Celeste and captioned it, "I want to make public this great gesture of love that you made today with that baby, who you did not know, but for whom you did not hesitate to act like a mother. You did not care if he was dirty or smelly … Things like that are not seen every day."
Turns out the seven month baby, along with his five siblings had been taken away from their parents who were in bad health.
Speaking to local media, Ayala had this to say "I noticed that he was hungry, as he was putting his hand into his mouth, so I asked to hug him and breastfeed him. "It was a sad moment, it broke my soul seeing him like this. Society should be sensitive to the issues affecting children; it cannot keep happening."
Announcing Ayala's promotion from officer to sergeant, Cristian Ritondo, the minister of security of Buenos Aires province, tweeted: "We wanted to thank you in person for that gesture of spontaneous love that managed to calm the baby's cry. That's the type of police we're proud of, the police we want."
ALSO READ: #WCW: Auditor-General nominee Nancy Kabui Gathungu