Gatonye Gathura
ALSO READ: Benda Kithaka, working to stop cervical cancer through early detection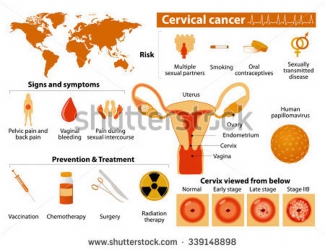 Single women are more likely to die from cervical cancer than their married counterparts, a new study shows.
A study by experts at Kenyatta National Hospital (KNH) shows in most cases, cervical cancer in unmarried women is diagnosed when it is already too late to treat it.
The researchers, led by clinician Farida Kirema Makena, said married women are more likely to survive because they have better health habits that allow them to notice symptoms at an early stage. This makes treatment easier.
At the same time, married women are highly likely to seek healthcare services because of the support of their spouses, meaning cervical cancer is likely to be detected early.
"It is also assumed single women may not be sexually active and are therefore less inclined towards seeking gynecological care unlike their married counterparts," the study says.
Cervical cancer is the fourth most frequent cancer in women across the world.
The study involving 152 women diagnosed with cervical cancer at KNH shows in more than half, the disease was at an advanced stage by the time it was discovered.
The study was published in the Journal of Cancer Science & Therapy in July.
Makena and her team were interrogating reasons why most women tested at the hospital are presenting late stages of cervical cancer.Cancer is categorised into four stages, with the first two considered early while stages III and IV as advanced.
If detected early, doctors say cervical cancer can be treated, compared to when it is in stages three and four.
The survival rate of cervical cancer is reportedly 80 per cent to 99 per cent in stage I, 60 per cent to 90 per cent in stage II, 30 per cent to 50 per cent in stage III and 15 per cent to 20 per cent in stage IV.
"This is important information for women because it means the stage at which the disease is detected could mean loss of life or survival," says Prof Nicholas Abinya, a cancer expert and lecturer at the University of Nairobi.
"Out of the 152 cervical cancer patients investigated, about 54 per cent had advanced stage of cancer when it was diagnosed," according to the six-month study.
Older women
The study, reviewed and approved by both KNH and the University of Nairobi's Ethics and Research Committee, found older women, between 50-75, also at the risk of late diagnosis of cervical cancer.
"There was a significant difference between the ages of women and advanced cervical cancer during diagnosis, where older women had increased proportion of advanced cervical cancer than younger women," says the study.
Makena said older women tend to believe they are less vulnerable to cervical cancer and that pap tests are not important.
Having no or low education and being HIV positive were also associated with late cancer diagnosis among the respondents.
"Majority of women diagnosed with advanced stage of the disease were from Western Kenya," the study says but without explaining reasons.
Another study on breast cancer from 11 hospitals across the country recently showed some communities in Western Kenya are more likely, than others, to present advanced tumours.
Lead author of the study published last month, Dr Shahin Sayed of the Aga Khan University Hospital, suggested that the women in those geographical areas may be developing a type of aggressive cancer different from that found elsewhere.
Causes and risk factors for cervical cancer include human papillomavirus (HPV) infection, having many sexual partners, smoking, taking birth control pills, and engaging in early sexual contact.
HPV infection may cause cervical dysplasia, or abnormal growth of cervical cells.