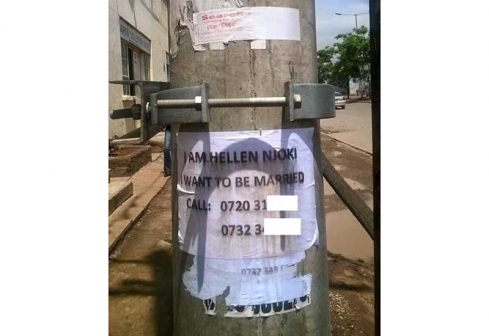 ALSO READ: How to avoid presenting yourself as a sex object in your relationship
When two people are in love, the world stops. They touch, they kiss, they hold — they simply can't get enough of each other.
Their world is filled with warmth and sunshine.
And then one day, their world stops — for worse. Love goes south. The sunshine is replaced with an icy chill. The kisses and caresses vanish and then they part. Now, that is when hell is let loose! And the jilted party does everything to revenge. Here are the craziest things people do when they fall out of love.
1.'I am looking for a hubby' poster
Hellen Njoki, a mother of one in Meru was surprised to learn of a poster glued on an electric post in unidentified location with her two phone numbers with the message: "I am Hellen Njoki. I want to be married". As calls came thick and fast from would be suitors, she suspected a man she had dumped was the brains behind the poster.
2. Toilet graffiti
Imagine your phone number scrawled on a public toilet wall proclaiming that you are gay and in need of company. You become the subject of mockery, insults and unwarranted calls from interested parties.
3. 'Flying' nude photos
Nude photos taken when the affair was hot suddenly go viral on social media when the love affair turns sour. Remember the nudes of a prominent city politician being gawked all over by all?
ALSO READ: 'My husband has been keeping a dirty secret for 30 years and I'm sickened by it'
4. Mganga kutoka Zanzibar
A well inscribed placard bearing your contacts and the problems you 'heal' at extremely low prices is nailed on a electricity pole or tree in a busy street and shortly you get calls from 'patients' itching for your services! From a heart-breaker you turn to 'healer' of kaswende, wasiwasi kazini, kushinda kesi, kupendwa na boss and other weird therapies.
5. Phony Facebook page
A disgruntled Frank will create a phony Facebook page with stunning image of his ex and personal details and the next thing she will be in the 'Sugar Mummy, Sex Addict, s and such pages showing her package and yearning for sex.
6. Keep off alert
On a tree, post or wall on a strategic location will be that perfect image of yours with a message warning men or women to keep off your affair or else they will regret. The message could also describe you as husband or wife snatcher or one using kamuti to bed women.
7. 'Hacking' into others' social page
ALSO READ: Girl code: We are not angry, we are just relaxing
Many a time when an affair is in cloud nine, lovers share every secret in their lives and access to their gadgets and social media. Sorry, those secrets could land you in court when matters bedroom backfire.
8. Sex with best friend
Here the drill is to turn to their estranged lover's friends and treat them like kings or queens to remind the ex his or game was below par.
For More of This Stories Subscribe to the Standard Epaper to get a copy of Eve Woman in the Standard
9. Carting away gifts
This is where her pricey house fitting, clothes, gift, jewellery and moti are carted away in a split second and the next thing she is relocating from Kilimani to 'Ungwaro' and her taste flags down from expensive wines to cheap second generation drinks.
10. Kuchoma picha
The guy who is pained can marshal his gang and ambush the ex in a public place in her mtaa where they berate her for being a gold-digger and a witch kumchomea picha.
Do not miss out on the latest news. Join the Eve Digital Telegram channel HERE.