Muthoni Gachanja Likimani- One of the first female producers of VOK current KBC
Achieving Woman By
Anne Kanake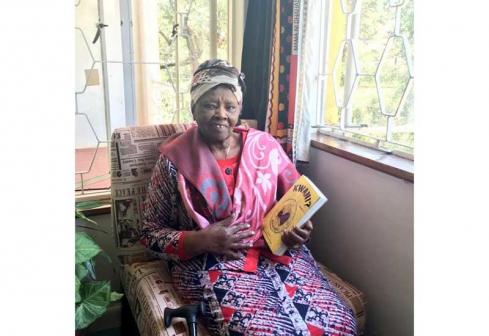 Muthoni Likimani holds the grace and beauty of a woman made for the camera and the media.
A beauty queen and author who once worked for BBC's Swahili Bureau Service, she is one of Kenya Broadcasting Corporations first female producers. She notably presented the 'Shangazi na Watoto' show on the station, which was was called the Voice of Kenya (VOK) in the 1960s.
Born in 1924, Muthoni is daughter to Reverend Levi Gachanja, one of Kenya's first Anglican Church Ministers. Muthoni married the late Dr Jason Likimani the only African medical practitioner that had access to Mau Mau detention camps in the colonial era. Muthoni has many titles, she is a renowned author of African fiction, she was Nairobi City councilor in the 1980's and was appointed peace ambassador in Kenya for the International Forum for the Literature and Culture of Peace.
(IFLAC) in 2014.
During a September 2013 speech at the Dedan Kimathi University of Technology, Muthoni spoke about her role in in Kenya's fight for independence. "I was instrumental in sabotaging the Colonial Strategy of recruiting the Maasai Morans to fight alongside the
colonialists who were fighting Africans during the struggle for independence," she revealed. "I participated, though unknown to many, as a letter smuggler for the detained Mau Mau fighters. Muthoni, now 91, is still full of energy and continues to write and mentor.