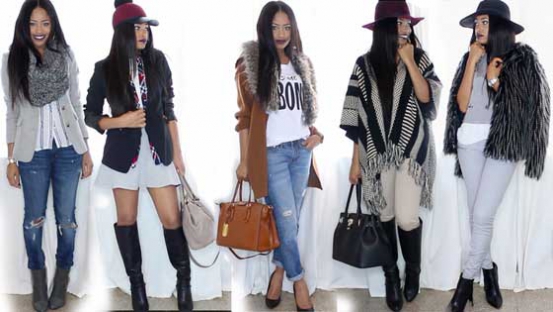 ALSO READ: #FashionFridayInspo: Amina Abdi Rabar, unafraid of colour
We have finally got what we asked for. The sun has turned down its heat and in its place we have rain that comes unannounced.
So how do you dress for this moody weather which is cold in the morning, warms up during mid day only to get colder in the evening?
Beat the chills and look fabulous while you are at it with these four must have's
Fur jackets
Suede fur jackets can be found anywhere from Gikomba to high end shops. This makes it an available piece for ladies from all walks of life.
Pair your fur jacket with a laid back tee, ripped jeans and kitten heels. When the sun starts to shine you can easily pull off your jacket and still look stylish.
Capes
ALSO READ: #FashionFridayInspo: Tanasha Donna, slaying post-maternity style
Capes are half sweaters and half shawls that are heavy and appropriate for the chilly season.
They come in different lengths, shades and patterns for you pleasure. Do not be afraid to put on slim jeans with ankle boots to seal off the cold for good.
Keep it simple as most of the time capes are accessories in themselves. Add a solid tote bag to give your look a crisp finish.
Knee length boots
These are a girls' best friend especially during this muddy rainy season. Not only do they keep your away from mud and cold, they also look very chic.
The fact that they can be worn with anything makes them a darling for any lady. Pair them with a short skirt and a boyfriend jacket to give you a playful preppy look.
Scarfs
ALSO READ: Congolese designer, Anifa Mvuemba, hosts first virtual fashion show with 3D models
Infinity scarfs are still an in thing as they go round your neck without hanging in the sides. Chunky scarfs keep you obviously warm and the good thing with them is you can take them off when the sun comes up and it will not spoil your look.
Try to play around with the key pieces and while you are at it do not be overdressed as it will come out wrong.
For More of This Stories Subscribe to the Standard Epaper to get a copy of Eve Woman in the Standard
Do not miss out on the latest news. Join the Eve Digital Telegram channel HERE.