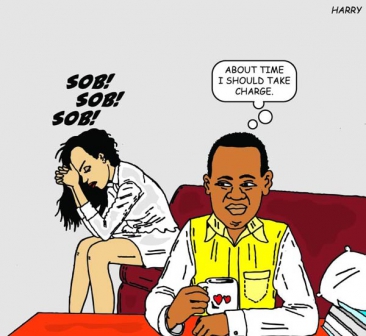 Cindy is not yet back. And may not be back until January. She is in the countryside, 'cooling her heels' she says. But she assures you that everything is fine. Without asking, she tells you she is not drinking, or misbehaving. "Been years since I was here, let me enjoy."
That is good. For it gives you time to focus. And make an exit strategy if you need one. Her friend, who is your hot neighbour, said something that made you doubt Cindy's commitment. And for the whole week, the beautiful neighbour, call her Carol, has been elusive.
When you finally corner her and ask her what she exactly meant when she said, you don't know who Cindy is by half, she reluctantly agrees to open to you who the real Cindy is. Like all people with bad motives, she assures you that her aim is not to slander her. All she wants is never to be held accountable in the event something happens, since she was the go-between. So you sit down and listen.
"She likes bad boys. That is who she is. She really can't help it." Carol says matter-of-factly. "And very soon she will do something stupid that you will hate and regret."
There is genuine concern. And there is a tinge of malice. But why did she hook the two of you up in the first place?
"I didn't know that you two would get along so well. Thought you will have a fling, you were so much on my case..."
Oh noo!!" she didn't just stab her friend in the back just like that. But where does that leave you?
"It is upon you to decide really, mine is to warn, may be you can change her." You can hear the unspoken word IMPOSSIBLE in her tone. And you look at her in time to catch her suppressing a wry smile. What is it with women?
Since you still have a thing for her, you start looking for an opening. One last time.
"I will take your word for it. But on condition, you will give one of your better friends, or else I will start hitting on you again..." you tell her with all the seriousness you can muster.
"Me.Oh No..."
"Why not?" you ask.
"I am getting married next year." She says, curtly.
You laugh so hard, so loud, so dismissively.
"If the man so loves you, he will do anything to escape the European cold and come to be with you this holiday..." you tell her. It is your time to chide her.
She goes into a pensive mood. And here your strategy is simple. Poke holes into her faith in the relationship. Make her doubt everything about the man. When in doubt, a woman often errs on the side of mistakes. You can as well as tell her how the male psychology works...
"You know when a man seriously wants a woman, who is a beautiful as you are, he can put everything aside until you are in his box then he can go on about everything else. Now he treats you like you are already married with three kids..."
For More of This Stories Subscribe to the Standard Epaper to get a copy of Eve Woman in the Standard
She listens keenly.
"In the meantime, time is running out on your side. He will not tell you when he leaves you...you should read the signs... A beautiful woman like you needs to be loved, not ignored," you go on.
She starts to sob. You laugh in the inside. You smell victory. You really have to make her feel miserable. And milk all the miserly for all its worth. It will work, this time round.
You think of suggesting a Christmas vacation. But she should finish sobbing first.
@nyanchwani
Do not miss out on the latest news. Join the Eve Digital Telegram channel HERE.