Home
/
Achieving Woman
Olympic queen: I am just getting started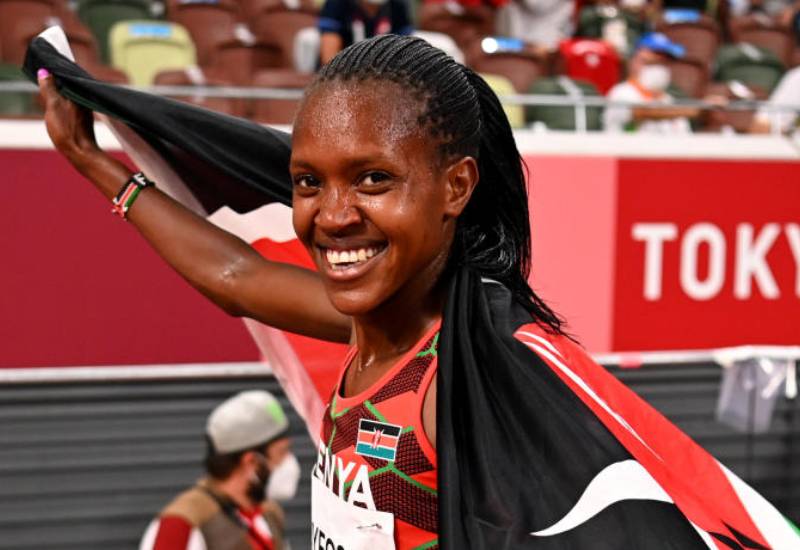 With 400 metres to go in the 1500m final race in Tokyo Olympics, Kenyan sensation Faith Kipyegon was behind the Dutch runner Sifan Hassan, who has been in blistering form this season.
Hanging on to their vests was Great Britain's Laura Muir. It looked like a script lifted straight from the finals of the 2017 IAAF World Championships with the three leading cast members in the same order heading to the finish line.
This was on August 6, day 14 of the postponed 2020 Olympics and Kenyans were a dismayed lot after what was increasingly looking like a catastrophic outing for the national team.
Whether Faith knew it or not, the silent prayers of an entire nation were thundering behind her. So when she struck out to take the lead well into the final lap, Kenyans stood up and the country stood still.
By the final 100 metres, just like it was in the 2016 Rio Olympics, when Faith left Ethiopia's Genzebe Dibaba in her wake, the race was done dusted.
Home came a newly minted two time back-to-back Olympic winner with an Olympic record to her name.
The 27-year-old's journey to this moment has been years in the making, starting in 2009.
When she was younger, Faith would watch legendary long-distance runner, Vivian Cheruiyot, her braids held back in a ponytail, as she topped medal tables in blistering fashion. Faith would tell herself that one day she would be like her role model Vivian.
Today, she will most assuredly go down in the annals of Kenya's history as one of the greatest athletes.
Getting her for an interview is a tough exercise. Fresh off the tracks in Tokyo, everyone wants a piece of her.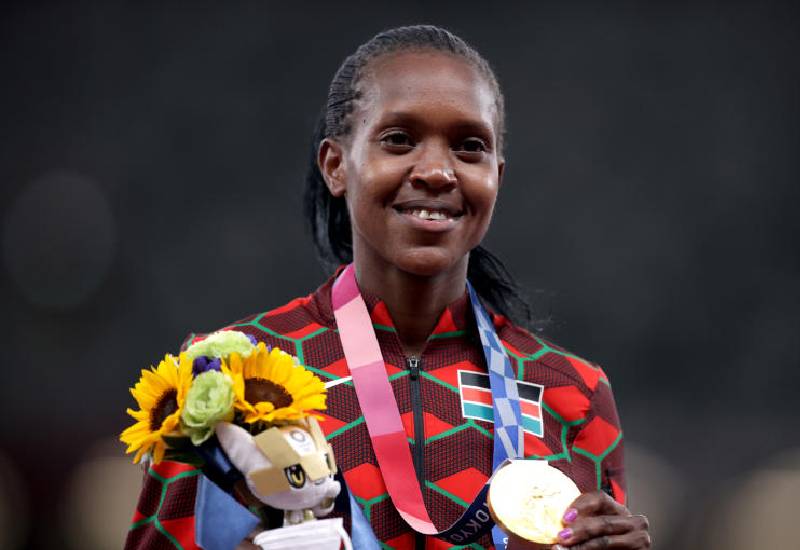 It is only the second day since she returned to Kenya after winning a gold medal at the Olympics, to become the first Kenyan female athlete to win gold back-to-back at the Olympics.
"You must be getting so many calls right now!" I say.
"Eh, calls ni mingi! (the calls are so many!)," she says with a shy chuckle. She peppers the conversation with such laughs, belying her legendary performance on the track.
She is barely taking a breath in the country before she goes to the United States this week to compete at the Nike Prefontaine Classic, a track and field event in Oregon. One would imagine she left it all at the Olympics but there is much more where that came from.
"I'm not tired!" she says with a laugh. "You have to always stay prepared and keep the faith in order to finish the season and I'm hoping to finish as well as I did in Tokyo."
She is content to say little, letting her exploits speak for themselves.
Was she expecting to do so well?
"That's what I wanted. I didn't want it to go to another country. I can say I was well prepared and I'm so excited that I defended my title in Tokyo. I thank God," she says.
Those are her happiest moments, she says. "Being on the podium during any championships, be it the World Championships or Olympics. I feel so emotional. You know you're not always sure something like that will happen, like being an Olympic champion — it is not easy at all."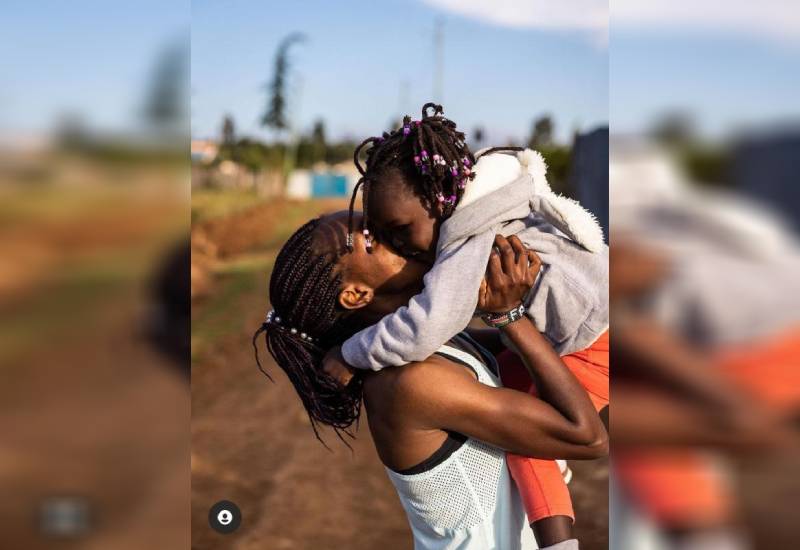 Getting back after motherhood
Faith had taken one year off from running after giving birth to her daughter, so people the world over were doubly impressed that she returned in top form. But it wasn't easy, she tells me.
"After maternity leave it wasn't easy to come back," she says.
Right now she weighs 44kgs, but after giving birth she was 63kgs. "The baby weight was very challenging and you know you get used to it. When you get a baby you gain weight and you eat more. When I stopped breastfeeding, I started doing exercises slowly and started reducing weight slowly.
"My coach, the management, officials and my doctor supported me through it until I made a comeback just as strong as I had been before," she says.
Faith is the seventh child out of eight, with three brothers and four sisters. She takes after her father, Samuel Koech, who used to run in his days.
"But it was a long time ago. He used to run in local competitions where they would win blankets, lamps and such items but he never competed abroad. I have taken the baton and continued going," she says.
"My parents are the ones who made me who I am now. I come from a humble background and I wanted to at least give them the best."
She started competing in school and started running professionally at just 15.
"I started running in 2009 when I was still very young. I got into the team to go to Amman, Jordan for the World Cross-country but I couldn't go because I was underage and they told me 'not yet'," she says.
She finally got to meet her hero, Vivian Cheruiyot, who she found to be a "very nice and friendly lady" when they were both headed to the 2012 Olympics, and they have been friends since.
Marathon great, Eliud Kipchoge is her role model now. When she won in Tokyo, he tweeted "huge congratulations" to her, calling her "a great example to young girls all around the world.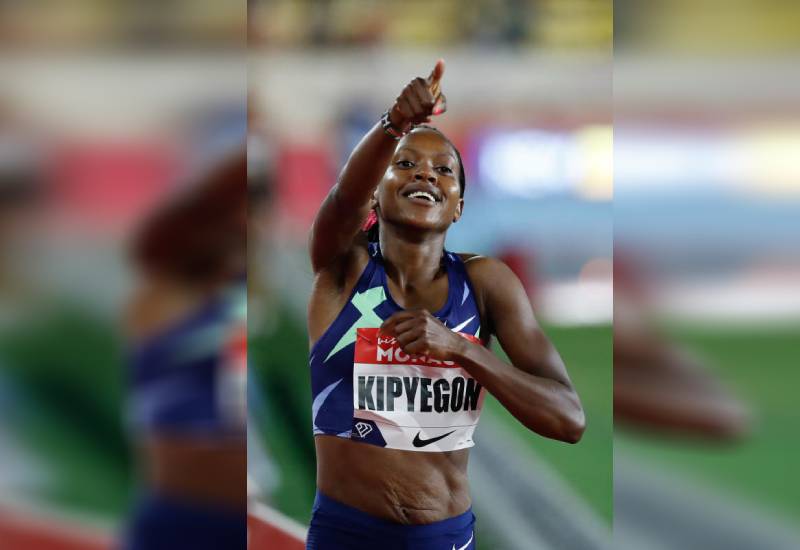 Looking up to Kipchoge
She has gone on runs with him during training since they are in the same training camp, Kaptagat Camp. "We talk and I train with him. He is our mentor at Kaptagat Camp.
He always advises us to work hard. I want to follow in his footsteps in marathon running," she says.
There are no secrets to their greatness. Just hard work. "Just training and believing in myself," she says.
Running is her fulltime job and she trains for an hour and 20 minutes from Monday to Saturday.
Her eyes are now set on higher heights and greater distances. "I'm moving towards marathons now. I want to be the best. I am going to 5,000 meters, then I will graduate to 10,000 metres, then the marathon in future," she says.
Faith credits her success to believing in herself and having a strong support system. She is married to fellow athlete, Timothy Kitum, who was the 2012 Olympic bronze medalist in the 800 metre-race. Their daughter, Alyn, is now three.
"Motherhood is the best thing ever. Even more than winning at the Olympics. She is the reason I keep going. She is everything," she says of her daughter.
She believes she has only scratched the surface of her potential. "I don't think I have had my greatest accomplishment. I want to achieve more so I still have to do more in my career. I have big plans ahead. I'm not there yet," she says.
What she has in spades is self-belief and determination. In her words; "Everything is possible in life as long as you have it in your heart that you can do it."
Related Topics