Home
/
Achieving Woman
Kenyan women who shattered the glass ceiling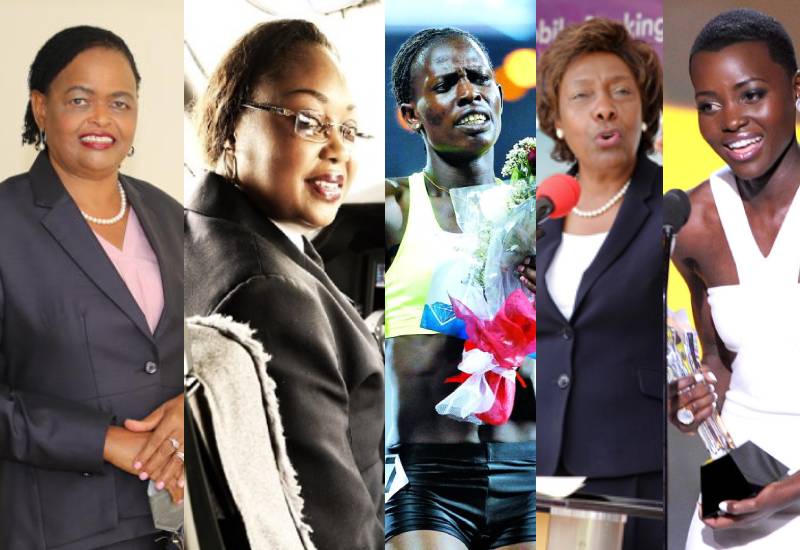 We celebrate Kenyan women who have shattered the glass ceiling to become the firsts in their respective fields, following the nomination of Lady Justice Martha Koome Karambu, as Kenya's first female Chief Justice:
Transport
Irene Koki Mutungi - first female on the African continent to become certified as a Captain of the Boeing 787 "Dreamliner" aircraft.
Elizabeth Marami - at 28, became first female marine pilot.
Captain Joyce Beckwith - First woman Hot Air Balloon pilot.
Medicine
Kizzie Shako - First female police surgeon, a title otherwise known as a forensic physician.
Florence Ng'endo Mwangi - Kenya's first woman medical doctor.
Dr Muthoni Gitata - First female dentist and oral surgeon
Sports
Liz Mills - First female head coach for the men's national basketball team.
Orie Rogo Manduli - first black African woman in Kenya to compete in the world circuit Safari Rally in 1974. She also was the first woman to head the Kenya Non-Governmental Organization (NGO) council.
Tegla Sang was the first Kenyan woman to compete at the 1968 Olympics.
Sabina Chebichii which means 'a tough one', was Kenya's first woman to win a medal at the Commonwealth Games in Christchurch, New Zealand in 1974, where she won bronze in the 800m.
Pauline Konga - First Kenyan woman Olympic medallist after winning silver in 5,000m in Atlanta in 1996.
Sally Barsosio - First Kenyan woman to win gold at the World Athletics Championships in Athens, Greece, in 1997.
Pamela Jelimo - In 2008 aged 18, she became the first Kenyan woman to win an Olympic gold medal as well as setting five World Junior records and four African senior records, at the 2008 IAAF Golden League. She won $1 million jackpot.
Politics
Charity Ngilu, first woman to run for president in the 1997 general election on a Social Democratic Party of Kenya ticket.
Grace Onyango - The first female Member of Parliament in post-independent Kenya. She was elected to represent Kisumu Town Constituency in 1969.
Joyce Laboso, Anne Waiguru, Charity Ngilu - the first female governors to be elected at the 2017 election.
Creative
Lupita Amondi Nyong'o - First Kenyan woman to win an Academy Award for her film debut in 12 Years a Slave in 2013, since the awards inception in 1929.
Celeste Wamiru - First female editorial cartoonist.
Education
Wangari Maathai - the first African woman to receive the Nobel Peace Prize. She was also the first female scholar from East and Central Africa to take a doctorate (in biology), and the first female professor ever in her home country of Kenya.
Leah T. Marangu - the first woman in East Africa to be named a full professor. She is also the first Kenyan woman to serve at the helm of a university.
Professor Patricia Kameri-Mbote - the first woman and only the sixth individual in the 49-year history of The University of Nairobi to receive a Higher Doctorate degree.
Professor Faith Njoki Karanja - first woman to attain a doctorate in Geoinformatics in 2002 and the first professor in the department and the school of Engineering.
Defence forces
Fatumah Ahmed - First woman Major-General in the Kenya Air Force 2018.
Rachael Nduta Kamui - First female aide-de-camp.
Law
Effie Owuor - First female State Counsel, Magistrate, High Court Judge, and Court of Appeal Judge.
Business
Tabitha Mukami Muigai Karanja is the first woman entrepreneur to own a beer brewer, at 46. She is chief executive officer of Keroche Breweries, the first ever beer factory to be owned by a Kenyan.
Other firsts
Marjorie Kimenyi - First African woman to own and drive a car.
Related Topics